Moving nowhere
Nepal must understand that bilateral ties no longer work without trade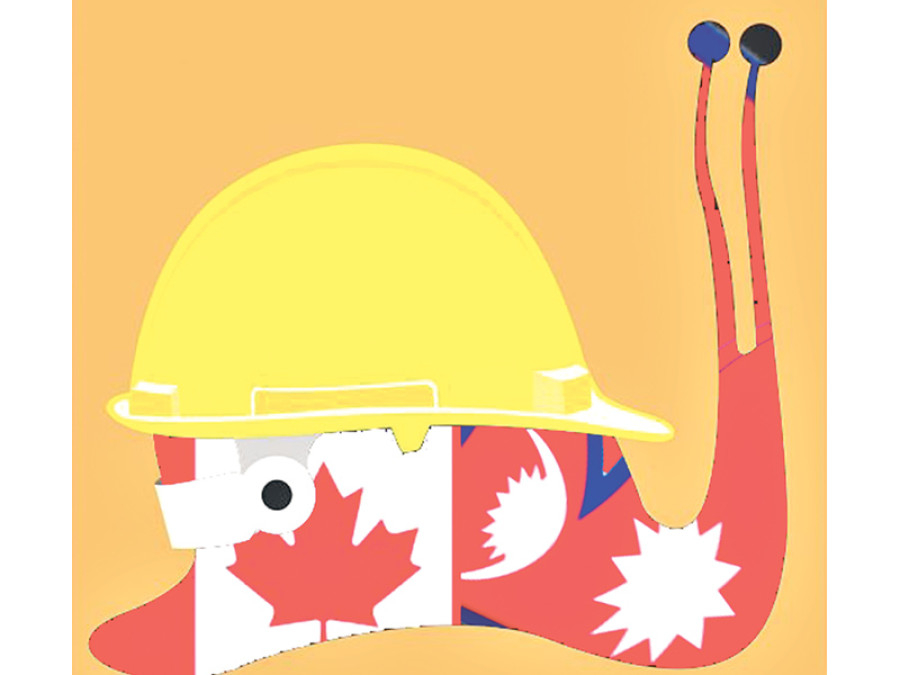 bookmark
Published at : January 20, 2016
The year 2015 marked the 50th anniversary of bilateral relationship between Nepal and Canada, but no substantial efforts were observed last year to
make this alliance more rewarding and fruitful. Even though some events were planned, the massive April earthquake disrupted celebrations in the first half of the year while political unrest and the undeclared Indian trade embargo marred the second half. In Canada, political campaigns for the federal election overshadowed diplomatic formalities.
Even though the Nepali Embassy in Canada had prepared to congregate more than one hundred Canadian Everest summiteers to mark the golden jubilee year, owing to the earthquake, the activity was cancelled. The embassy had also reached out to the Nepali diaspora across Canada and collected $144, 000 for the government's disaster relief fund. Yet spending approximately a half-million dollars every year to operate the Nepali Embassy in Ottawa has not resulted in any tangible outcome even after six years of its establishment.
However, there were some modest activities to mark the golden jubilee year. For instance, Deepak Obhrai, then parliamentary secretary to the Minister of Foreign Affairs of Canada visited Nepal in January last year. Similarly, a Nepali delegation of the National Information Commission visited Canada in June and had meetings with Information Commissioner of Canada. But these mediocre visits indicate a lack of serious commitment to revive and strengthen the diplomatic engagement between the two countries.
The relationship
In 2009, the Government of Canada decided to discontinue its bilateral assistance to Nepal and closed its consulate in Kathmandu. But the very same year, Nepal opened its embassy in Canada. Though it is unknown why Nepal decided to open its embassy in Canada when Canada discontinued its bilateral aid to the country, there are a number of reasons that motivated Canada to do so.
Nepal established its diplomatic relations with Canada in 1965. For many western countries including Canada, Nepal was important then because China, a mysterious communist country, had conquered Tibet and Nepal was the nearest point that could be used to observe the political activities of mainland China. Today, however, things are different. China is the second largest economy in the world, and the issue of Tibet no longer holds as much significance because many western countries now share a strong trade relationship with China. This can be one reason why Nepal's value depreciated for Canada.
Canada has been indirectly involved in Nepal's development through the Colombo Plan since 1952. Till date, Canada has given approximately $500 million in aid to Nepal through the Canadian International Development Agency (CIDA) and other agencies. Canadian agencies were also interested in various sectors including energy equipment, engineering, infrastructure development, telecommunications and air transportation in Nepal. In 1972, Canada exported 10 Twin Otter planes to Nepal, including five donated ones, as part of bilateral aid cooperation. Canada might have expected trade in its areas of expertise, such as airplane purchase, maintenance and air safety services and equipment, but Nepal favoured Japan and European countries for such services and failed to understand Canada's trade interests. Moreover, Nepal's deteriorating political situation such as the decade-long civil war and a prolonged post-conflict transition may have made Canada reluctant for a productive trade relation.
Trade not aid
In today's time, diplomatic relations between nations are largely motivated by trade. Despite longstanding diplomatic ties, trade between Nepal and Canada is insignificant. According to the Government of Canada, the maximum two-way business between the countries in 2012-13 was $23 million, which was 0.002 percent of Canada's global trade. Fortunately, Nepal had a trade surplus by exporting goods worth $11.7 million to Canada in comparison to imports worth $7.1 million.
Canada experienced economic recessions in the early 1980s, early 1990s and again in the early 2010s. This led to massive government deficits, high unemployment, general disaffection, and change in governments. As a result, the Government of Canada made severe budget cuts, overhauled its global aid distribution, and shifted its diplomatic priority from aid to trade. CIDA relocated funds more precisely to the so-called "country of focus", a group of 20 nations which together receive 80 percent of Canada's international aid. Nepal was one of the 14 countries that experienced the withdrawal of Canadian aid by the end of 2013.
However, in the aftermath of the April earthquake, Canada provided $23 million as humanitarian assistance and deployed its Disaster Assistance Response Team for rescue efforts. Unfortunately, a Canadian minister publicly complained in a TV interview that Nepal did not recognise Canada's immediate aid response. Regardless of the sweet and sour diplomatic relationship between the two countries, Nepal is still a popular destination for many Canadians. More than 15,000 Canadians visited Nepal in 2014. In a nutshell, it seems as though Canada expects trade relations with Nepal but Nepal is still anticipating aid. After five decades, Nepal and Canada are almost in the same place where they had begun their diplomatic relations. Nepal must understand that bilateral ties no longer work if trade is not involved.
Acharya is a researcher on media ethics and accountability and is affiliated with the University of Ottawa, Canada. He can be contacted at [email protected]
---
---