Government starts probe into Lamichhane's Nepali passport
If found guilty, the RSP chief could face a jail term of three years and Rs30,000 fine.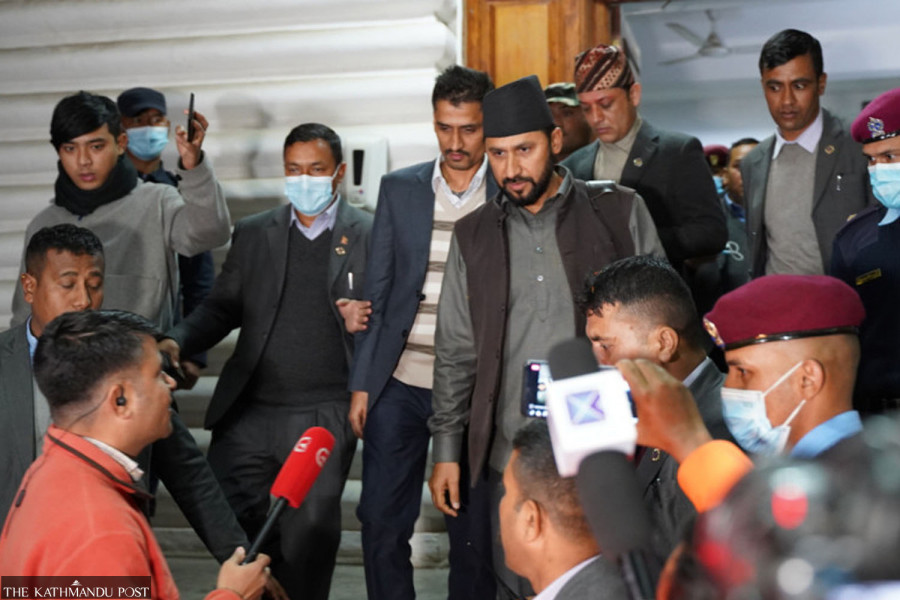 The attorney's office has sought documents related to Lamichhane's citizenship and passport from three government agencies. Post File Photo
bookmark
Published at : February 10, 2023
Updated at : February 10, 2023 06:58
Kathmandu
The Kathmandu District Government Attorney's Office has started collecting documental evidence after receiving a complaint that Rastriya Swatantra Party chief Rabi Lamichhane obtained Nepali passport through an invalid citizenship.

Acting on the complaint filed on Tuesday, the attorney's office has sought documents from three government agencies related to Lamichhane's citizenship and passport.
Joint Attorney Achyutmani Neupane, who heads the Kathmandu district attorney's office, said his office wrote to the Department of Immigration, the Kathmandu District Administration Office and the Department of Passports seeking documents submitted by Lamichhane while applying for a Nepali passport.
"Further process will move ahead after receiving responses from the agencies," said Neupane. "Most probably we will get all necessary documents by Sunday."
Yubaraj Poudel, a resident of ward 31 of the Kathmandu Metropolitan City, filed the complaint at the District Government Attorney's Office, Kathmandu on Tuesday after the Kathmandu District Police Range, Teku refused to register his complaint seeking legal action against Lamichhane on the charge of holding dual passports. Poudel had tried to register the complaint with the police on January 31.
Poudel is one of the two individuals who had filed writ petitions at the Supreme Court against Lamichhane claiming that he was not eligible to contest the polls as he didn't have a valid Nepali citizenship certificate.
Following the invalidation of his citizenship by the constitutional bench of the Supreme Court, Lamichhane lost his positions as a member of the House, deputy prime minister and home minister and party chief.
Poudel has claimed that due to Lamichhane's political influence, the police refused to register the complaint and therefore he approached the Kathmandu District Government Attorney's office.
"Based on the complaint received, we will first study Lamichhane's documents from the government authorities concerned and take further action," Neupane told the Post.
According to Neupane, after studying the documents his office will decide whether to launch a criminal investigation report and file a case at the court.
While Lamichhane was still possessing an American passport, he received a Nepali passport in 2015 by producing his Nepali citizenship certificate he got in 1994, even though his Nepali citizenship had become automatically invalid after acquiring US citizenship in March 2014. After the court's recent verdict, Lamichhane has surrendered his Nepali passport.
If proven guilty, Lamichhane could face up to three years in jail and Rs30,000 fine as per the Passport Act 1967. He also could be barred from joining politics for life.
---
---