In remote west, campaigners tore down chhau sheds. They have sprung up again
Despite costly campaigns, the practice of banishing women to period sheds still prevails in many districts of Sudurpaschim and Karnali provinces.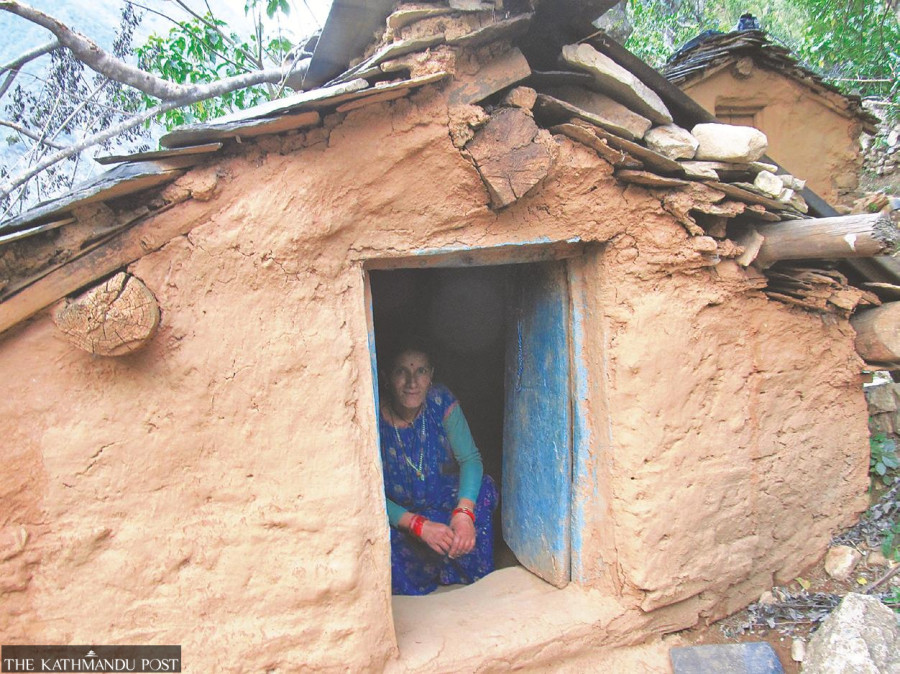 Authorities and campaigners have been unable to uproot the Chhaupadi practice. Post Photo: Basanta Pratap Singh
bookmark
Published at : October 10, 2022
Updated at : October 10, 2022 08:16
Bajhang & Kathmandu
On a cold December night in 2018, 35-year-old Amba Bohora of Budhinanda Municipality Ward 9 in Bajura, a remote hill district of Sudurpaschim Province, and her sons aged seven and nine died in a chhau goth. Police confirmed that the trio had died from suffocation due to the fire they had burned in the shed to keep warm in the winter night.

Nineteen days prior to their deaths, a summit on menstrual health management was held at Hotel Yak and Yeti in Kathmandu on December 11. Representatives of several organisations in the US, the UK, Germany, India, Pakistan, and Bangladesh among other countries; campaigners and adolescents attended the summit.
A model chhau goth, a shed built for menstruating women and postpartum mothers, was the major attraction among the attendees. Pictures and videos of the chhau goths in villages being dismantled were shown to the participants claiming that the Chhaupadi practice was on the wane in Nepal.
Around $40,000 was spent on the one-day summit jointly organised by the Nepal government and the Menstrual Health and Hygiene Management Partners' Alliance (MHMPA) and funded by GIZ, a German development agency, according to Gunaraj Shrestha, the coordinator of the alliance.
Budhinanda, where the young mother and her children died in a chhau goth, was among the municipalities declared a Chhaupadi-free area.
On December 2, 2019, 21-year-old Parbati Rawat died in a chhau shed in Sanfebagar Municipality Ward 3 of Achham. The incident happened during the 16-day violence against women national campaign.
Despite various programmes and campaigns organised by the government and international and local development organisations, Chhaupadi, a deeply rooted practice in which menstruating girls, women and postpartum mothers are deemed impure and banished into seclusion, still prevails in various districts of the Sudurpaschim and Karnali provinces.
The Civil and Criminal Code enforced in 2017 has criminalised Chhaupadi. The practice of Chhaupadi is not only discriminatory against women but is also life-threatening as seen from reports of girls and women dying in chhau sheds due to cold, suffocation, snakebites, and wildlife attacks surfacing frequently.
Clause 168 (3) of the Civil and Criminal Code provisions three-month jail and a fine of Rs3,000 against anyone found guilty of forcing a menstruating woman to live in a Chhaupadi shed. The punishment is more severe for those holding public positions.
In Parbati's case, the police arrested Chhatra Rawat, Parbati's brother-in-law, on the charge of forcing her to practise Chhaupadi. The Achham district court sentenced him to 45 days in prison.
On January 8, 2018, 23-year-old Gauri Budha of Turmakhad Rural Municipality in Achham died of suffocation in a Chhaugoth. Turmakhad, 55 km east of the headquarters Mangalsen, was earlier declared Chhaupadi-free.
According to the Human Rights Commission's report on the impact of the Chhaupadi system on women, in 2019, 13 people died in Achham alone in chhau goths between 2007 and 2018.
After Parbati's death, police launched a campaign to declare Achham a Chhaupadi-free district and authorities dismantled Chhaupadi sheds. The elected representatives also were actively involved to make the drive a success.
Then on January 22, 2020, the federal Ministry of Home Affairs directed the administration in 19 districts of Sudurpaschim and Karnali provinces to destroy Chhaupadi sheds. More than 8,000 sheds were torn down and around 100 local units were declared Chhaupadi-free during the drive that lasted a few months.
After the formation of local governments under a federal structure in 2017, the trend of destroying chhau goths gained momentum with sporadic campaigns aimed at ridding the villages of menstrual taboos.
According to Bhojraj Shrestha, the then Chief District Officer (currently Joint Secretary of the Ministry of Urban Development), who led the campaign to demolish the Chaugoths in Achham after Parbati's death, the budget poured into the anti-Chhaupadi campaigns does not justify the impact of such campaigns.
"Unless those who lead such campaigns, including the government and development agencies, and those who are active in implementing them intrinsically believe in eradicating the Chhaupadi practice, no amount of money and resources will help rid the society of such malpractices," Shrestha said.
"I am tired of hearing empty speeches of political leaders and futile activism among the so-called activists and organisations carrying dual agendas. There are very few people who honestly believe that this practice must be abolished. We need more of them to allow our women dignified menstruation."
Two years after the last chhau goth demolition campaign in Achham, almost all the sheds have been reconstructed. "After the campaign to destroy chhau goths slowed down because of the Covid-19 pandemic, the sheds were built back," said Pashupati Kunwar, a campaigner against Chhaupadi in Achham.
"We demolished the Chhaupadi sheds but could not rid the society of superstitions. The people rebuilt the destroyed sheds after a few days," said Parbati Awasthi, chief at the women and children unit of the District Police Office in Bajhang, who had actively participated in the chhau goth demolition drive in Sudurpaschim districts.
Today almost all households in Sanfebagar have rebuilt period huts.
In Bajhang, Majhigaun in Khaptadchanna Rural Municipality was declared a Chaupadi-free area in December 2014. Before the announcement, traditional faith healers were also sensitised in the matters of menstruation and the practice of Chhaupadi following which the chhau goths were demolished. The villagers too actively participated in the demolition drive and took an oath to end the mistreatment of menstruating women.
According to the data of the Women and Children's Office, organisations including the then Women's Development Office, District Development Committee and the erstwhile village development committees spent more than Rs2.05 million on the programme. However, after less than a month of being declared a Chhaupadi-free zone, the villagers went back to repairing the chhau goths.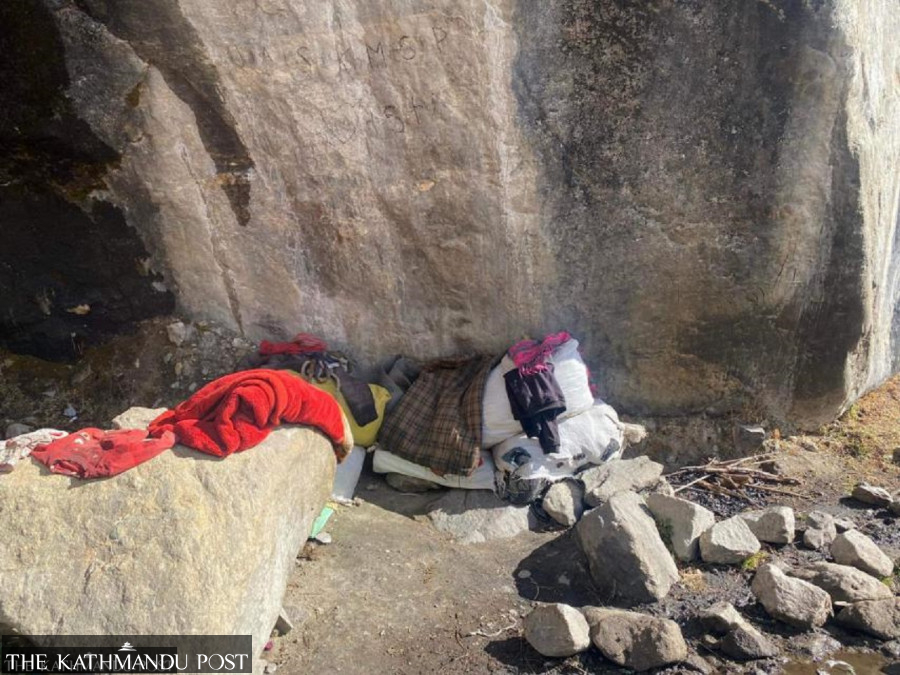 After chhau sheds were torn down by activists, some women spend their periods under overhangs outside their villages in Bajhang district. Post File Photo
In June 2018, Saipal Municipality of Bajhang demolished six Chhaupadi sheds at Dhuli, a remote settlement. Local girls and women stayed in caves nearby or pitched tents under the open sky during their periods. Then a few months ago, with the amount collected by a local mothers' group, a community Chhaupadi shed for eight persons was built in the settlement. But the police demolished the newly-constructed shed, forcing girls and women back to the caves and open fields.
The presence of a police post in the village has deterred the locals from reconstructing the shed. But that hasn't stopped them from observing Chhaupadi.
"The police demolished our chhau goth, only adding to our hardships," said 35-year-old Birati Rokaya from Dhuli. "The caves can only accommodate three persons at a time so when a group of women gets their periods, we stay out in the fields. It's difficult but we have to observe Chhaupadi anyhow. It is our custom."
The monsoons and the winters are the toughest for the women in Dhuli village which lies at an altitude of around 3,000 metres above sea level. It snows up to five feet during winter. "It is not easy to stay in the cave or the flimsy huts in winter. Nursing mothers and their babies are hit hardest by unfavourable weather," said Ujeli Rokaya, another woman of Dhuli village. "But observing Chhaupadi is important to us."
The ostracisation of menstruating girls is not limited to their households; the discrimination spills over into all aspects of their lives. For example, girl students and female teachers of Janaprakash Basic School in Badimalika Municipality Ward 8, Bajura, are prevented from attending school during the menstrual cycle.
"There is a temple on the school premises. The villagers do not allow menstruating students and teachers to go to school for five days arguing that gods will be angry," said Nira Bista, a teacher at Janaprakash Basic School. According to her, in observing Chhaupadi many girl students miss classes which reflects poorly on their academics.
Badimalika was also declared a Chhaupadi-free local unit a few years ago.
According to Madan Joshi, a civil society leader, there are around 20 schools in Bajura district where menstruating girls and women are barred from entering the school premises during their period.
Many schools in Bajhang, Achham, Humla, Kalikot and Mugu follow the unspoken rule of barring girl students and female teachers from entering the school premises during menstruation.
Samjhana Karki, a student at the Kanya Secondary School, Bungal in Bajhang, says missing school for five days in a row affects her schoolwork and her overall academic performance at school.
"No matter how dedicated a student you are, if you are a girl you have a slim chance of topping the class," said Karki. "Girls never score higher than boys in my class and that's because girls are forced to miss school even during exams."
---
---