Pradip Giri, a socialist thinker and philosopher, dies at 74
The Congress leader was well-versed in Marxism and earned respect from across the political spectrum for his politics of conviction, simplicity and great oratory skills.

Giri was a leader who spoke his mind, not hesitating to offer opposing and unpopular views. Post File Photo
bookmark
Published at : August 20, 2022
Updated at : August 21, 2022 11:17
Kathmandu
Nepali Congress leader Pradip Giri, a noted socialist thinker, passed away on Saturday night.

He was 74.
"He passed away at around 9:30pm," Dr Pankaj Barman, a senior consultant and medical oncologist at Nepal Mediciti Hospital who had been attending to Giri, told the Post. "He was also battling a last-stage cancer. Pneumonia from which he had been suffering led to multi-organ failure."
Giri was admitted to Nepal Mediciti Hospital in Lalitpur last month after he returned from India after treatment for cancer.
Earlier on Saturday, a statement by his family said Giri underwent immunotherapy a week back to boost his immune system.
"However, he has now developed massive pneumonia, which has further compromised his health, resulting in multiple organ failure," the statement read.
Post File Photo
Giri, a longtime Congress leader, worked closely with the late BP Koirala. He was highly influenced by the socialist movement in India led by Jayprakash Narayan and Ram Manohar Lohiya.
He was known as a fearless leader, not afraid of criticising his own party and the leadership and never hesitating to offer opposing and unpopular views.
He was a two-time member of the Constituent Assembly, which drafted the Constitution of Nepal 2015.
He, however, refused to sign the document, saying the process was flawed and the constitution failed to address the concerns of various sections of the society—Tharus, Madheshis and Janajatis.
He had his sympathy for those who were protesting against the constitution-writing process even as top leaders of his party rushed to finalise the document.
A seasoned orator, Giri was well-versed in Marxism, often putting some communists, who claim to follow Marxist ideology, to shame.
He won the 2017 parliamentary elections from Siraha-1.
Giri, who started his political career in the early 1960s from the Nepali Congress, was also known for his simplicity, candor and wide-ranging erudition.
He never held any position of benefit.
Leaders from across the political spectrum expressed their condolences, hailing Giri as a veteran thinker, philosopher, socialist, intellect and an epitome of a leader who showed how politicians should lead a simple life.
"We lost one of the brightest, most intellectual and profound thinkers of contemporary politics," said Ghanshyam Bhusal, a CPN-UML leader. "A towering figure of our age committed to socialism."
Giri had a good grasp of Marxism too and was widely regarded as an intellectual who could explain Marxism to ordinary minds.
"His [Giri's] socialist view was different from others' because he grounded socialism and Marxism philosophies in the Nepali context. A rare breed indeed," Bhusal told the Post. "He was a true Gandhain… someone really inspired by Indian socialist leaders like Jayaprakash Narayan, Ram Manohar Lohia and the like."
A student of economics and philosophy, Giri led a simple life, according to politicians who have known him for long.
He repeatedly refused the ministerial posts offered to him.
Such a gifted orator he was that every time he spoke in Parliament, he held parliamentarians spellbound. He was one of the most sought-after politicians by television anchors.
He has written over a dozen books on economics, women, philosophy and Marxism.
Deep Kumar Upadhyay, a Congress leader who is a former Nepali ambassador to India and a longtime friend of Giri's, said that an era of value-based politics has ended with Giri's death.
When the incumbent Congress-led government offered to pay for his hospital charges, Giri refused, said one Nepali Congress leader, highlighting the value-based politics Giri believed in.
Before he was admitted to Nepal Mediciti Hospital, Giri was admitted to a hospital in Mumbai, India.
"Despite being born in a rich family, he lived a very simple life," Upadhyay said. "He was well-versed in Marxism, socialism, and social democracy. He could speak on literature to economics impromptu. A vastly knowledgeable person, he was highly regarded not only in Nepal but also India."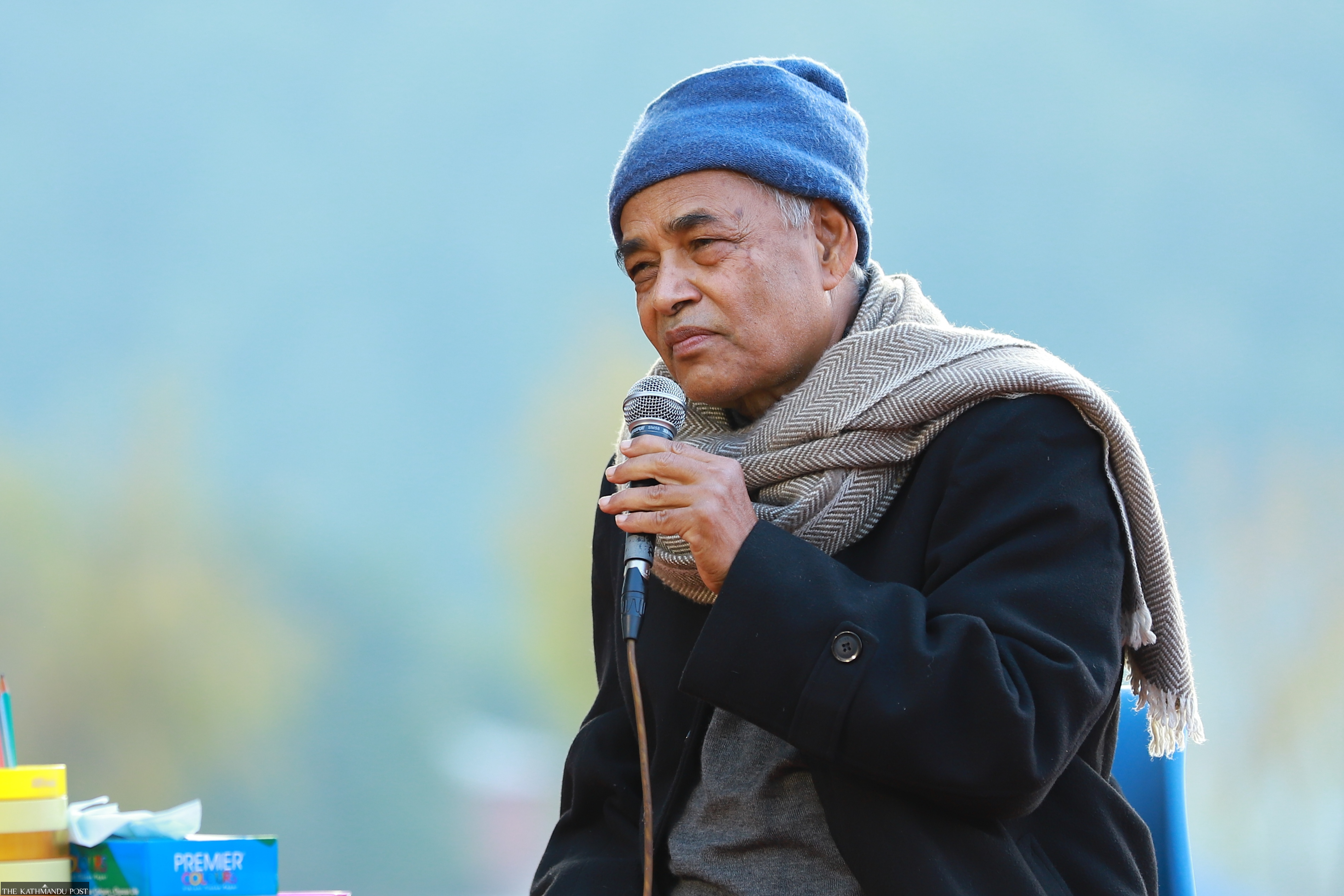 Photo Courtesy: Yunish Gurung/ Nepal Literature Festival
According to Upadhyay, Giri was one leader who always played the opposition role in the Congress, questioning the leadership and keeping them on their toes.
For a long time, Giri had built an image of an anti-Koirala leader in the Nepali Congress because of his rebellious political nature.
When the Congress split in 2002, Giri supported the Nepali Congress (Democratic) formed by Sher Bahadur Deuba.
Giri chose to remain with Deuba because both of them came from the Krishna Prasad Bhattarai camp, according to Congress leaders.
Those who knew Giri said that he had a very good understanding of world politics from the labour movement to how social democracy is functioning around the globe.
"Giri was equally well-informed about the contemporary global trends, where the labour movement stands, and whether social democracy is functioning well or not," said Bhusal, the UML leader known for his interpretation of Marxism. "The best thing about Giri is he looked at them and interpreted them from different angles. That kind of analytical brain we hardly find in Nepali politicians."
Despite being such a great thinker and an upright politician, Giri did have some flaws, leaders close to him say.
He understood the problems in Nepali politics and would not hesitate to explain them, but he did little to address those issues, according to leaders.
In multiple interviews, Giri would say that he chose not to become a minister because he wouldn't be able to solve the problems he was talking about.
Congress leader Bimalendra Nidhi is one of the persons who knew Giri since his student days.
"He was one of the prominent leaders of our times. He never did politics of power and he often had views independent of the party line," Nidhi told the Post. "He was not a leader of only the Congress but of the whole country. The country has lost a fine politician… it's an irreparable loss."
Nidhi said Giri was a true follower of Gandhi, Lohiya and BP Koirala.
"But he wouldn't hesitate to criticise BP Koirala," Nidhi told the Post. "That's how he stood tall. He lived a life of conviction. The country today lost a leader who was simple, intelligent, honest, and knowledgeable."
According to the Nepali Congress, Giri's last rites will be performed at Pashupati Aryaghat on Sunday.
Issuing a statement on Saturday night, Congress whip Min Bishwakarma said Giri's body will be kept on the hospital premises from 9-11am for final tributes.
His body will then be kept at the Congress party office in Sanepa from 11:30am to 2pm, where the party leaders, cadres and general public can offer their final tributes.
"His last rites will be performed at Aryaghat on Sunday evening," said Bishwakarma.
Congress President and Prime Minister Deuba said on Twitter that he was shocked by Giri's demise.
"I am shocked by the news of the death of my friend Pradeep Giriji, the leader of Nepali Congress and an ideological and socialist thinker of Nepali politics," Deuba tweeted. "With his death, Nepal has lost a true and good leader. Wishing his soul eternal peace, I express my deepest condolences to the family."
---
---