Voting in the local elections
How one can avoid the risk of casting an invalid vote in the nationwide polling today.

A policeman guards a polling booth at Tangal in Lalitpur on Thursday. Hemanta Shrestha/TKP
bookmark
Published at : May 12, 2022
Updated at : May 13, 2022 09:05
Kathmandu
Nepal is holding local elections on Friday across the country in a single phase.
A total of 17,733,723 adults enrolled themselves on the voter list. Of them, 8,992,010 are males, 8,741,530 females and 183 have been registered under the "others" category.
In 2017, there were 14,074,424 registered voters for local polls. This time, 3,659,299 new voters have been listed.
The Election Commission has set up 10,756 polling stations and 21,955 voting booths across the country.
As many as 35,221 representatives will be elected for 753 local units.
In municipalities, 586 mayors and deputy mayors, and in rural municipalities, 920 chairs and vice chairs will be elected. For 6,743 wards, as many chairpersons and 33,715 office bearers will be elected.
As many as 79 political parties are registered for the local elections. A total of 145,011 individuals are contesting for various posts. Of them, 390 have already been elected unopposed.
One of key concerns in this election is if there could be a high number of invalid votes, since the ballot paper is big and complicated, more so as several parties have forged electoral alliances, which means there will be fewer candidates and more election symbols.
Let's have a look at the ballot paper.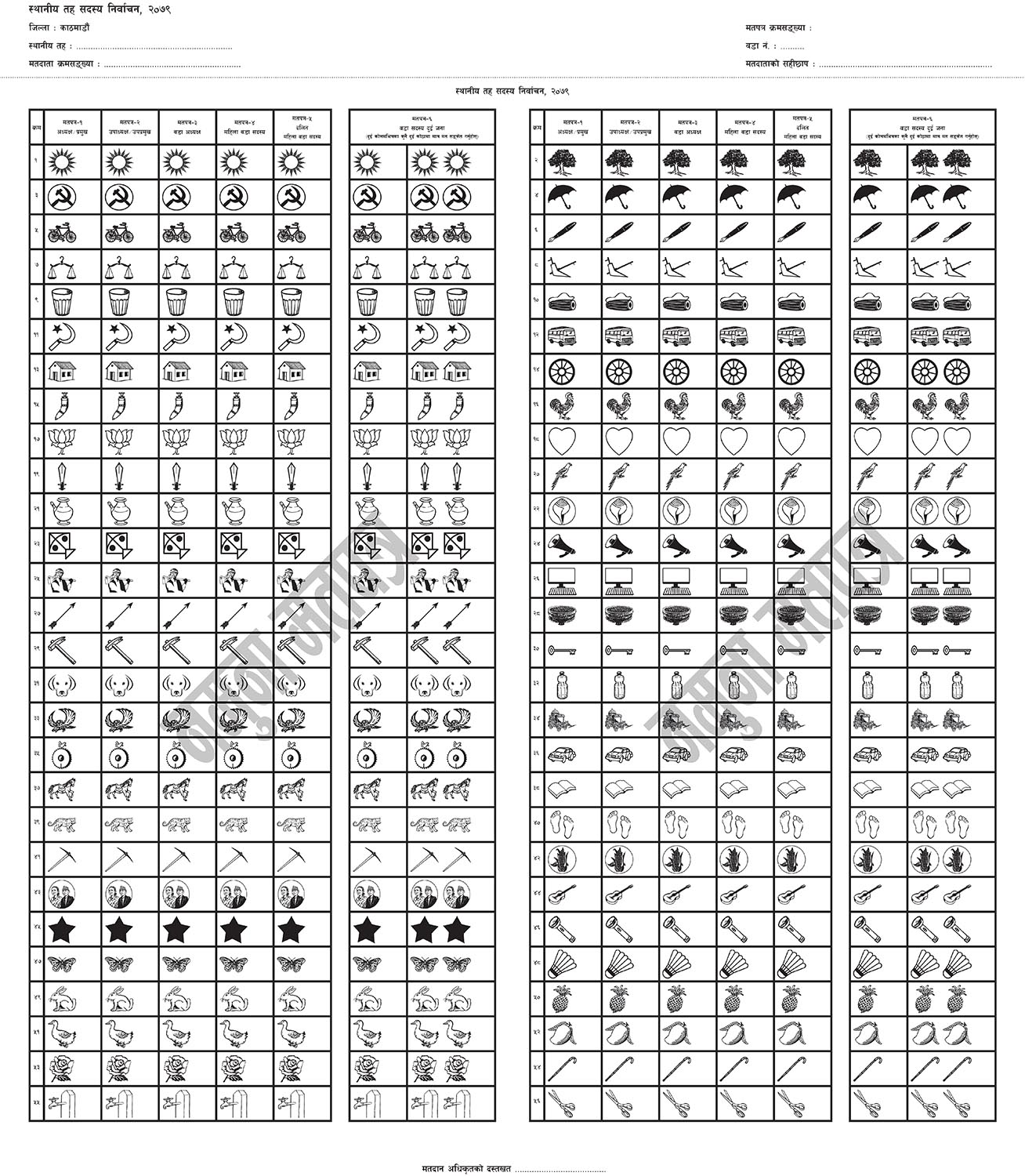 Sample ballot paper. Courtesy: Election Commission
There are two sections. The first section has five columns and the second section has two columns. So there are a total of seven columns.
One will have to vote for one mayor/chair; one deputy mayor/deputy chair; one ward chair; one woman ward member; one Dalit woman ward member (first section); and two ward members (second section).
A voter needs to put the stamp only once from the first up to the fifth column.
The sixth column will have one election symbol just like the earlier columns but the last (seventh) column will have two symbols because these are two candidates for ward members from the same party.
In the seventh column, just because there are two election symbols does not mean a voter needs to stamp twice. That would make the vote for the candidate invalid.
Voters can vote for different candidates for different positions in the seven columns. While voting for ward member candidates (in the sixth and the seventh columns), voters can pick two candidates from the same row or two candidates from different columns.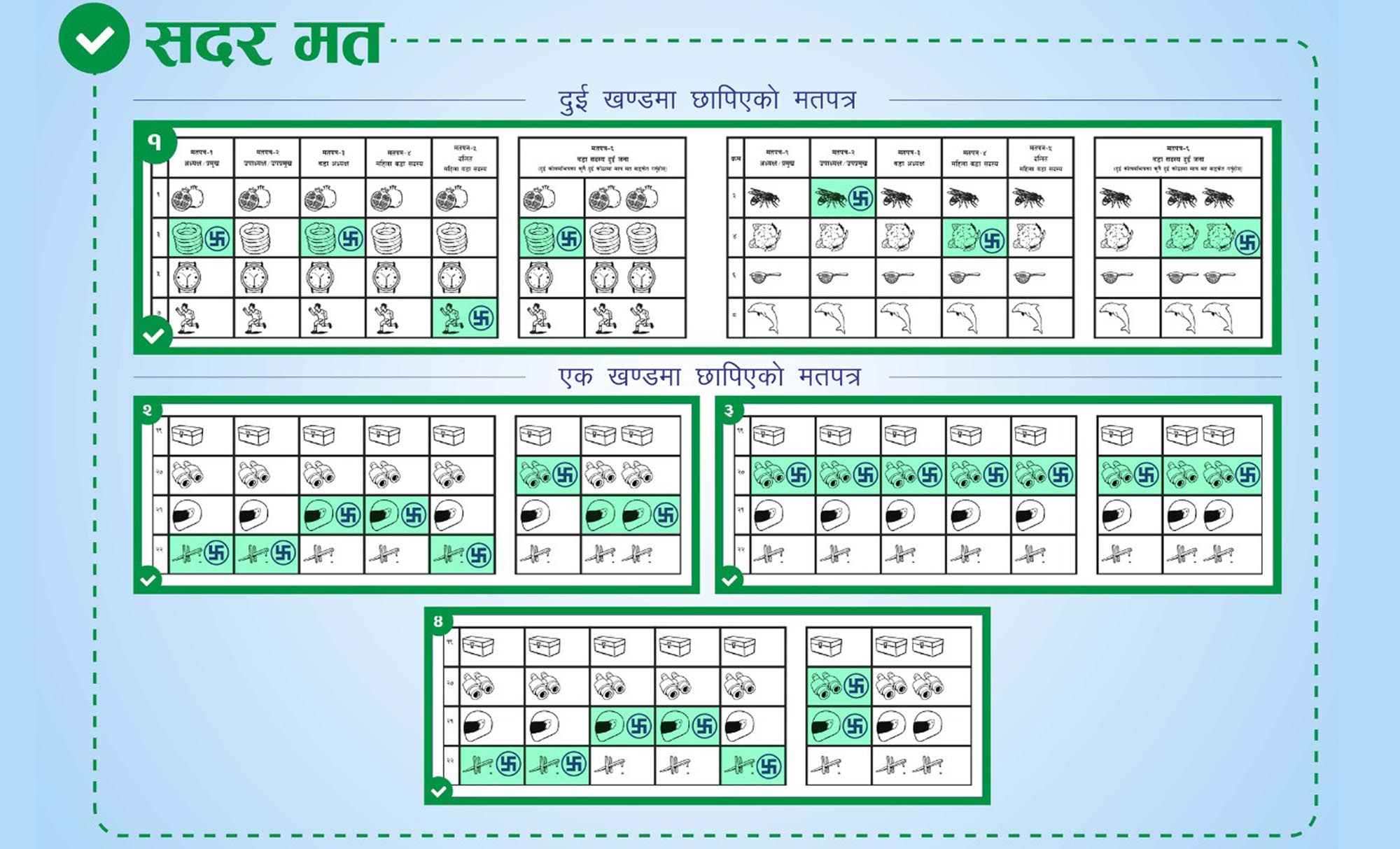 Up to the fifth column, it may sound easier—put the stamp only once in one column; DO NOT stamp twice in the same column. But when it comes to the sixth and seventh columns, the voter can either put the stamp twice in the same column or the same row or in different columns. Just remember: DO NOT put three stamps in the sixth and seventh column.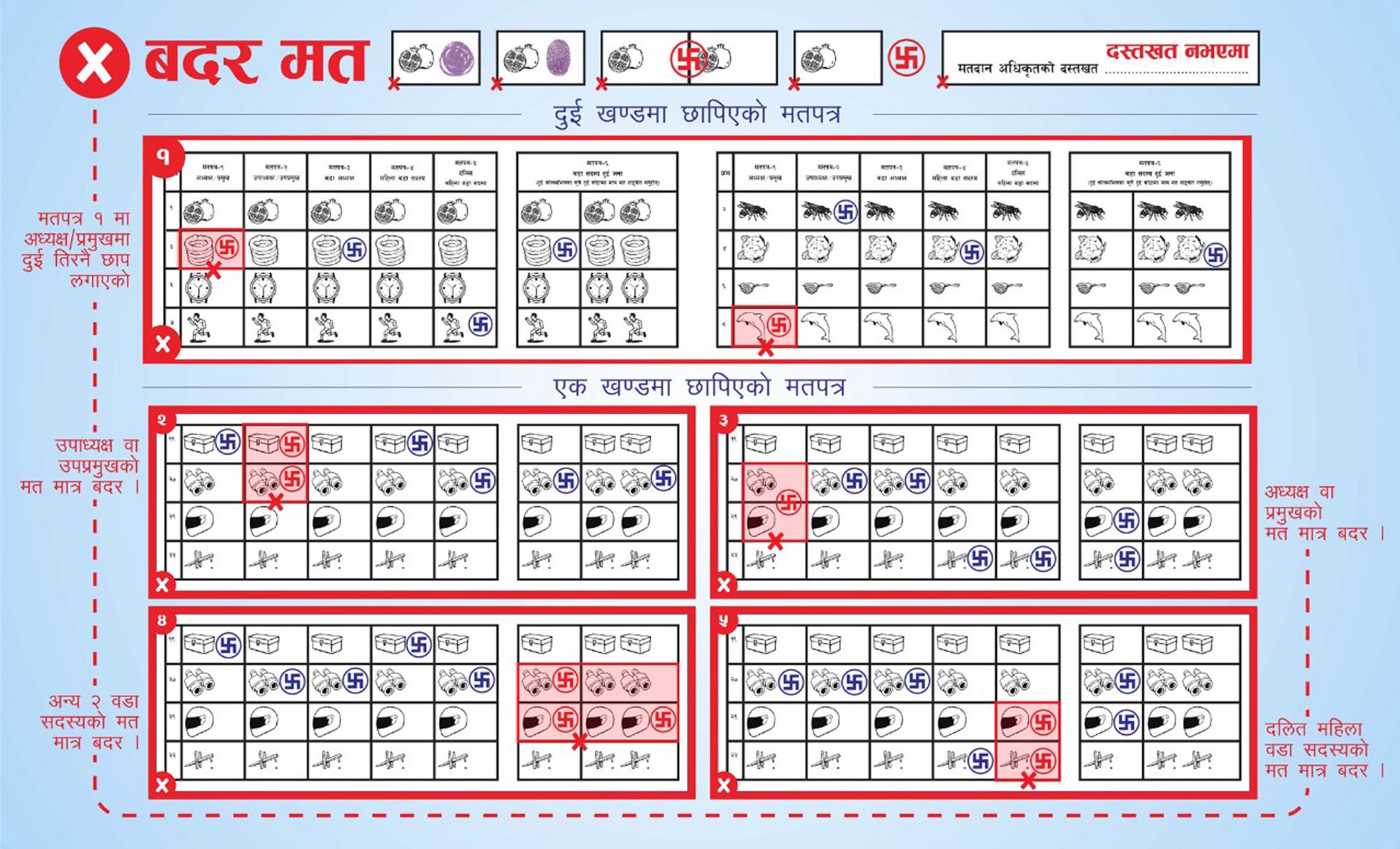 Courtesy: Election Commission
Stamping wrongly in columns does not necessarily mean the entire ballot will be invalid. For example, if someone has stamped twice in the same column for the post of mayor/chair, but stamped rightly for other candidates, then the vote for the mayor/chair only gets invalid.
Stamping in between rows, columns and outside the columns will lead to an invalid vote. Also, a stamp not properly imprinted will be counted as invalid.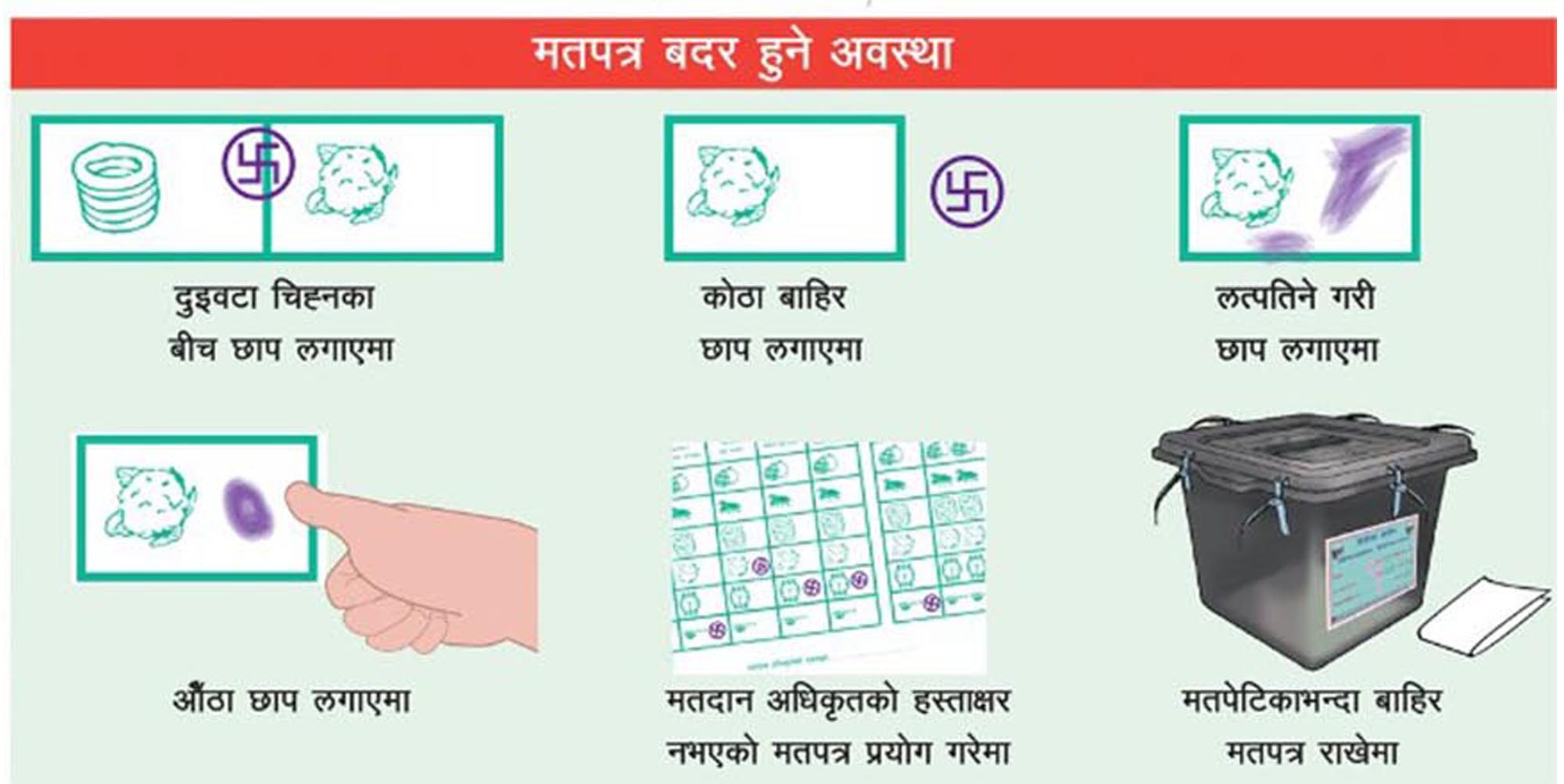 Courtesy: Election Commission
Voters must make sure that the ballot paper has the signature of the election officer.
After voting, one needs to neatly fold the ballot paper—in a way the stamp ink does not get fudged—and drop it into the ballot box. A ballot paper left outside of the box will not be counted.
---