Economic diplomacy takes a back seat as diplomats fail to push it
Experts stress making it a part of the country's overall diplomacy so as to advance and achieve economic goals.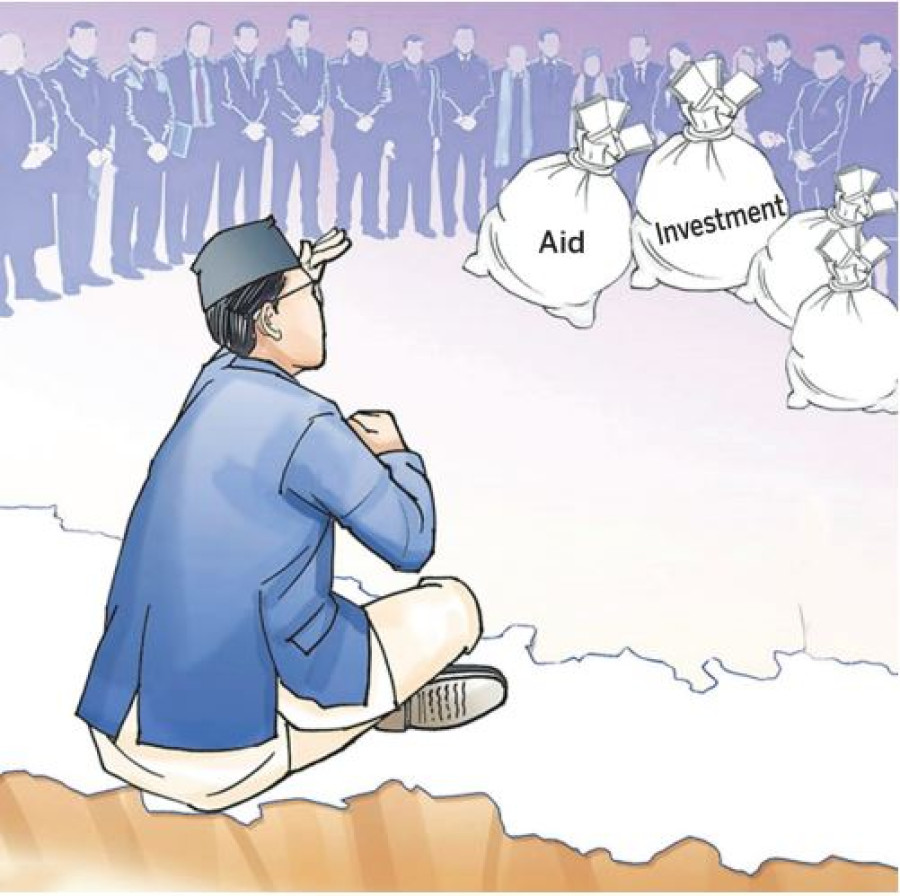 Post Illustration
bookmark
Published at : April 15, 2022
Updated at : April 15, 2022 06:58
Kathmandu
Amid rising imports, falling remittances and ballooning balance of payment deficit, many say a crisis could be just around the corner. Experts and analysts say the problem with Nepal's economy is that the country imports a lot compared to what it exports because it doesn't produce competitive products.
What Nepal needs is maximum foreign direct investment, aid and assistance in various sectors, but the country has failed to pursue economic diplomacy, according to experts.
"When a country's foreign policy suffers, naturally, the economic diplomacy also suffers because they are correlated," said Bishwambher Pyakuryal, an economist who served as Nepal's ambassador to Sri Lanka from April 2017 to July 2019.
Economic diplomacy is considered a key vehicle for promotion of tourism, injecting foreign aid and investment and for trade promotion, among others, and when a new Nepali ambassador takes his or her assignment, they are given brief orientation on how to conduct economic diplomacy in the destination country.
But officials say economic diplomacy has just been limited to talks in Kathmandu as missions abroad have failed to comprehend its importance.
"Had our missions been effective in conducting economic diplomacy during the Covid pandemic, we could have secured more foreign aid and investment in different sectors but our missions have largely been a failure," said a joint secretary at the Foreign Ministry. "Most of the time, our missions either remained headless or they could not reach out to potential investors or tourism entrepreneurs and failed to find other sources."
Economic diplomacy involves using diplomatic skills with economic tools to advance and achieve the country's economic and strategic goals. For a country like Nepal, sandwiched between the world's two giant economies, with the United States having its own interests, getting economic diplomacy right may come as a big boost and getting it wrong could prove to be costly.
A recent case is the US Millennium Challenge Corporation compact, which not only became a politically divisive issue in Nepal but also threatened to push Nepal into a geopolitical quagmire after Beijing expressed its concerns over the American grant.
Experts and analysts say Nepal must take immediate steps to strengthen its economic diplomacy so as to reap benefits and get aid and assistance from friendly nations.
"Economic diplomacy has become a joke here and we have never taken it seriously. We need foreign direct investments in trade and tourism and other sectors," said Pyakuryal. "Our entire orientation is wrong and we need structural changes in conducting our overall diplomacy."
Besides the Foreign Ministry, other government entities like the Ministry of Finance, National Planning Commission, Ministry of Commerce and Supplies, Ministry of Tourism, and Trade Promotion Center should be equally involved in promoting economic diplomacy.
According to the latest Foreign Ministry report, it is working on plans for all spheres of economic diplomacy as well as for regular programmes dedicated to assess the export potentialities in all seven provinces. Similarly, despite the Covid-19 pandemic, Nepali missions abroad organized more than 300 economic diplomacy-related discussions, mostly virtual, the report said.
There, however, has been a constant complaint that the budget for economic diplomacy is so little that hardly anything can be done.
The Foreign Ministry joint secretary agrees that the budget is nominal while most of the ambassadors barely have any idea about economic affairs and investment.
"Those who lead the missions should play a proactive role," said the joint secretary.
"Our economic diplomacy has effectively failed and our diplomats failed to cater to the national economic interest," said Purushottam Ojha, a former commerce secretary. "Economic diplomacy is vital in order to promote national economic interests like trade, commerce, investment, tourism, migration, aid and investment."
According to Ojha, the country's vital economic indicators are bad with expenditures in unnecessary sectors rising and no signs of money coming in.
"Development aid and investments in different sectors create jobs and make the economy vibrant," said Ojha. "Had Nepal been able to advance its economic diplomacy effectively, we would have certainly been in a stronger position."
According to the central bank statistics, released on Tuesday, the country's inflation has soared to 7.14 percent, which is the highest of the last 67 months, and the balance of payment (BoP) deficit has swollen to Rs258.64 billion.
With imports surging and remittances falling steadily, foreign exchange reserves have continued to decline. As of the first eight months of the current fiscal, the country's foreign exchange reserves dropped 16.3 percent to Rs1,171 billion in mid-March 2022 from Rs1,399.03 billion in mid-July 2021.
A retired Nepali ambassador said that neither there is any effective push for economic diplomacy from the headquarters nor there is enough budgets for them to organize meetings, seminars and workshops.
Each Nepali mission hardly gets one million to two million rupees for conducting economic diplomacy and in most cases, the amount is spent on celebrating the national day and organizing one or two seminars with non-resident Nepali communities, according to two former ambassadors, who wished to remain unnamed.
In the lack of effective and coordinated efforts to conduct economic diplomacy through the government channel, the private sector of the country is individually approaching different sources for attracting tourism, investment and other opportunities, Foreign Ministry officials said.
Some experts who are studying the nature of Nepal's economic diplomacy said that the country's policies are not friendly for conducting economic diplomacy.
Ashwini Kumar Pudasaini, who is writing his PhD dissertation on the status of Nepal's economic diplomacy, said that one simple move that could have been made is ensuring that remittances strictly come through the banking channel.
"Enforcing this measure would have greatly helped sustain the economy, especially in a situation like the current one," said Pudasaini.
There once was a proposal that each Nepali mission should have at least one economic desk to liaise with government entities so that Nepal could promote its trade and investment potential abroad, but that never happened, according to Pudadasaini.
"The promotion of economic diplomacy is also related to the soft power projection of the country. We are also failing in orienting our diplomats and officials on the importance of economic diplomacy," said Pudasaini. "There is a serious lack of policy coordination among stakeholders hence economic diplomacy has taken a back seat in our diplomatic practices."
---
---