How a Buddhist centre in Poland became a refuge for Nepalis fleeing war
Between March 2 and 11, Benchen Karma Kamtsang Centre in Grabnik, Poland provided shelter to 43 Nepalis.

The Benchen Karma Kamtsang Centre in Grabnik is the branch of the Kathmandu-based Benchen Monastery, a Tibetan Buddhist monastery. Photo courtesy: Benchen Karma Kamtsang Centre, Grabnik
bookmark
Published at : March 18, 2022
Updated at : March 18, 2022 07:54
Kathmandu
At 9pm on March 1, Waldemar Zych, a Polish citizen who's popularly known by his Buddhist name Lama Rinchen, was getting ready for bed. Since the next day was the first day of the Tibetan New Year, Lama Rinchen, the head priest of Benchen Karma Kamtsang Centre (BKKC) in Grabnik, Poland, had been busy the whole day performing Buddhist rituals and preparing for the festival.

"Before going to bed, I was going through my phone, and an article published by a major Polish news outlet caught my attention. The article stated that a Polish journalist had come across a group of Nepalis who had fled Ukraine and were now stranded at Warsaw Central Station," said Lama Rinchen, who is now in Kathmandu for a few days. "The article said that the journalist decided to let the Nepalis take shelter at his company's office."
As someone who has deep ties with Nepal, Lama Rinchen knew he had to do something to help the stranded Nepalis. He had first visited Nepal in 1989 and has since been to the country many times. Grabnik's BKKC, the organisation Lama Rinchen heads, also has a special connection with Nepal. Established in 1995, the centre is the branch of the Kathmandu-based Benchen Monastery, a Tibetan Buddhist monastery. The centre conducts seminars on Tibetan Buddhism, meditation practices, and classical Tibetan Buddhists texts.
"The night I came across the news of the stranded Nepalis, it was already 9pm. But the very next day, I got in touch with the media company and drove to Warsaw, which is 40km from our centre. I realised the best way to help the Nepalis was by providing them safe shelter and food," said Lama Rinchen. "That day, we brought 23 Nepalis to stay at Grabnik's BKKC."
The following day, 20 more Nepalis who had recently fled Ukraine arrived at Grabnik's BKKC. One of them was 37-year-old Pacheeta Sherpa from Jiri, Dolakha. Sherpa had arrived in Ukraine on January 24 on a work visa. Exactly a month later, on February 24, Russian President Vladimir Putin authorised what he called "a special military operation" in Ukraine.
The Russian invasion prompted many—Ukrainians, foreign nationals and Nepalis—to flee the war.
After waiting for two days, on February 26, Sherpa decided to leave Ukraine.
"It wasn't an easy decision to make. I had taken a loan of Rs800,000 to come to Ukraine, a country where I hoped to work so that I could provide a better future for my family back home," said Sherpa, a father of two, in a phone interview from Portugal. "Leaving Ukraine was the last thing I wanted to do, but I had no other option."
On the morning of February 26, Sherpa put a change of clothes in a small backpack and left his hostel in Kyiv, the Ukrainian capital. He took a train to Lviv, where he reached at 3am the next morning. At 9am, Sherpa and four other Nepalis boarded a taxi and headed to the nearest Polish border. Just 15km into the journey, the taxi got stuck in a massive traffic jam of motorists heading to the Polish border. Sherpa and his friend ditched the taxi and decided that it was best to make the remaining journey—around 80km—on foot.
"We walked nonstop for 22 hours and finally reached the Polish border. There were thousands of people waiting in line in the hopes of entering Poland. The situation was grim. We waited for another 22 hours and managed to get into Poland. We were cold, scared, and had very little to eat," recalled Sherpa. "By the time we reached Poland, I didn't have a single penny, but fortunately, a group of Non-Resident Nepalis (NRN) had arranged a bus to take Nepalis to a hotel in Warsaw."
But after two days, Sherpa said, they learned that hotels in the city were giving more priority to Ukrainians fleeing the country over other nationalities.
"It was then we were told that a Buddhist centre in the nearby town of Grabnik would house us. When I reached the centre on March 3, several Nepalis were already staying there," he said.
Shiva Pariyar, a resident of Bardibas, also arrived at the centre on the same day as Sherpa.
Like Sherpa, Pariyar left Ukraine with just his passport, a pair of clothes, and whatever little money he had.
"It took me seven days to reach the Polish border. We walked for over 100km. We were so scared," said Pariyar. "When I arrived at the centre, it was the safest I felt since I left Ukraine. I ended up staying at the centre for 10 days. As someone not used to being treated like family by foreigners in a place so far from home, the stay at the centre felt kind of surreal."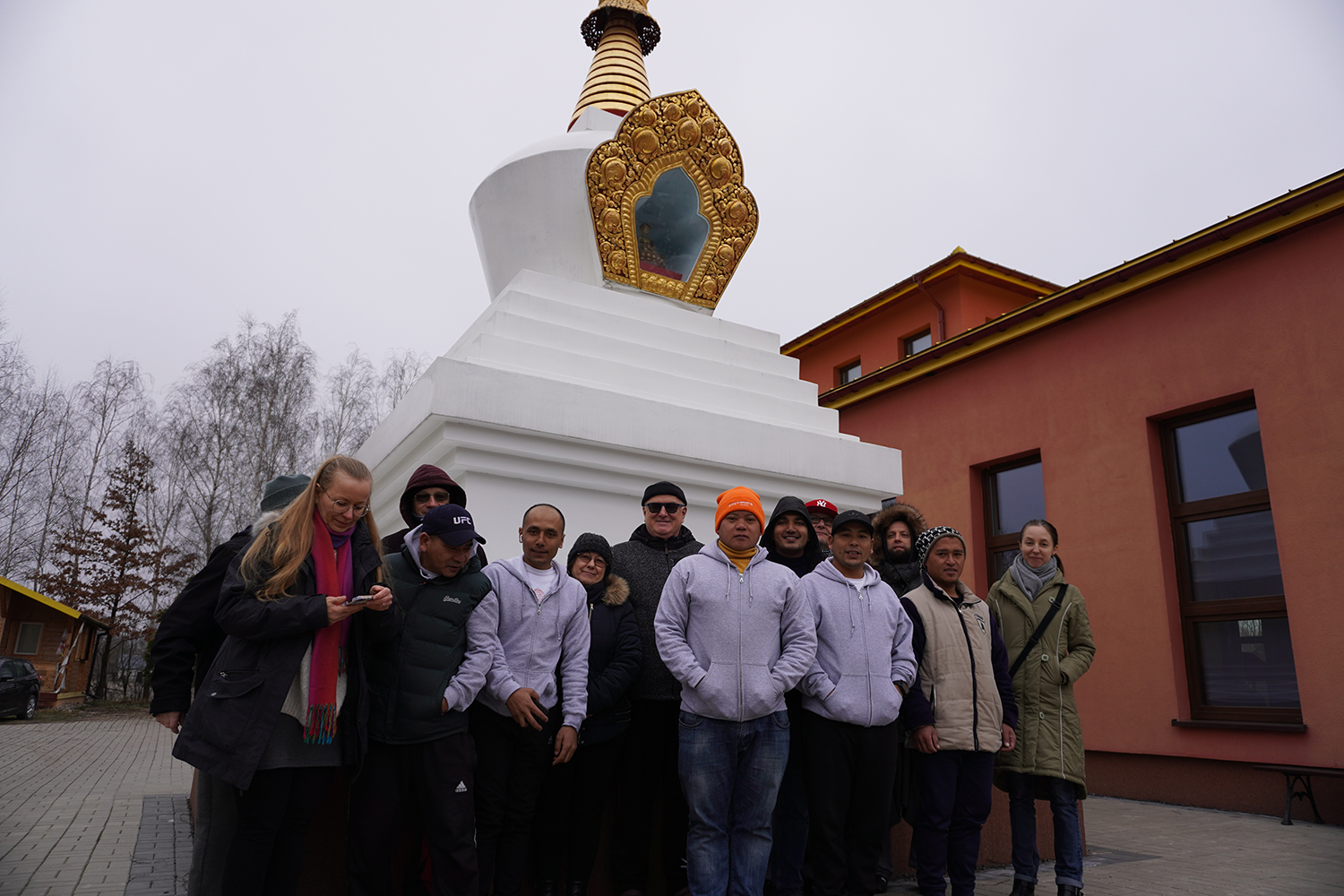 Nepalis who had fled Ukraine pose for a photo in front of Buddhist stupa at Benchen Karma Kamtsang Centre in Grabnik, Poland. Photo courtesy: Benchen Karma Kamtsang Centre, Grabnik
According to Lama Rinchen, some of the Nepalis who arrived at the centre told him that they had walked more than 150km to reach the Polish border.
"Some people told me that they had been drugged and robbed on their way to the border. One of them had walked so much that his legs were swollen when he arrived at the centre. Many were so exhausted that after arriving here, they slept for two to three days, only waking up in between to eat and to use the washroom," said Lama Rinchen. "We believe that help should be given where it is needed the most, and we are so glad that Grabnik's BKKC could do its part in helping Nepalis who were fleeing the war."
Apart from serving as a place to rest and recuperate, the centre also served as a safe space for the many Nepalis like Sherpa and Pariyar to plan where to head next.
According to Sherpa and Pariyar, the Polish immigration officials at the border told Nepalis that they'll have to leave Poland within 15 days. But many Nepalis who arrived at the centre, said Sherpa, had no concrete plans on where to head next.
Poland is where a majority of Nepalis studying or working in Ukraine ran to after the Russian attack. According to Nepal's embassy in Germany, which is accredited to look after Ukraine affairs, there were around 1,000 Nepalis, mostly students, in the eastern European country when the war began.
As of March 12, around 580 Nepalis had reached several European countries like Poland (466), Slovakia (87), Romania (28), and Hungary (8), according to the embassy.
"Since the staff at the Buddhist centre provided us with everything we needed, we got plenty of time to focus on getting all the information required to decide which country to go to next," said Sherpa, who is now in Portugal's Lisbon. "I got in touch with my friends in Portugal and decided to head there."
The staff and volunteers at Grabnik's BKKC, said Lama Rinchen, closely coordinated with the Nepalis to help arrange the logistics for their next European destinations.
"Of the 43 Nepalis who stayed with us, we were able to book and pay for bus tickets for 39. The remaining four had already booked their tickets," said Lama Rinchen.
When Sherpa told the centre's staff that he wanted to go to Lisbon, the staff, he said, booked him a bus ticket to Paris in France and then another ticket from Paris to Lisbon.
"The centre's staff even dropped us to the bus station, and one of them handed the four of us who were leaving that day for Portugal 100 Polish złoty each," said Sherpa. "They had already done so much for us so we refused the money but she insisted that we keep it, saying we could use the money to buy food and water during the 50-hour bus journey. The kindness and thoughtfulness with which the centre treated us have left a deep impression on me."
Pariyar, one of the last ones to leave the centre, is now in Tavira, Portugal.
"I had to stay for many days at the centre because it took me a while to decide where to head next. But not once was I made to feel that I had overstayed my welcome," said Pariyar. "The centre also asked us what we needed the most and bought them for us. For me, they bought a pair of shoes, a set of clothes, and a suitcase."
According to Lama Rinchen, the centre was able to fund the expenses by using the cash donations devotees had given to the centre over the years.
"When word got around that our centre was providing shelter to Nepalis fleeing the war in Ukraine, many of our friends and well-wishers also offered help. On the day the first batch of Nepalis arrived, a nearby Vietnamese Buddhist centre sent a car full of rice, lentils and fruits," said Lama Rinchen. "On March 11, the last Nepali taking shelter at our centre left, but our centre still remains open to Nepalis fleeing the war in Ukraine."
The majority of the 43 Nepalis who stayed at Grabnik's BKKC are now in Portugal. Sherpa and Pariyar told the Post that they are waiting to apply for temporary residency in the country.
"At a time when it felt like there was nothing but darkness around us, the Buddhist centre in the middle of nowhere in Poland brought much-needed light into our lives," said Sherpa. "I don't think I'll ever be able to forget the kindness, compassion, and humanity that we received at the centre."
If you know of any Nepalis who have fled Ukraine and are in need of a safe place to stay in Warsaw, Poland, call Grabnik's BKKC at +48-885-108-002.
---
---