Unexpected autumn rains dampen good paddy harvest hopes
Erratic and extreme weather patterns as a result of climate change have damaged paddy crops across the country, which could have a profound impact on Nepal's economy.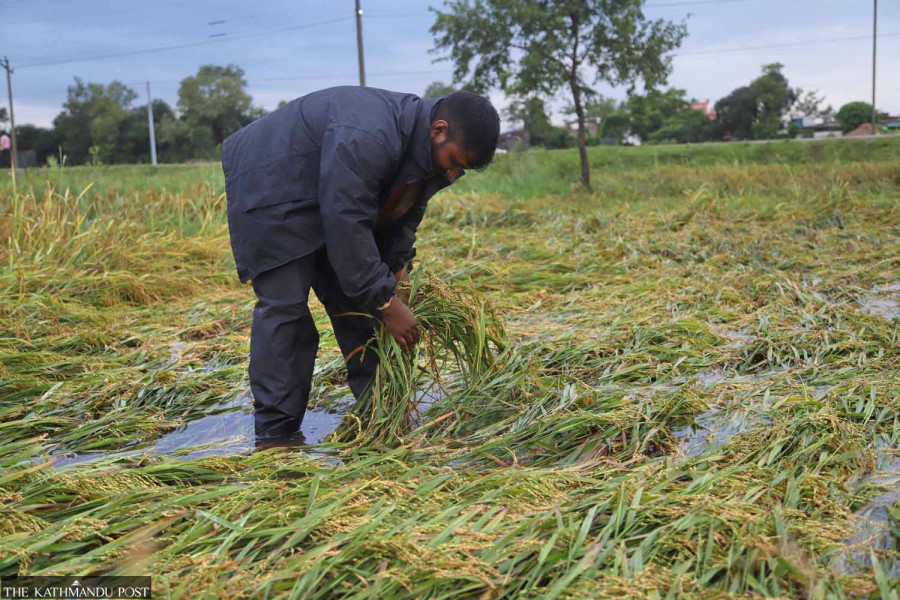 Nepali authorities failed to forewarn farmers of possible rains in October, the month paddy is harvested. Manoj Paudel/TKP
bookmark
Published at : October 20, 2021
Updated at : October 20, 2021 09:28
Kathmandu
On Saturday, just before Vijaya Dashami, the main day of the Dashain festival, Narayan Singh Saud of Bhimdatta Municipality of Kanchanpur district had harvested his paddy. With the festival over, he was planning to collect the paddy from the fields.

But then a disaster struck.
His ready-to-collect paddy is now floating in the water in the field following incessant rainfall on Monday and Tuesday.
"I am helpless," said Saud, 52, who is a full-time farmer. Saud plants paddy in his 2 bigha [1.34 hectares] of land. He used to produce around 200 sacks of rice. "I used to earn over Rs 15,000 by selling just the straw," Saud told the Post over the phone from Kanchanpur. "This year, I am wondering how I am going to feed my family."
Like Saud, Viltarey Kumal, 55, and many of the villagers in Sano Kumalgaun and Thulo Kumalgaun in Madhya Nepal Municipality in Lamjung are worried. The incessant rainfall has damaged their paddy.
"The whole paddy field is inundated with water. The rain has totally destroyed our grains," said Kumal of Sano Kumal Gaon. "Almost everyone in our village has lost their paddy to the rains. Some of them had already harvested the paddy and others were preparing to harvest."
Thousands of farmers across the country have lost their paddy to October rains this year. Destruction of the paddy is a major setback for Nepal's overall economy. Paddy alone contributes around 7 percent to the national gross domestic product, and is the major income source for more than half of the population.
The sudden and extreme rainfall in the third week of October, about a month after the monsoon usually ends in Nepal, has left experts wondering–and worried–how climate change is impacting the economy and livelihoods of the people.
"This is a disaster, the state must make efforts to rescue the farmers who are in distress," Madhukar Upadhya, a climate change expert, wrote on Twitter on Tuesday, referring to the destruction of the paddy by rains.
Nepal's economic wellbeing is intimately linked with the rainy season. Water from the skies is the lifeblood of Nepal's Rs4.26 trillion economy which is farm-dependent, as nearly two-thirds of the farmlands are rain-fed. A large part of the country gets nearly 80 percent of its annual rainfall during the four months—June to September. Given the above-normal rainfall this year, Nepal was expecting a bumper harvest.
Paddy is transplanted in Nepal in June and harvested in October. But the rain this time in the third week of October is set to spell disaster.
"That Nepal is also experiencing extreme weather conditions is something scientists had warned for long. It's time to mobilise security forces to help the farmers," said Upadhya, a watershed practitioner and climate change expert. "What we have seen can have a major impact… it could lead to food insecurity."
Experts had warned of extreme weather events when Nepal received above normal rainfall in June, the month monsoon entered the country. Nepali authorities, however, failed to forewarn farmers of possible rains in October, the month paddy is harvested.
The Department of Meteorology even stopped providing weather forecasts from October 9, assuming that the monsoon was over, said Upadhya. Monsoon usually lasts until September 23 in Nepal.
"Suddenly there was rain… a lot of it," said Upadhya. "The farmers now are at the receiving end."
When it rains, it pours.
When farmers lose their paddy and suffer, the whole economy suffers.
A good paddy harvest this season was expected to contribute to the country's economy that was teetering in the wake of the Covid-19 pandemic.
Experts say such are the reasons why for many years scientists have been stressing that "climate change" should be called "climate crisis".
Indira Kadel, a senior meteorologist at Climate Analysis Section of the Department of Hydrology and Meteorology, says such rainfall had occurred in 2009 as well.
"We also have a record of countrywide rainfall on October 5, 6, 7, 8 and in 2009, especially on October 7 there was over 700mm rainfall in the farwest region and 380 mm rainfall in Gandaki," said Kandel.
In the past few years, the country has been receiving more rainfall in a short duration of time–an abnormal phenomenon that is slowly becoming a new normal.
Climate change experts say there has been a change in precipitation patterns. Some areas are receiving more rainfall than normal in a very short period of time, which leads to flooding and inundation, posing a great risk to human lives and property.

Monsoon entered Nepal this year on June 11. Although the monsoon season in Nepal normally begins in the second week of June and ends on September 23, this time it extended over a month.
Days after the monsoon clouds arrived, torrential rains started wreaking havoc across the country, unleashing floods and landslides and the rains have not stopped yet.
The first month of the season showed that most parts of the country received rainfall above the average for the month of July, which triggered massive flooding and landslides in the country.
After reports of loss of lives, property and paddy in various parts of the country, Prime Minister Sher Bahadur Deuba on Tuesday expressed his concerns.
"I have instructed the Home Ministry to rescue and provide relief to those who have been affected by floods, landslides and inundations in the farwest and other parts of the country," Deuba wrote on Twitter.
Experts say Nepal's successive governments have developed a tendency to react after any disaster, instead of working on taking initiatives to make concrete plans to prevent the disaster and respond to the situation.
"Just some instructions from the prime minister are not enough," said Upadhya. "It's time to act rather than instruct."
According to the Meteorological Forecasting Division under the Department of Hydrology and Meteorology, there is a possibility of rainfall until Thursday. The department has forecast light to moderate rainfall with thunderbolts in few places in Province 1, Province 2, Lumbini, Karnali and Gandaki provinces.
The Division's climate section's data on Tuesday shows that out of 215 weather stations across the country, 209 reported rainfall. In the past 24 hours, Dadeldhera's Shahukharka station reported the highest amount of rainfall at 361mm. In the past 24 hours, 169 stations reported light rain (above 10mm), 138 stations recorded moderate rain (above 25mm), 91 stations above 50mm, 36 stations over 100 mm, 15 stations reported over 150 mm and five stations received over 200 mm rainfall.

Experts say it is high time people in power understood that the climate crisis is a political issue and why they should pay attention to the impacts of climate change on every aspect of life.
According to Upadhya, authorities must pay attention to the fact that climate change and extreme weather conditions directly impact the people.
"It's high time we changed our mechanism focusing on the people," said Upadhya. "Traditional forecast systems do not work anymore as we are seeing extreme weather conditions. Weather patterns have changed and they are affecting the people."
---
---