New Delhi sends its senior foreign affairs official to Kathmandu
Anurag Shrivastava is set to hold a series of meetings.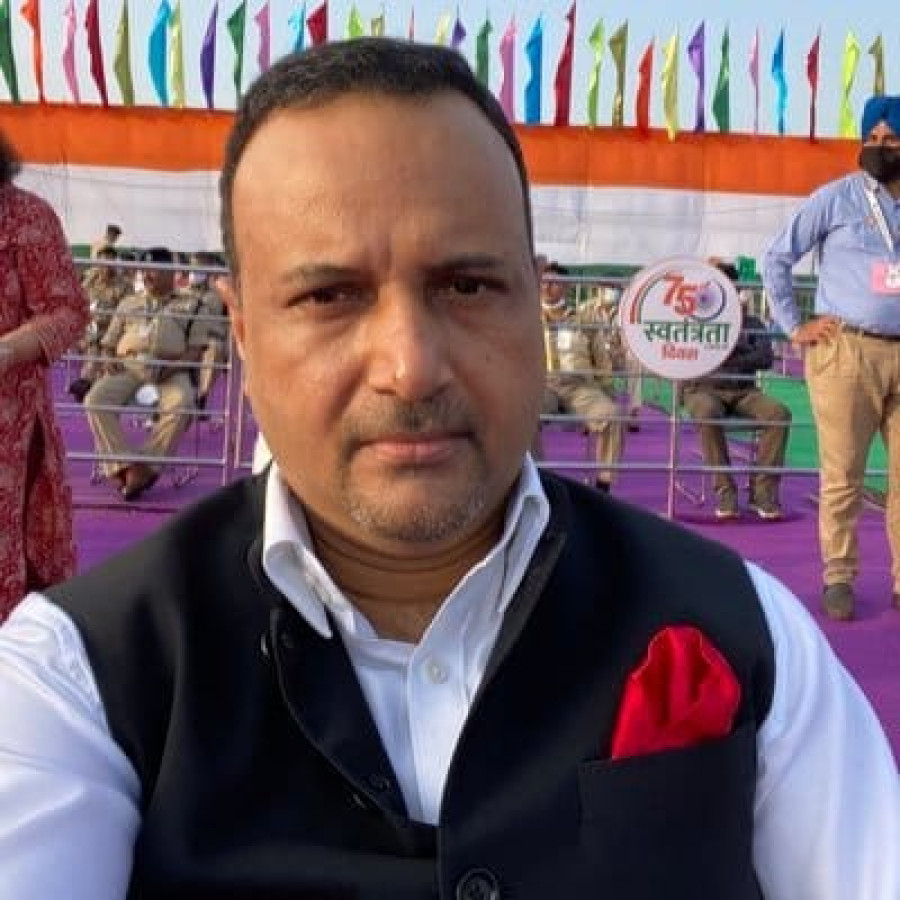 Photo via Twitter
bookmark
Published at : September 28, 2021
Updated at : September 29, 2021 09:28
Kathmandu
New Delhi has sent a senior official at the Ministry of External Affairs to Nepal.
Anurag Srivastava, head of the Northern Division at the Ministry of External Affairs, that looks after all matters relating Nepal and Bhutan, arrived in Kathmandu on Tuesday.
According to sources, Srivastava, former spokesperson at India's Ministry of External Affairs, will hold a series of meetings in Kathmandu.
Srivastava will be meeting Finance Secretary Madhu Marasani, Commerce Secretary Dinesh Bhattarai and Acting Foreign Secretary Prakash Subedi, among others, officials familiar with the Indian official's visit said.
Srivastava's visit to Kathmandu follows a meeting between Foreign Minister Narayan Khadka and his Indian counterpart S Jaishankar in New York on the sidelines of the ongoing 76th session of the United Nations General Assembly.
Though bilateral relations between India and Nepal appeared to have been showing some semblance of normalcy, weeks after Sher Bahadur Deuba's return to power an accident took place in Darchula.
Jaya Singh Dhami, a 33-year-old youth, disappeared into Mahakali while trying to cross the river using an improvised cable crossing called tuin on July 30.
A probe team formed by the Nepal government found that India's Seema Sashastra Bal members were involved in the incident, as one of them had untangled the cable just when Dhami was about to reach the other side of the river.
The incident created quite an uproar, and the Deuba government wrote a diplomatic note to India in the first week of September via the Indian embassy in Kathmandu. India, however, has not responded to the diplomatic note yet.
The incident has caused some unease in Nepal-India relations.
Officials did not say the exact purpose of Srivastava's visit, but they said it is a tradition that Delhi sends senior officials to Nepal when there is regime change in Kathmandu.
A Nepali diplomat based in Delhi said that the Indian officials usually try to assess the priority of the new government and discuss possible development and economic cooperation with the new administration.
"Since several meetings between Nepal and India at various levels are also pending, the Indian official is likely to hold discussions on the resumption of those meetings," said the diplomat who wished to remain unnamed.
Discussions could also take place on a possible visit to India by Foreign Minister Khadka, according to another Nepali official.
"The foreign minister's visit would also pave the way for Prime Minister Deuba's visit to India," said the official who also spoke on condition of anonymity.
Srivastava's visit is the first by an Indian government official since the Deuba government was formed on July 13.
Earlier in the third week of August Vijay Chauthaiwale, chief of foreign affairs department of India's ruling Bharatiya Janata Party, had visited Kathmandu and held a series of meetings with Nepali political leaders, including Prime Minister Deuba. After Chauthaiwale, Ram Madhav, national general secretary of the Bharatiya Janata Party, also visited Kathmandu.
---