Lockdown drags on but no relief package for the urban poor
This year relief has not been the priority of most of the non-governmental organizations as well with only a few of them providing relief packages to the needy.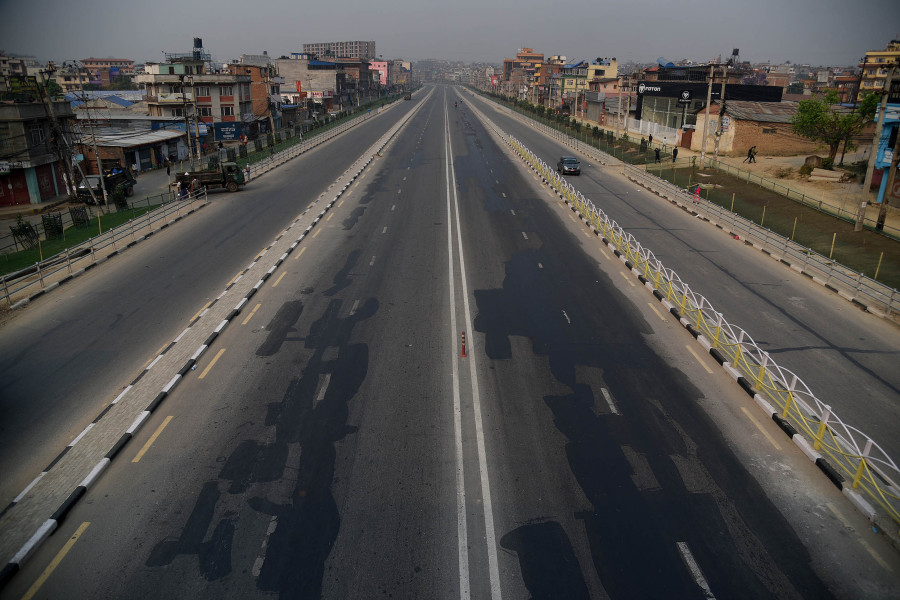 An empty road seen on April 29, the first day of prohibitory orders enforced in Kathmandu Valley to tackle the second virus wave. Post File Photo
bookmark
Published at : June 19, 2021
Updated at : June 19, 2021 12:21
Kathmandu
It has been over a month and a half since prohibitory orders were imposed in the Kathmandu Valley and many other districts to contain the Covid-19 pandemic, but little has been done to provide relief to the urban poor, most of whom have lost their livelihoods to the lockdown.
Neither the federal government nor provincial or local governments have come up with relief measures for such people despite reports of people walking for hours every day just to have free meals distributed by certain charity organizations and community people.
Last year, when a lockdown was enforced for the first time starting March 23, 2020, the federal and local governments had announced relief packages for the poor people affected by the lockdown and the local governments of Kathmandu, Lalitpur and Bhaktapur among other municipalities in the country had made arrangements to distribute food and other relief materials including free meals targeting the daily wage workers and the destitute.
But now both the local and federal officials are claiming that there are not many people seeking relief this year compared to last year and they had to give greater priority to saving lives instead of livelihoods due to the havoc created by the second wave of the pandemic. Non-governmental organizations also have not come up with a plan to help the poor facing hand to mouth problems.
Raju Maharjan, spokesperson at the Lalitpur Metropolitan City said his office had to focus on disease control first because of the overwhelming number of Covid-19 cases this year. "We are aware of the plight of the daily wage workers and are planning a relief package if the existing lockdown prolongs," Maharjan told the Post.
Lalitpur Metropolitan City had provided free meals for struggling families last year.
According to Maharajan, compared to the lockdown last year, there haven't been many requests for relief this time. This year's lockdown, first enforced on April 29, has been extended several times and the latest extension will remain in force until June 21.
The Kathmandu Metropolitan City also has not announced any relief package for the poor. According to the Ministry of Federal Affairs and General Administration, the line ministry of local governments, it does not have information of any other municipalities in the Kathmandu Valley distributing relief packages to the unorganized sector workers.
"Some municipalities outside Kathmandu have distributed relief packages to a total of 14,000 households during the second wave of the pandemic," said Basanta Acharya, spokesperson at the Ministry.
He said the federal government also has not initiated any efforts to provide relief this year as demand for relief is not so high. "But, we are not saying people won't come if we start distributing relief," he added.
According to the Federal Affairs Ministry, 5.7 million people from 1.8 million families were provided relief packages during last year's lockdown. About Rs3 billion was spent on relief last year, according to the ministry.
As per the federal government's relief package, each poor family with three members or more was provided 30 kilos of rice, three kilos of pulses, two kilos of salt, two litres of cooking oil, four soaps and two kilos of sugar. This quantity of relief materials would be available for a family with three or more members. Families with two members received half the amounts.
This year relief has not been the priority of most of the non-governmental organizations as well with only a few of them providing relief packages to the needy.
According to Jitram Lama, president of the NGO Federation Nepal, a grouping of local non-governmental organizations, problems related to hunger didn't appear prominently this year compared to last year as the daily wage workers in the cities managed food for a relatively long period and many of them left for their villages before the lockdown.
"Maybe many people learnt from last year's experiences and prepared themselves for the impending situation," he said. "Relief package for the poor was also on the government's priority this time as the aid agencies were asked to assist in setting up health infrastructure instead."
As per the government's request, both domestic and foreign non-governmental organizations invested in health facilities, oxygen cylinders, medical equipment and oxygen concentrators among other things. According to the Social Welfare Council, the domestic and international non-governmental organizations have so far committed around Rs1.2 billion in the areas of controlling the pandemic.
"If the lockdown continues further then we will have to think about providing relief," said Lama.
---
---