Social media comes to the rescue of some in search of Covid-19 treatment
Platforms dedicated to help those in need of beds, oxygen, therapeutics have sprung up as the strain on the healthcare system grows.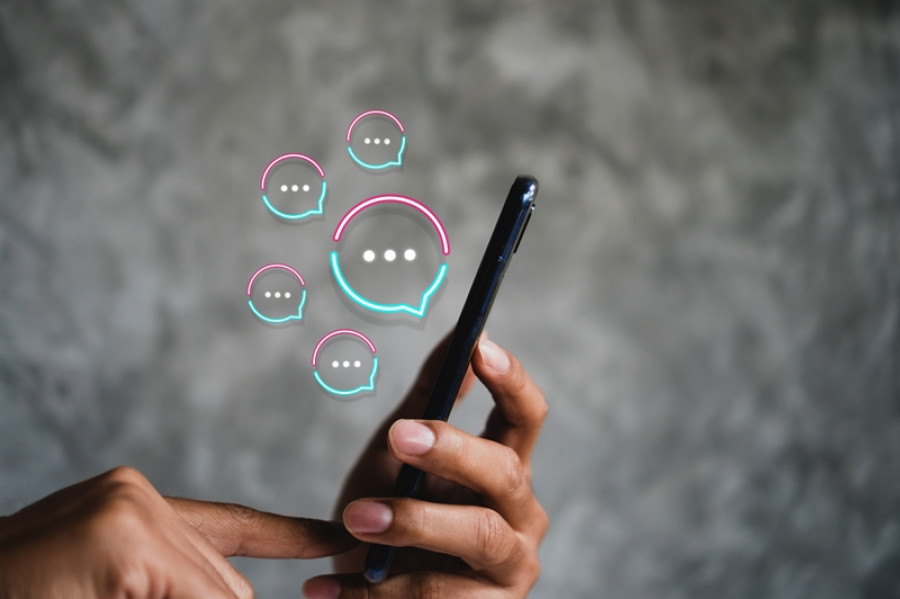 Shutterstock
bookmark
Published at : May 3, 2021
Updated at : May 3, 2021 14:47
Kathmandu
Bijita Shakya's aunt was admitted to the general ward of Bir Hospital on Sunday after becoming severely ill with Covid-19. Though the 64-year-old had tested positive for Covid-19 only on Friday, she had had symptoms for the past 10 days.
She was admitted to the hospital after she had difficulties breathing, Shakya told the Post. "ICU beds at Bir Hospital are full and doctors have told me that there is a long queue for them so I better search for a bed in another hospital."
Her aunt's oxygen level is dipping fast. But intensive care beds are hard to come by.
Shakya is, however, hopeful of finding one through social media.
"I decided to take help from my friends and they have shared my need on social media platforms," said Shakya. "Though we haven't got a bed for my aunt yet, we are hopeful that we will get help soon as the information is spreading fast."
With the government announcing that the country's health system is unable to cope as coronavirus infections continue to soar, people have been left with no option but to seek assistance wherever they can.
Like Shakya, many are taking help from social media by asking for assistance by posting their urgent requirements on Twitter, Facebook and Instagram as hospital beds, blood plasma, and medicines are scarce to come by in the second wave of Covid-19.
Users are flooding these platforms with appeals for urgent help through posts, retweets, shares and story uploads to help distressed citizens in several cities across the country.
"Urgent A +ve required for plasma therapy for a patient in Kathmandu who is currently admitted in ICU of Star Hospital," wrote a Twitter user.
Another Twitter user shared a screenshot of an Instagram story that said, "Help Post! Urgent need of plasma. Blood group B positive. My uncle is covid positive, 13th day of hospital stay. Health is deteriorating day by day, spo2: 84%. Hospital: Shree Birendra Hospital, chauni. Please contact for help."
Plasma therapy involves taking antibodies from the blood of a person who has recovered from Covid-19 and transfusing it into a person suffering from the disease to help kickstart the immune system to fight the infection.
Hashtags like #nepalcovidsos and #nepalcovidinfox are trending with people directing those in need of help to suppliers.
After seeing the situation getting worse and fearing a situation like in India a group of youths have come forward with a new initiative to help people get connected with the resources.
Suraj Raj Pandey, one of the founders of Covid Connect Nepal, and his team recently developed a website which is a volunteer-run platform initiated to connect assistance providers and seekers. The team is fully active not only through the website but also on other social media sites like Twitter, Facebook, Viber and Instagram.
"The site maps live demands for Covid-19 essentials like hospital beds, oxygen and emergency demands, while it could also be used to offer help," Pandey told the Post. "We initially had a team of eight people. However, now, many people are coming forward to be a part of the initiative."
For many it has been a godsend.
"Response on our site has been overwhelming as many people reach out to us with enquiries and also for ICU beds, oxygen and medicines," he said.
The site on Sunday evening had demand for 10 intensive care unit beds of which eight were urgent.
"Today a patient who was in the general ward of Bir Hospital but was seeking an ICU bed on our site died. Despite our efforts, we couldn't help him," Pandey told the Post "To avoid such tragedies, our team is also contacting different hospitals to find out if they have any beds available for critical patients."
According to Pandey, his team has helped at least 50 patients so far to get the intensive care unit beds and oxygen supplies.
"Our community on social media is growing very fast and people who need help and who want to help are getting connected," said Pandey.
"If the patient is very critical we try to manage beds ourselves as many hospitals, doctors and experts have reached out to us to support and if the case is not critical we post the requirement through social media and people get help from each other."
After the unprecedented surge of Covid-19 cases in Nepal in the last few weeks, most health care facilities designated for treating Covid-19 have already been overwhelmed.
Nepal in the last 24 hours reported 7,137 new coronavirus infections, the highest number recorded on a single day since the pandemic began. According to the Ministry of Health and Population, 27 Covid-19 patients died during this period.
The positivity rate on Sunday was more than 44 percent, again a record since the pandemic began.
There have been 336,030 cases so far with 48,711 active cases.
The death toll stands at 3, 325.
The government has projected that the daily number of infections could be as high as 11,000 by mid-July. The total number of infected persons could rise up to 800,000 and 15,000 could need intensive care beds while 45,000 might require high flow oxygen therapy, according to the projection.
Even though numbers have not reached those levels yet, the general public have already had to resort to social media for support. Ronikar Khadka was one of them.
"It's urgent one of my colleagues needs an oxygen cylinder for her grandfather. Can anybody suggest to me where I can get it," he wrote on one Viber group named Covid-19 Emergency Group which has over 1,400 members.
Others in the group suggested that the patient be taken to hospital, if his oxygen level was deteriorating as the situation could go worse.
But hospital beds are not easy to find as Shakya found out looking for one for her aunt.
---
---