Former chief justices reply to the court, reasserting why free speech matters
In saying House dissolution is unconstitutional, they say they used their right to freedom of expression and that does not amount to contempt of court.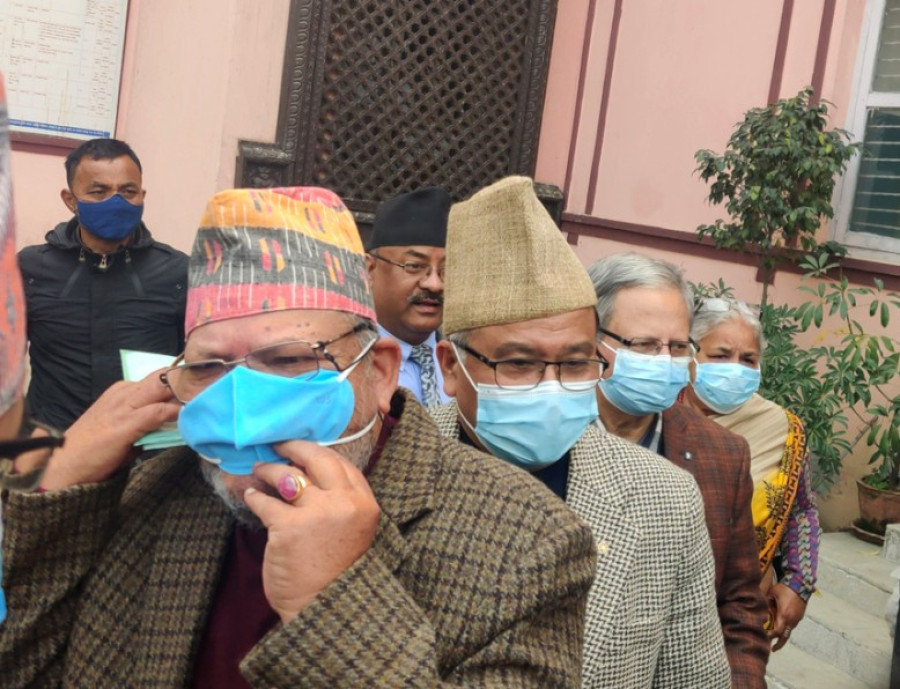 All four justices have said that in issuing the statement, they were exercising their freedom of speech right guaranteed by the constitution. Jaya Singh Mahara/Kantipur
bookmark
Published at : February 16, 2021
Updated at : February 16, 2021 07:45
Kathmandu
In an unprecedented event which will live in the annals of Nepal's judicial history, four former chief justices, known for their highest level of conduct and integrity, went to the Supreme Court which they once headed at different times, in person, only to reassert why freedom of expression matters in a democracy–and even more in today's Nepal.
The four former justices–Min Bahadur Rayamajhi, Kalyan Shrestha, Sushila Karki and Anup Raj Sharma–were responding to an order in which they were asked to reply over contempt of court charges for their January 8 statement on Prime Minister KP Sharma Oli's House dissolution move.
All four justices have said that in issuing the statement, they were exercising their freedom of speech right guaranteed by the constitution.
Of the four former chief justices, Rayamajhi, Shrestha and Karki furnished a joint reply, while Sharma furnished a separate response.
The four former chief justices reiterated what they said in their press statement–that Prime Minister Oli's move of dissolving the House is unconstitutional and they were using their constitutionally guaranteed right of free speech in saying so.
A single bench of Justice Manoj Kumar Sharma on January 28 had ordered the four former justices to reply in writing why their statement did not amount to contempt of court.
A little over two weeks after Oli dissolved the House on December 20, the four former chief justices had on January 8 come up with the joint statement in which they had said the Constitution of Nepal doesn't allow the KP Sharma Oli government to dissolve the House of Representatives.
Oli's House dissolution move by that time had been challenged in the Supreme Court.
On January 27, advocates Lochan Bhattarai and Dhanjit Basnet filed two separate cases against them, claiming that the joint press statement amounted to contempt of court as they had spoken on a sub-judice matter.
Reiterating that the executive's move of dissolving the House of Representatives was unconstitutional, all four former chief justices have said the petitions accusing them of committing contempt of court, should be, prima facie, quashed, as there was no explanation on how and on what basis the press statement caused contempt of court.
"It's not that as a legal practitioner freedom of expression should be blocked on the issues of justice," states the joint response of Rayamajhi, Shrestha and Karki. "International standards including the UN Basic Principles on the Independence of the Judiciary and Bangalore Principles of Judicial Conduct have stated that even incumbent legal practitioners can form organisations, gatherings, and express their opinions using freedom of speech as their inherent right."
The former justices have said if the court wanted to establish that public debate should be banned on a sub-judice case as demanded by the writ petitioners, all the intellectuals, writers, journalists, legal experts, politicians and general public who are currently debating the House dissolution issue should be punished for contempt of court, which is not acceptable as per freedom of speech guaranteed by the constitution.
"Since it is people's fundamental right to study the constitution, draw opinion from it and discuss it with the general public, we don't think we should fear exercising our rights without interfering legal procedures," said the justices.
In his response, former chief justice Sharma has said the writ petitioners seemed to have filed the petition for cheap popularity with an ill-intention.
"Since human rights, fundamental rights, independent judiciary, rule of law and good governance are the matters of my concern, it is obvious that I would comment on an issue like the House dissolution, which is of huge public concern," Sharma has said in his response. "The statement, issued after analysing the articles mentioned by the executive head and seeing that it was unconstitutional, cannot be contempt of court."
Experts on constitutional matters have for long said that Oli's House dissolution move is unconstitutional as the Constitution of Nepal does not allow him as a majority prime minister to do so.
Oli has cited Articles 85, 76 (1) and 76 (7) for dissolving the House.
"Article 76 of Nepal's constitution does not have any provision for dissolving the House unless for the purpose of forming a Council of Ministers, but the House of Representatives is found to have been dissolved by invoking those articles," the former chief justices had stated.
The day the Supreme Court summoned the former chief justices, Prime Minister KP Sharma Oli was also ordered to furnish his reply on two cases of contempt of court within a week.
While the former chief justices have responded to the court right after receiving the court order, the prime minister is learnt to have received the court order only on Sunday.
According to Devendra Dhakal, an information officer at the Supreme Court, the Supreme Court administration handed over the order to the prime minister on Sunday.
But those from Oli's orbit said that they were not aware of the prime minister receiving the order.
"I have no idea about the prime minister receiving any letter from the court," said advocate Baburam Dahal, prime minister's legal advisor.
Legal and constitutional experts say by responding to the Supreme Court on contempt charges, the four former chief justices have made a statement in itself that freedom of expression is the lifeblood of democracy that facilitates open debate. By abiding by the court order, the former chief justices have also shown respect to the institution they once headed and reasserted the fact why rule of law is important in a democratic society, according to the experts.
"Article 17 of the Constitution of Nepal has listed six freedoms. Among them free speech is the backbone of the constitution and it is considered the cornerstone of democracy and rule of law which ensures that every citizen has their right to have differing views," said Bhimarjuna Acharya, a constitutional lawyer. "A person can not only put forth differing views on government's activities but also the activities of the judiciary. The constitution has guaranteed liberty to defend their free speech whether they are retired chief justices or common citizens."
Acharya said that there was nothing contemptuous in the statement of the former chief justices.
"If we take such expressions as contempt of court, the provision of contempt of court could be misused," said Acharya.
After furnishing their replies, the four former chief justice, in an interview with ekantipur, said that they have an unwavering faith in the judicial process and that they have no qualms over abiding by the rule of law.
"I felt happy to visit the Supreme Court as a justice seeker," Sharma told the Post. "The justice [who issued the order] should have given some reasons to summon us, but there was nothing."
A former chief justice said that contempt of court cases could have been filed against the four former chief justices with an intention to defuse a similar case against the prime minister.
"But if there is a court summon, any law-abiding citizen will have to respond," he said, asking not to be named.
Balaram KC, a former Supreme Court justice, said the Supreme Court's summons to the sitting prime minister and former chief justices should also be viewed in such a way that no one is above the law.
"Every powerful person ultimately becomes a private citizen and everyone should abide by the law," KC told the Post. "The four former chief justices also proved their point that they have full respect for the court of law."
---
---