As citizens bear the brunt of strikes, they ask who politicians are serving
Six vehicles were vandalised in the Capital during Thursday's protests. Their fault—going about their lives to feed their families.

Kumbha Narayan Shrestha, whose taxi was vandalised at Gongabu, Kathmandu. Keshav Thapa/TKP
bookmark
Published at : February 4, 2021
Updated at : February 5, 2021 08:36
Kathmandu
When Kumbha Narayan Shrestha's taxi was set on fire by two unidentified men in Gongabu on Thursday morning, his wife Gopi was watering her vegetables at a farm in Okharpauwa, Nuwakot.

"He [Kumbha Narayan] called me and told me to turn on the TV. I told him I don't have time to watch TV. He cut off the line," said Gopi, 43, a mother of three children—a daughter and two sons aged 14, 9, and 7.
Shrestha's taxi (Province 3-01-002 Ja5881) was set on fire at 6 am by alleged protesters enforcing Thursday's strike. When the men posing as passengers stopped him at Gongabu, Narayan had already had two fares after leaving his rented room in Bijulibazar early in the morning. The men asked him to take them to Gaushala, and then hurled a Molotov cocktail at the vehicle before fleeing the scene. Kumbha Naryan barely managed to unfasten his seat belt and come out of the vehicle to save himself.
"He was shaken. When I called him back, he said that the taxi was on fire," said Gopi who rushed to Kathmandu on a water tanker—as there were no public vehicles on the road due to the general strike enforced by the Puspa Kamal Dahal and Madhav Kumar Nepal faction of the Nepal Communist Party.
Gopi along with her three children left their ancestral home in Dhading a year ago after selling their house and land for Rs 1.5 million to seek treatment for Kumbha Narayan, who had to be bedridden with paralysis for over six months.
"He would drive the taxi, and I would grow vegetables on our leased land in Okharpaua. That's how we were paying our children's school fees," said Gopi.
When the Post met the duo near their rented room in Bijulibazar, Kumbha Narayan was still in shock and unwilling to talk. "The owner of the cab has ordered me not to talk to the media. The taxi cost Rs 3.2 million, how am I going to pay that money?" said Kumbha Narayan, a patient of hypertension.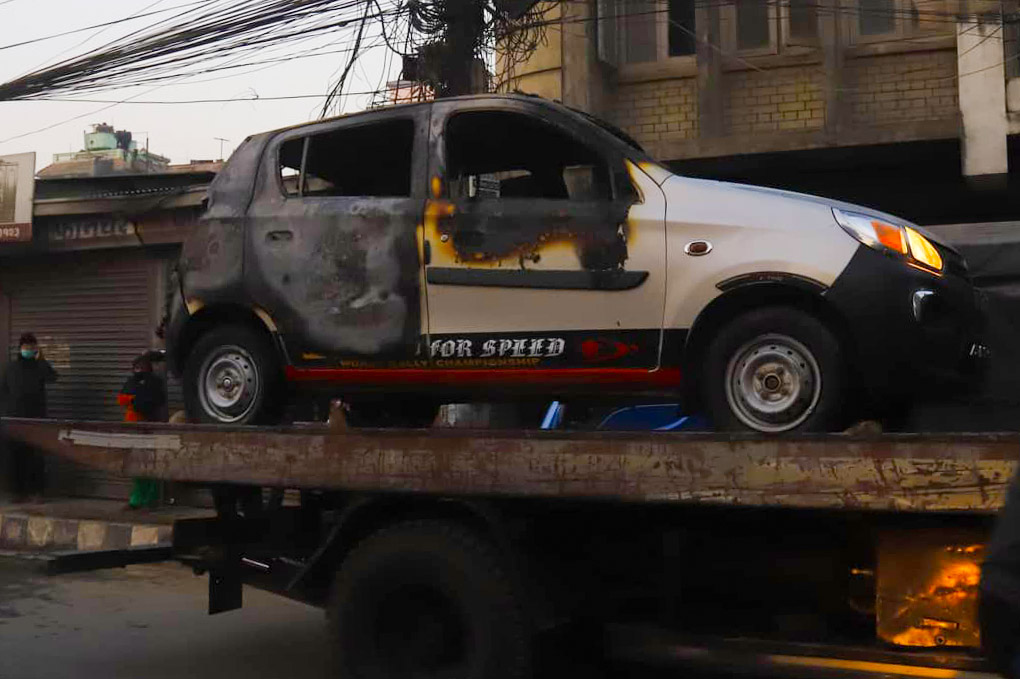 Five other vehicles, including two more cabs--one in Kalanki and the other in Swayambhu--were vandalised on Thursday, according to Metropolitan Traffic Police Division. Post photo
Kumbha Narayan's family was one of the victims of Thursday's strike-related vandalism. The family is not affiliated with any political party, all Kumbha Narayan was doing was working to put a meal on the table for his family.
Five other vehicles, including two more cabs—one in Kalanki and the other in Swayambhu—were vandalised on Thursday, according to Metropolitan Traffic Police Division.
Thursday's general strike made life difficult for people across the country with many reported cases of vandalism and arrests all across the country. As vehicular movement was disrupted from early in the morning, members of the public were forced to walk to reach their destinations.
"I had my appointment with the doctor for my eye check up, but with no vehicles on the road, I had to walk all the way from Satdobato to Tripureshwor," said Bhagwati Chaulagain, 37.
"I was afraid of walking on the road as protests were going on at Lagankhel, Jawalakhel, and Pulchowk. They were attacking motorists," said Chaulagain.
Meanwhile, a crowd of people was seen at the passport office at Narayanhiti—most of the people walked long distances to get there. "We came here walking for an hour from New Bus Park and again we need to walk the same distance when we return," said Rajan Thapa, 25, who along with a friend, came to the office for a new passport.
"We were planning to return home to Nawalparasi today, but due to the strike, we are stuck here," said Thapa who plans to go to Dubai for work. "For nearly a year, I have been jobless due to the Covid-19 pandemic, now the political parties have started their strike. It's only the poor that suffer here," said Thapa, 25.
The Dahal-Nepal faction has been agitated ever since Oil dissolved the House last month. The faction had been holding mass gatherings and demonstrations in various parts of the country, including Kathmandu.
Doctors and virologists say the country is still not out of the woods when it comes to the danger of transmission of coronavirus. According to the Ministry of Health and Population, Kathmandu Valley reported 78 new infections in the past 24 hours. They say it will take time to vaccinate the masses, but people are taking part in protests without taking precautions against the virus.
According to Superintendent Sushil Singh Rathour, spokesperson for Metropolitan Police Office, Ranipokhari, 84 people were rounded up on Thursday, including Nepal Communist Party leaders Asta Laxmi Shakya, Hitman Shakya, Krishna KC, and Himal Sharma for enforcing the strike.
Meanwhile, protesters manhandled Keshav Raj Joshi, a journalist associated with Shilapatra online at Koteshwor where the protesters cooked food and served participants of the demonstrations.
For Kumbha Narayan, there's no other option but to vent his frustration. "I don't know why they are protesting and for what. But at least they should let us work and earn our bread," said Kumbha Narayan.
---
---