Sapana Pradhan Malla replaces Hari Krishna Karki, as Constitutional Bench is set to hear House dissolution case
Karki had recused himself from the bench on January 6 after questions that his presence constituted a conflict of interest.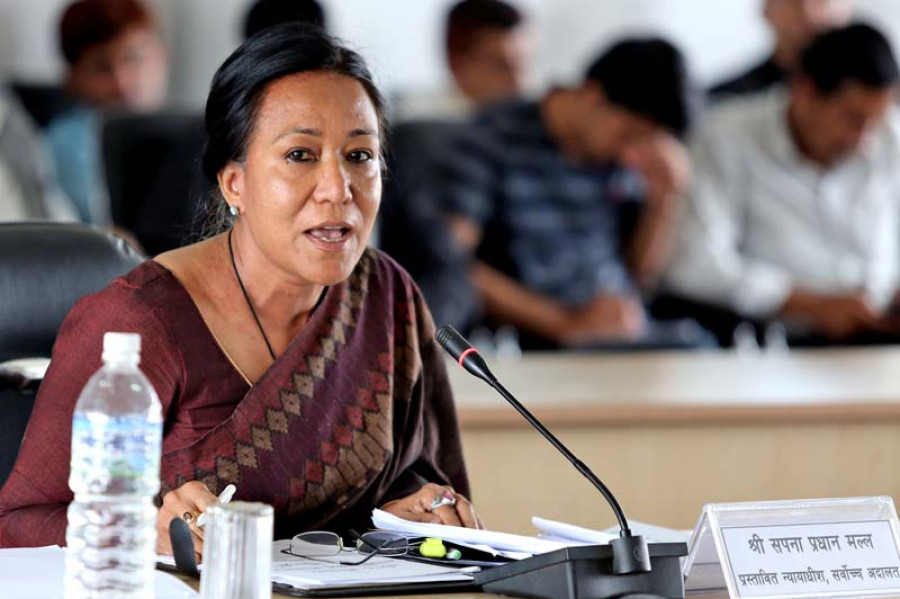 RSS
bookmark
Published at : January 13, 2021
Updated at : January 13, 2021 11:04
Kathmandu
Chief Justice Cholendra Shumsher Rana has inducted justice Sapana Pradhan Malla into the Constitutional Bench in place of Justice Hari Karishna Karki who had recused himself from the bench on January 6.
Rana has given continuity to Bishowambhar Prasad Shrestha, Anil Kumar Sinha and Tej Bahadur KC as other members of the bench, which will continue the hearing on the 13 writs filed against President Bidya Devi Bhandari's decision to dissolve the House of Representatives as per the recommendation of the KP Sharma Oli government.
During a hearing on January 6, the petitioners and the lawyers had raised why Karki was on the bench, saying his presence constituted a conflict of interest.
Karki was appointed attorney general in October 2015 after Oli was elected prime minister for the first time following the promulgation of the constitution.
The lawyers argued that since Karki, in the capacity of the attorney general, had served as the chief legal counsel to Oli back in 2015, his presence on the bench constituted a conflict of interest as the bench was hearing the petitions in which Oli is one of the defendants.
Karki had then decided to recuse himself from the bench, resulting in the adjournment of the hearing on January 6.
According to Kishor Poudel, a communication expert at the Supreme Court, Wednesday's hearing will focus on whether to send the writs to the extended full bench or continue the hearing by the Constitutional Bench itself.
"The final hearing will begin only after the decision over the bench," he told the Post.
The formation of five-member bench had run into controversy on the very first day, on December 25, after Chief Justice Rana chose the members for the bench from the roster of 14 justices leaving out some senior justices.
Malla, the new member on the bench, was appointed a Supreme Court justice in March 2016 along with Karki and Sinha.
While Karki and Malla were appointed under the erstwhile CPN-UML quota, Sinha was recommended by the Nepali Congress.
Malla was also a member in the first Constituent Assembly under proportional representation system from the UML party.
---