In address to the nation after House dissolution, Oli defends his move
He says that he was left with no choice as he was not allowed to work by some ruling party leaders and seeking a fresh mandate was the best alternative given the situation.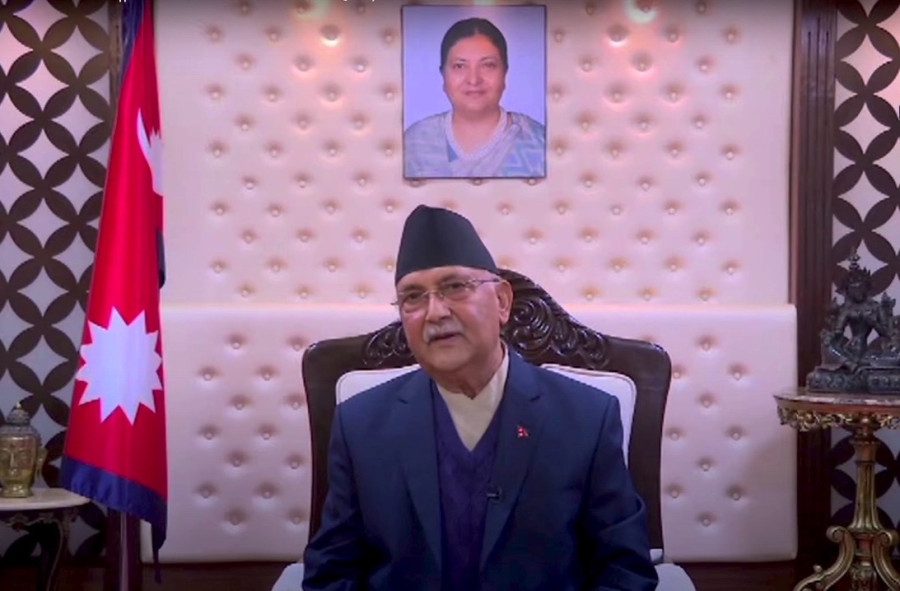 Screengrab via NTV News Nepal Youtube
bookmark
Published at : December 21, 2020
Updated at : December 22, 2020 19:13
Kathmandu
Prime Minister KP Sharma Oli has defended his move to recommend the House dissolution accusing some of his own party leaders of being responsible for making him take this step.

At the recommendation of Oli's cabinet, President Bidya Devi Bhandari on Sunday dissolved the house and set April 30 and May 10 for midterm elections.
Addressing the nation on Monday, Oli said, "The elected government was pushed to a corner and picketed against and was not allowed to work so I decided to dissolve the house."
Nobody had thought that the country would go for a fresh mandate one and half years before elections were due but it was a compulsion, Oli said in his address broadcast live on TV.
After protracted turmoil with the ruling Nepal Communist Party party, Oli decided to dissolve the house on Sunday without consulting within the party.
His recommendation to dissolve the house has courted controversy and there have been protests in several parts of the country.
On Monday police arrested 16 human rights activists protesting against the dissolution in the Capital.
" Against the people's mandate and their will, national politics was dragged into an endless and goalless direction by creating controversy, making Parliament meaningless as the elected government could not receive its support but always faced opposition and dragged into the controversy," Oli said. "Though the move to dissolve the House is seen as a sudden step but the situation was created by some leaders of the Nepal Communist Party since long due to their non-cooperation with my government and their opposition."
"When the prime minister of the majority government was not allowed to work, I did not want to indulge in unfair practices behind closed doors and reach a compromise with them," said Oli. "Giving a chance to the people for a fresh mandate is the best democratic alternative."
Oli claimed that his government has strengthened the nationalism in the country.
"We have initiated talks to resolve the boundary issues and attempts are underway to implement the trade and transit deal with China," he added.
Oli claimed that things are getting better over the last few years and tremendous progress has been made in different areas.
---