Why Dr KC's demands matter even more today as country battles the pandemic
Covid-19 has exposed Nepal's fragile health system and the fasting doctor's demands for years have been aimed at making health care services accessible to all.

Post File Photo
bookmark
Published at : October 5, 2020
Updated at : October 5, 2020 07:22
Kathmandu
Dr Govinda KC's 19th fast-unto-death entered its 21st day on Sunday. There has been no word from the government, except a token call to "end the hunger strike".

The Oli administration has not only adopted a nonchalant attitude towards KC's hunger strike and his demands but has also made its disdain for the 63-year-old doctor public. Exactly what it has been doing with the coronavirus pandemic.
[Read: Why the state shows haughty contempt for a social crusader]

Civil society members say the government's failure to respond to the pandemic effectively is exactly what KC had been warning of for years. Nine months into the pandemic, the government has given up on its fight against Covid-19. It neither had any plan nor worked to improve health care facilities. The country's health care facilities have been overwhelmed already. Those who can afford can go to private hospitals in case they contract the virus; the poor have been left to fend for themselves.
Since the very beginning—he first staged his hunger strike in July, 2012—KC has been calling for ensuring health care to all.
Reforms in the medical education sector in Nepal ultimately mean easy access of the people to health care, according to the civil society members who have in the past made attempts to forge deals with the governments.
"KC's demands have been proven to be right even more now, as Covid-19 has exposed our fragile health care system," said Dr Jiwan Kshetry, a vocal supporter of KC who also writes extensively on health care issues. "Most of KC's demands revolve around ensuring that people have easy access to health services."
KC's demands this time include establishing one government medical college each in Sudurpaschim Province, Province 2, Gandaki Province and Province 1 and an amendment to the National Medical Education Act. He is also demanding that the government support Bayalpata Hospital in Achham, which has been providing health care services for free to the people of the region.
The Oli administration has so far shown no interest in initiating talks to break his fast, let alone address his demands. According to doctors attending to him, his health is deteriorating fast.
KC started his hunger strike from Babaramasta Temple in Jumla on September 14. He arrived in Kathmandu via Nepalgunj on September 22.
But upon his arrival, police forcibly took him to the National Trauma Centre, against his wish to go to the Tribhuvan University Teaching Hospital. After much criticism, KC was allowed to go to the Teaching Hospital, where he has continued his hunger strike.
Kedar Bhakta Mathema, former vice-chancellor of Tribhuvan University who led a panel that recommended reforms in Nepal's medical education sector, said KC hasn't put forth any demands that aren't possible to address.
"It is shocking that the government hasn't taken any initiative to start dialogue with him," said Mathema.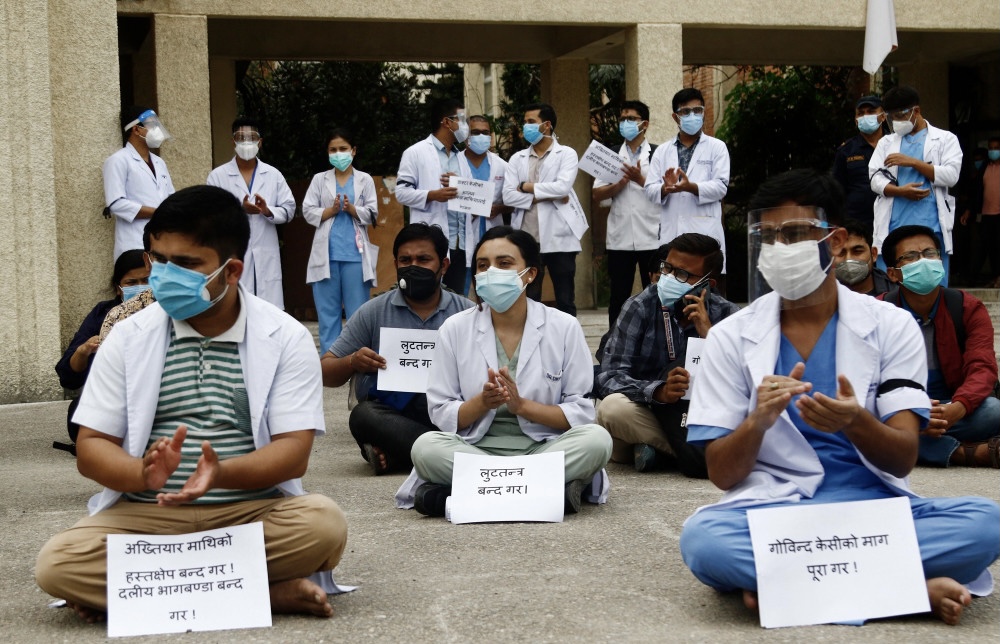 Doctors at TU Teaching Hospital stage a demonstration in solidarity with Dr KC. Keshav Thapa/TKP
KC has been consistent in his demand for establishing government medical colleges rather than allowing private ones to mushroom in city areas, including Kathmandu.
"It is because of KC the country has been able to end malpractices in the medical education sector to some extent," said Mathema. "But some of his demands are yet to be addressed."
A 10-year moratorium on the establishment of medical colleges in Kathmandu Valley was one of his major achievements, as the number of private medical schools was increasing in the Capital. KC has for long pointed out that a lack of proper monitoring was plaguing the medical education sector. Therefore, KC demanded that one university must not be allowed to grant affiliations to more than five medical colleges. The National Medical Education Act, however, hasn't fully embraced the policy. The Act bans affiliations to more than five medical colleges but it has given discretionary authority to the Medical Education Commission to decide in the case of colleges that have already received the letter of intent to operate outside the Capital.
It's not that KC's demands have always been limited only to reforms in the medical education sector, as at times he has made some political demands as well. In June 2016, KC launched a campaign to demand impeachment against Lokman Singh Karki, then chief of the Commission for Investigation of Abuse of Authority. Political parties did register an impeachment motion against Karki, but that was largely motivated by their political interest after Karki made his intent clear to go after them. Karki was later disqualified by the Supreme Court to hold the post. Once, KC included the issue of transitional justice in his list of demands. On another occasion, he demanded the resignation of then chief justice Gopal Prasad Parajuli.
Probing corruption cases against incumbent and former commissioners of the Commission for Investigation of Abuse of Authority and investigating into their properties are also on the list of KC's demands this time.
Some of KC's critics say some of his demands are impossible to address, as they are too political in nature. KC, however, has received support from people from various walks of life as his demands resonate with them.
Daman Nath Dhungana, a former Speaker of the House of Representatives and a civil society leader, said if the government cannot address his demands at this time due to the Covid-19 pandemic, it can at least take steps to start talks with him.
"The government must understand that KC's life matters," said Dhungana during a virtual interaction on Friday. "The government will be responsible if anything happens to him."
According to Dhungana, the objective of every protest objective is to make the government listen and KC is doing the same.
"But successive governments have taken no measures to implement the agreements they have reached with him in the past," said Dhugana.
While urging the doctor to call off his hunger strike, Foreign Minister Pradeep Gwayali, also the government spokesperson, said that most of his demands have been addressed and that some of his demands are in the process for execution.
Gyawali also said that KC has chosen a wrong time to go on a hunger strike, as the government is fighting the coronavirus. He, however, stopped short of committing to talks with KC, who is in a life-and-death situation.
Dr Arjun Karki, who was a member of the Mathema panel that recommended reform measures in the medical sector, stressed the need to form a responsible team to start negotiations with KC to save his life.
"There has been a tendency to forge deals only when he becomes very weak and his health becomes serious," Karki told the Post. "If all of his demands cannot be implemented immediately, that should be communicated to him properly."
What's concerning is not that the Oli government is not interested in addressing KC's demands but it is its utter disregard for a person who has put his life at stake for the sake of millions of ordinary people, civil society members say.
"This government is never tired of boasting that it is pro-people, but it is not paying attention to Dr KC's pro-people demands," said Kshetry. "The incumbent government is not just irresponsible, it is insensitive as well."
---
---