The problems of Nepali theatre extend beyond the pandemic
Nepali theatre has been struggling financially for a long time. If the condition before the pandemic was poor, it is now dire.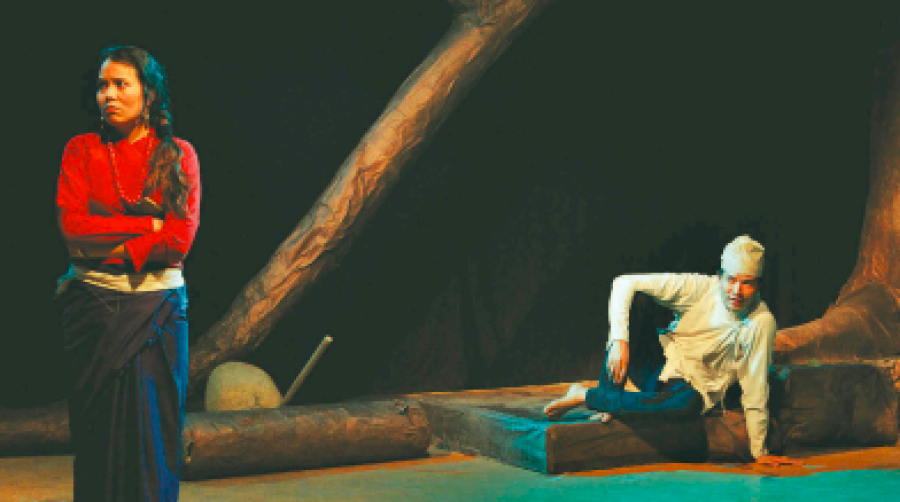 There is no possibility of a return to theatres until people are safe to gather in a place. Post file photo
bookmark
Published at : August 12, 2020
Updated at : August 12, 2020 07:41
Kathmandu
Five years ago, Sandeep Shrestha abandoned his family to focus on theatre. His family wanted him to be a software engineer but his passion was in acting, directing and writing. He built his network in Kathmandu's small yet robust theatre scene. Soon, he would be involved in new shows almost on a monthly basis and would earn enough to sustain himself. He could perform in both Nepali and English-medium plays (whose remuneration on an average tends to be slightly higher than the former's). Sandeep, who is 32, would go on to appear in 27 plays, and write and direct two in his eight-year-old career. His relationship with his family had smoothened again.

"I was on a roll," Sandeep told me recently over video chat from his one-room rental in Kalopul. "I was getting offers in plenty and was regularly doing what I loved to do."
Then Covid-19 struck. Sandeep was in Bangalore for a workshop before the lockdown in both Nepal and India. He had to cut short his trip and, like many of his colleagues, was soon out of work. All of his savings was spent during the Bangalore tour and he didn't want to get back to the family either, he said. The only option then was to take loans from his circle of friends, and that's how he has been getting by lately, sequestered in his room, smoking cigarettes and jotting down drafts of plays and film scripts.
But not many actors in Kathmandu's theatre scene share Sandeep's privilege, if one could call it that. Many have returned to their homes in villages, and they may never come back at all, said Raj Shah, an actor-director with Sarwanam Theatre.
Like all sectors of the society, the pandemic has brought theatre to its knees. But it's problems, theatre insiders say, extend well beyond the pandemic.
The leisure of the pandemic has led to theatre owners and artistic directors discussing the systemic problems that plague this small Kathmandu-centric art industry of about 1,000 people.
Theatre in Kathmandu, over the past decade, has been booming—in terms of the number of theatre houses, the audience and the productions. Since the fall of the single privately-owned theatre house, Gurukul, in 2012, Kathmandu has seen as many as seven theatre houses with their own black boxes, either self-owned or rented—namely, Mandala, Shilpee, Theatre Mall, Kausi, Sarwanam, Theatre Village, Shailee, and Kunja. The expected new entrant to the scene, Purano Ghar, was under construction before the pandemic. Meanwhile, institutions with a venerable history such as Actors' Studio and One World Theatre had been consistently producing plays, showcased in hired spaces.
The scene, however, was not all rosy. It has had its share of hiccups, with a temporary closure of Theatre Village, and the shift of Theatre Mall from Sundhara to Kirtipur. Contributing to both of these unfortunate events were financial reasons. Moreover, in early 2019, the scene was rocked when three veteran actor-directors were implicated in sexual harassment accusations in the Nepal episode of the global #MeToo reckoning. (The accused are back to work.)
Theatre was suddenly pushed into mainstream conversation, but a deep-seated problem plaguing the scene has always been overlooked: that despite the growth of productions and audience, theatre actors couldn't sustain themselves only by doing theatre.
If the pre-pandemic situation was poor, the pandemic has made it dire. "There was always a pandemic in the theatre," says Kedar Shrestha, artistic director of Theatre Mall. "Theatre houses were struggling, and even if not for the coronavirus pandemic, in a few years many theatre houses would have shut down."
Theatre in Kathmandu is something run out of sheer passion of the actors and the crew and their strong desire to remain involved, actor-director Srijana Subba has told the Post. "To meet our expenses, we need to engage in initiatives of NGOs or INGOs, which mostly consist of staging plays in far-flung villages. We usually get decent pay from that," she said.
"And yes, we get paid from regular stagings too, but that is only nominal. There's nothing like a fixed rate according to the stature and experience of the actors, as there are in movies."
Shrestha says the problem lies in the lack of a government policy to regulate and assist theatre. "The state and the society doesn't even recognise theatre," he said. "It's referred to under the umbrella term 'entertainment spaces'. We don't feel seen or identified." The government has the Academy of Music and Drama tasked with looking after the two entertainment sectors, but it is largely out of the picture.
Despite everything, however, since the pandemic, theatre makers have engaged in creative pursuits, from holding live talk shows with actors, directors and writers to holding online workshops. Right at the beginning, Shrestha's group hosted a Facebook live streaming of plays recorded previously. While the experiment was popular, with the streamings collectively garnering over half a million views, theatre is primarily a live medium and there's no option to do live theatre online, Shrestha said.
"The very essence of theatre is you have to be watching the performances on the stage to really enjoy it, and that's one of the things that distinguishes theatre from cinema."
But with growing cases of coronavirus, hitting the stage again is a no, Shrestha added. As an aside, some theatre groups like Kausi have staged open air plays in support of the protesting Enough is Enough campaigners. "The passion for theatre among the actors is high as always. Some actors walked for three hours just to perform a little skit," Akanchha Karki, director of Kausi, told the Post.
"But we couldn't pay the actors, many of whom come from lower-income families. I felt quite dejected. But still, to maintain sanity, we are doing small-scale projects and private classes."
Going open air could have been an option had the pandemic not become more pronounced, says Ghimire Yubaraj of Shilpee Theatre. Coronavirus cases continue to rise across the country and in the Capital.
"The possibility that theatre could be restarted soon, either inside the house or in open air, is thinning out," he said. "We have to be responsible for public health today more than ever, so doing theatre is currently out of option."
Amid an air of uncertainty, about a month ago, representatives from 57 theatre groups operating across the country came together in Shilpee to discuss how theatre can move ahead from the current stasis. The meeting decided to present a letter of demands to the state-owned Academy of Music and Drama.
Among the letter's demands were that the academy should "assume the guardianship" of the theatre, address the financial crunch the actors and theatre officials are grappling with, and help and create platforms to revive the industry. The academy hasn't responded yet, according to Ghimire. Meanwhile, the state-owned Rastriya Nachghar has become a shell of its former self.
"The problems of the actors and directors are in our thoughts," said Harihar Sharma, veteran actor and vice-chancellor of the Academy. "We have been aiming to engage them with some financial support but the Covid-19 situation is getting more serious and there's no way the actors can spring up to action as of now. We will have to wait and watch."
While the Academy may wait and watch, there's much uncertainty among theatre artists. Only thing Sandeep is certain now is that merely doing theatre will no longer be attainable or sustainable. Sandeep said he is not sure whether the plays and scripts he is writing might see the light of the day. For the question is existential. "To survive the pandemic and its aftershocks," he said, "I will have to think of alternatives to theatre."
Frequently asked questions about the coronavirus outbreak
UPDATED as of September 22, 2020
What is Covid-19?
Covid-19, short for coronavirus disease, is an illness caused by the coronavirus SARS-CoV-2, short for severe acute respiratory syndrome coronavirus 2. Common symptoms of the disease include fever, dry cough, fatigue, shortness of breath and breathing difficulties. In severe cases, the infection can cause pneumonia, severe acute respiratory syndrome, kidney failure and even death.
How contagious is Covid-19?
Covid-19 can spread easily from person to person, especially in enclosed spaces. The virus can travel through the air in respiratory droplets produced when a sick person breathes, talks, coughs or sneezes. As the virus can also survive on plastic and steel surfaces for up to 72 hours and on cardboard for up to 24 hours, any contact with such surfaces can also spread the virus. Symptoms take between two to 14 days to appear, during which time the carrier is believed to be contagious.
Where did the virus come from?
The virus was first identified in Wuhan, China in late December. The coronavirus is a large family of viruses that is responsible for everything from the common cold to Middle East Respiratory Syndrome (MERS) and Severe Acute Respiratory Syndrome (SARS). After an initial outbreak in Wuhan that spread across Hubei province, eventually infecting over 80,000 and killing more than 3,000, new infection rates in mainland China have dropped. However, the disease has since spread across the world at an alarming rate.
What is the current status of Covid-19?
The World Health Organisation has called the ongoing outbreak a "pandemic" and urged countries across the world to take precautionary measures. Covid-19 has spread to 213 countries and territories around the world and infected more than 31,405,983 people with 967,505 deaths and 22,990,260 recoveries. In South Asia, India has reported the highest number of infections at 5,557,573 with 88,943 deaths. While Pakistan has reported 306,304 confirmed cases with 6,420 deaths. Nepal has so far reported 65,276 cases with 427 deaths.
How dangerous is the disease?
The mortality rate for Covid-19 is estimated to be 3.6 percent, but new studies have put the rate slightly higher at 5.7 percent. Although Covid-19 is not too dangerous to young healthy people, older individuals and those with immune-compromised systems are at greater risk of death. People with chronic medical conditions like heart disease, diabetes and lung disease, or those who've recently undergone serious medical procedures, are also at risk.
How do I keep myself safe?
The WHO advises that the most important thing you can do is wash your hands frequently with soap and water for at least 20 seconds or use hand sanitizers with at least 60 percent alcohol content. Avoid touching your eyes, nose and mouth with unclean hands. Clean and disinfect frequently used surfaces like your computers and phones. Avoid large crowds of people. Seek medical attention if symptoms persist for longer than a few days.
Is it time to panic?
No. The government has imposed a lockdown to limit the spread of the virus. There is no need to begin stockpiling food, cooking gas or hand sanitizers. However, it is always prudent to take sensible precautions like the ones identified above.
---
---