Hanumante river floods Bhaktapur settlements; town planners say it's human made catastrophe
Over three dozen riverside houses and large areas of farmland were waterlogged.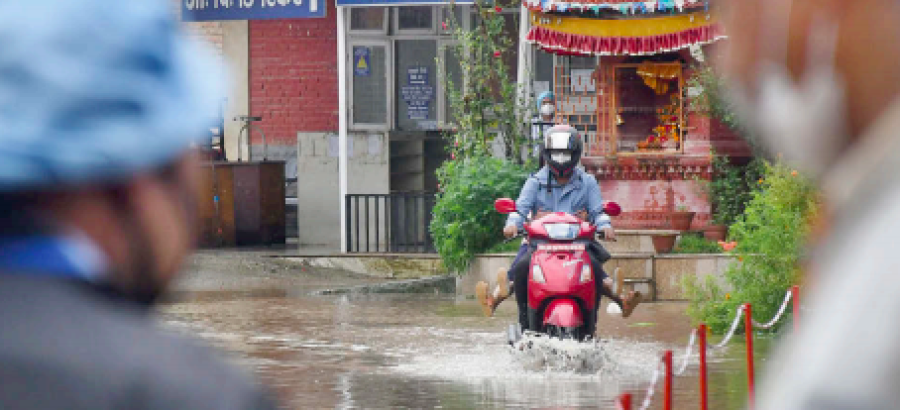 A man rides his scooter on the water-logged premises of Kist Hospital in Lalitpur on Tuesday. Anish Regmi/TKP
bookmark
Published at : July 22, 2020
Updated at : July 22, 2020 08:01
Bhaktapur
Two days of heavy rainfall has caused the Hanumante river to burst its banks flooding various parts of Bhaktapur. The flood waters from the river have affected hundreds of people in the district.
Several school buildings, hospitals and temples in Sallaghari, Barahaisthan and Ram Mandir areas of Bhaktapur were submerged in flood waters on Tuesday.
According to the District Administration Office, more than three dozen homes and a large area of farmland were affected by the flood.
"We had just completed planting paddy in one ropani of land, but the flood water from Hanumante destroyed the crops," said Gopal Saiju, 53 of Barahai Tole.
He said his chicken coop was also washed away by the flood.
Flood waters from the river also waterlogged Siddhi Smriti Hospital, Iwamura Memorial Hospital, Ram Mandir, Shanti Niketan School and Gyan Tara School.
The Hanumante river has been inundating settlements and farmlands almost every year during the monsoon season.
A year ago, the river had damaged properties worth Rs 119 million in Bhaktapur. In 2015, the Hanumentay river had displaced over 3,000 and caused huge damage to properties.
Compared to previous years, the damage caused by the Hanumante river so far this monsoon is low, said Chief District Officer Humkala Pandey.
"But that does not mean the flood threat is over. People, particularly those living near the river, must remain alert," she added.
Bhaktapur Mayor Sunil Prjapati said the flooding has occurred mostly in those areas where the works of Hanumante Corridor has been stopped.
Meanwhile, torrential rains have also waterlogged many areas in Gundu, Katunje, Dadikot of Changu Narayan Municipality. Parts of Balkot Height were also affected by floods.
"Poor drainage system has caused the flooding problem in the Balkot area," said Raju Shrestha, 42, a local man. "It is not the Hanumante river that is causing the flood in this part of the district."
Urban planners also agree that poor drainage system and haphazard property development have led to the problem of recurrent floods in Bhaktapur.
"It all started in the 1980s when people started to encroach on public land to build homes. Even the banks of Hanumante river were encroached upon from either side and converted into human settlements," said Suman Maher Shrestha, an urban planner.
He said places where the Hanumante river has been causing havoc every monsoon were once part of the river.
"Same is the case in other riverside settlements in Kathmandu and Lalitpur. The authorities concerned have failed to implement risk-sensitive land use planning and allowing development and sale of property willy-nilly," Shrestha added.
According to the District Administration Office, heavy rains of the past few days have also raised landslide threats in the Trisul Danda and Tathali, where at least ten homes are at risk.
---
---