Second wave of locust invasion imminent; government mulls raising pest bounty to Rs 500 per kg
The government task force has suggested that the government raise the reward sum to encourage people to join the locust control drive, as use of pesticides could harm the environment and public health.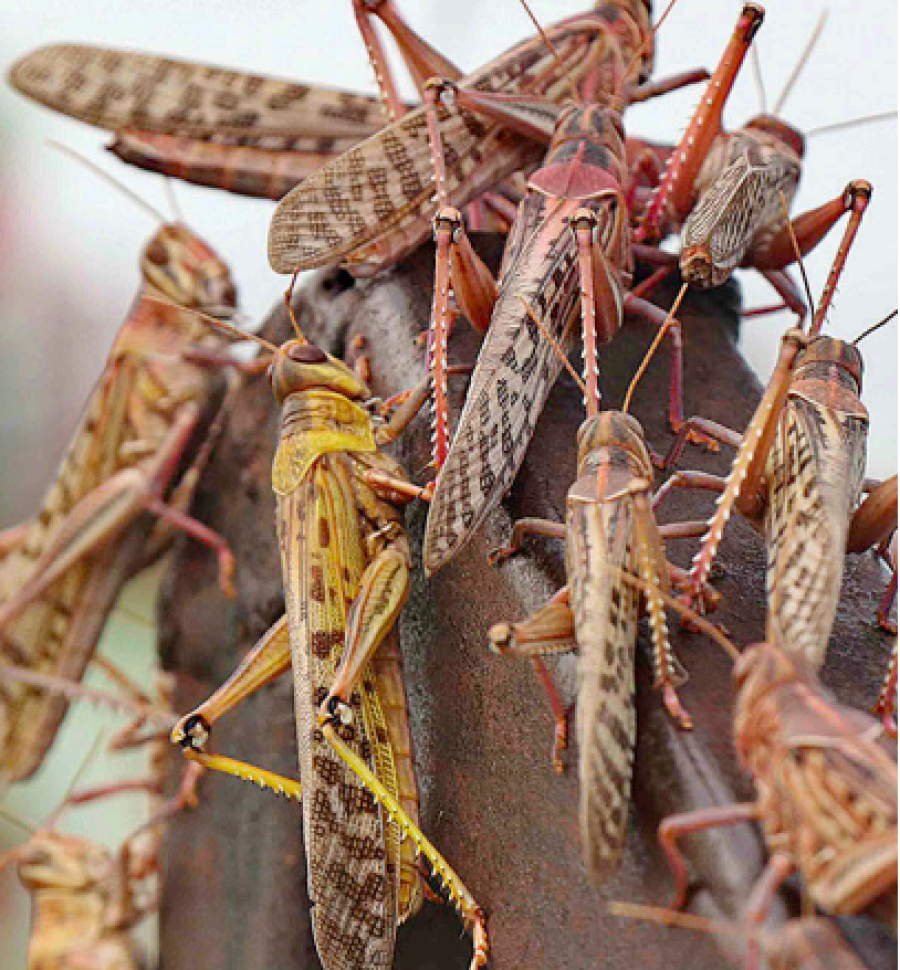 New swarms of locusts, flying near the Nepal-India border, are expected to arrive on Tuesday. Post Photo: Manoj Paudel
bookmark
Published at : July 13, 2020
Updated at : July 14, 2020 07:35
Kathmandu
A second wave of locust invasion is imminent in the country. A few swarms of these ravenous crop-eating insects have already been spotted in some districts.
To control the crop damage, the government authorities have been considering raising the bounty sum for every kilogram of locust collected by locals. By raising the cash reward, the authorities expect to see increased participation of locals in locust control drive.
As per the latest proposal forwarded by the Plant Quarantine and Pesticide Management to the Ministry of Agriculture, people will be paid Rs500 for collecting one kilogram of crop-damaging bugs.
"The amount earlier fixed by some local and provincial governments for locust collection could not attract the people. So we have thought of giving them a good amount for locust collection this time," said Sahadev Prasad Humagain, chief of the centre. "The Ministry of Agriculture will possibly make the final decision on Tuesday."
Humagain, who also heads the government task force formed in late May to study the possibility of locust invasion and implement measures to control them, said a single locust can weigh anywhere between 1 to 5 gms, which means a locust could fetch the collector Rs 1.
"We have come up with the proposal with a slightly higher price because those who collect locusts should at least get good money. If they collect two kilograms of locusts after a day's work, they will get Rs1,000, which is a decent wage," said Humagain. "Paying for locust collection is guided by the logic that spraying insecticides to kill the pest can do more harm to the environment and public health. A large number of people have returned to their villages because of the Covid-19 pandemic. They can participate in the locust control drive and earn money while protecting the crops."
Another South Asian country Pakistan, which has also been suffering the worst locusts plague in recent history, has also resorted to a similar measure to contain the crop-devouring pests.
Through a special programme, the Pakistani government offered reward money as per the capture of locusts, which is being turned into chicken feed.
Humagain told the Post that they have also considered the option of giving the collected locusts to poultry farmers.
"We have discussed the option with poultry owners too. However, we have to see the number of locusts entering Nepal before deciding to feed them to chicken," said Humagain. "If the current swarm has approximately 1 milion locusts, and if we can collect only half of it, then it is not enough to feed the chickens."
Days after the authorities predicted that more swarms of locusts may enter Nepal once again, at least two swarms have entered Nepal from the western side.
The first batch of the crop-eating pests was sighted in Dang district on Sunday afternoon. But after a few hours, the swarm, estimated to be at least one million strong, moved towards Pyuthan where they were spotted in Bijuwar Municipality and Mandavi Rural Municipality, according to Ram Krishan Subedi, a senior plant protection officer at the centre.
"These insects were chased away by the local farmers in Dang. Now, they have been invading the crops in some parts of Pyuthan and its surrounding districts," said Subedi.
A much smaller swarm of locusts was also reported to have entered the country through Nawalparasi district later on Sunday.
"With the wind flowing from the southwest direction, these swarms have entered Nepal. Like earlier, if the wind continues in the same direction, we can expect more locust invasions in the next few days," said Subedi. "The extent of damage these swarms could cause to the crop depends on their stay in the country and how the weather functions while they are here."
Locusts were also seen in the mountain district of Jumla on Monday. Farmers of Patarasi Rural Municipality and Guthichaur were worried after locusts were seen in their fields. Agriculture technicians believe the swarm may have entered Jumla from the neighbouring Jajarkot district.
"Locusts have damaged potatoes and maize crops. They have damaged ready-to-harvest maize," said Harsha Rawat, a local farmer. "We have been making noise to chase away the locusts. If these insects are not controlled in time, they will cause massive damage."
Small groups of locusts were also sighted at Talichaur area of Chandannath Municipality in Jumla, according to Balakram Devkota, chief Agriculture Development Officer.
"We have requested the local farmers to play loud music and produce noise to control locusts," said Devkota. "Some groups of locusts have flown towards Mugu."
Following the arrival of locusts, Patarasi Rural Municipality has announced to offer Rs200 for a kilogram of locust.
Two weeks ago, when at least six swarms had brought nearly eight million locusts in the country, it was the country's weather condition which rescued farmers from potential massive crop damage.
Experts said the swarms had disappeared as they started dying after they could not adjust to the country's lower temperature and incessant rainfall, which not only slowed down their march but also killed them.
Now, new swarms of locusts, which are flying near the Nepal-India border, are expected to enter Nepal on Tuesday, according to Subedi.
"There are more swarms across the Indian border at a close distance from Nepal. They are on both eastern and western sides of the country," said Humagain. "We have to be alert as larger swarms are breaking away and flying in smaller groups, which can enter Nepal."
According to Humagain, getting rid of locusts swarm with the use of pesticides is the last option.
"We know there has been criticism saying that the government has not done much. We can decide further measures only after analysing the situation. These locusts do not stay in the country for a long time and fly towards the upper region," said Humagain. "We can even spray pesticides. But as pesticides can cause more damage to the environment and public health, our priority is to avoid spraying pesticides."
LP Devkota contributed reporting from Jumla.
---
---