A week-long hunger strike put protesters in hospital, as government pledges to address demands
Prime Minister Oli himself visited protesters from the 'Enough is Enough' campaign at hospital but campaigners say they won't give up until all demands are met.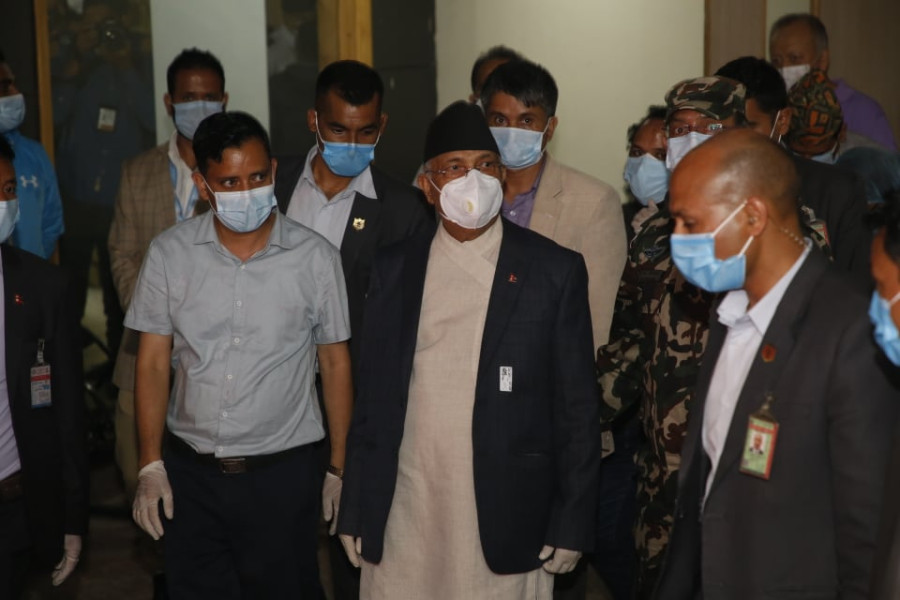 Prime Minister Oli himself visited protesters from the 'Enough is Enough' campaign at hospital. Kabin Adhikari/TKP
bookmark
Published at : July 3, 2020
Updated at : July 3, 2020 07:31
Kathmandu
It had been seven days since Iih had eaten food or drunk water. In a light blue t-shirt and shorts, the 26-year-old had appeared seemingly indefatigable on his satyagraha, a hunger strike, against the government's response to the Covid-19 pandemic at Patan Durbar Square.
But on Thursday at around 6pm, Iih, along with Pukar Bam, another activist, had to be taken to hospital. Two others on the same hunger strike had already been taken to hospital on Monday and Tuesday.
With Iih and Bam's hospitalisation, the hunger strike has effectively come to an end, but not before attracting the attention of Nepal's political class and the government.
Earlier on Thursday, Health Ministry officials invited members of the 'Enough is Enough' campaign, which is behind the satyagraha, for a meeting.
According to Madhav Prasad Tiwari, press adviser to the health minister, a committee comprising Dr Santosh Paudel and Dr Sameer Kumar Adhikari has been set up by Health Minister Bhanubhakta Dahal to address the campaigners' demands.
The ministry later issued a statement, taking cognisance of the issues raised by the protesters, which include wide use of polymerase chain reaction tests over rapid diagnostic tests, improvements to quarantine conditions and protections for frontline health workers.
According to the Health Ministry, members of the campaign have requested an extension until Friday morning to put forth their demands after a second meeting on Thursday evening. According to Nayantara Gurung Kakshapati, one of the organisers, they need time to consult with other members of the campaign.
Even Prime Minister KP Sharma Oli dropped by the hospital to visit the campaigners on Thursday evening.
"I myself have come, the government has taken note of your protest. Your demands will be addressed. Now please call off the hunger strike," Oli reportedly said to the protesters, according to Surya Thapa, Oli's press adviser.
Although the Enough is Enough began as an "apolitical" movement with the objective of placing pressure on the government to take quick actions to prevent deaths from Covid-19, it has since attracted much political attention.
Early in the campaign, when young people were taking to the streets in protest, the Samajbadi Party, Bibeksheel Party and Sajha Party had all issued statements in solidarity. But since the hunger strike began, political figures have taken a personal interest.
"Such protests led by youngsters without political affinity are important and I am here to express my solidarity," said Gagan Thapa, a Nepali Congress lawmaker who visited the protesters on Wednesday afternoon. "The last few meetings with the prime minister and the health minister have strengthened my belief that they do not understand the gravity of this pandemic. They are inclined to propagate unscientific rhetoric because their understanding is flawed."
Thapa has been vocal in his support for the protests, given that he too made his name as a young protester on the streets of Kathmandu. But others too have taken note. Arjun Narsingh KC, another Congress lawmaker, visited the satyagraha on Thursday.
Former prime minister Baburam Bhattarai and Samajbadi central committee member Hisila Yami visited the protesters on Wednesday evening and stated their willingness to support the movement with their political capital.
"This satyagraha is led by youths who are aware and have legitimate demands while the ruling government has failed to handle the pandemic," Yami told the Post. "In this movement, we're willing to extend our support wherever required."
Protesters, however, say that they have never actively sought support from any political party and have remained steadfastly "apolitical", although 'politically unaffiliated' might be a better moniker. The protesters' demands are thoroughly political but they are not protesting under the banner of any particular party.
Some campaigners, however, do belong to political parties. While Iih, the most public face of the protest, has expressed no political affiliation so far, Bam, his fellow campaigner, is associated with the Bibeksheel Party.
Prominent members of the Nepali civil society, many of whom are also politically unaffiliated, have also expressed solidarity. These include veterans like former House speaker Daman Nath Dhungana, former chief justice Sushila Karki, social activist Anuradha Koirala, and former Tribhuvan University vice-chancellor Kedar Bhakta Mathema. Even Dr Govinda KC, who's staged more than 15 hunger strikes demanding reforms in the medical education sector, has lent his support.
But being politically unaffiliated has come at a cost. For most of these young protesters, this is their first time taking a public stand. Since the beginning, youths have faced restrictions on their way to the protests, encountered hostility from the police, been arrested, and received threats.
A member affiliated with the movement told the Post on condition of anonymity that many members of the campaign had been receiving threats on their private mobile numbers and on social media from anonymous actors who threatened harm to them and their close ones. Women have been subjected to threats of sexual violence.
Many members of the campaign believe that the threats are coming from members and supporters of the ruling party who see the movement as an attempt to destabilise the government.
"Most of us believe that the threats issued to us have come from cadres of the ruling party," said the campaigner. "We do not want to overthrow the government, only pressure it to serve the citizens better."
While it remains to be seen what shape this campaign will take following the Health Ministry's offer of an olive branch, campaigners say that they will not rest until adequate measures are put in place to deal with the pandemic in a safe, effective and non-discriminatory manner.
"In the afternoon, the government bought some time off us and we're doing the same until tomorrow morning because we want all our issues addressed," said Kakshapati. "Right now, we're not comfortable with a few of their pointers and we do not want to succumb to their pressure until we get all our demands met."
---
---