Where government efforts have faltered, the people have come to the rescue
In the absence of governmental efforts, many individuals and communities across the country are working to ensure that relief reaches the most vulnerable.

Essential food supplies being distributed to 50 Musahar families in Piprapurv, Saptari. Photo Courtesy: Jay Poudyal
bookmark
Published at : May 4, 2020
Updated at : May 4, 2020 14:20
Kathmandu
For as long as Binda Pokharel can remember, food has been hard to come by. Sixteen-year-old Pokharel lives in Dharamgarh, Dolakha with her 51-year-old mother. Ever since her father deserted them when she was five, Pokharel's mother has been working odd jobs to put together meals. When she cannot find jobs, they ask for food from their neighbours and extended family.

When the lockdown was implemented, more than a month ago, their situation was already fragile. For the first two weeks, they survived on some millet but that soon ran out. They had yet to receive any relief from the government and people who usually gave them food were unwilling amidst uncertainty about their own food supply.
After learning about the plight of the Pokharels, an elderly couple from the community relayed the information to their daughter Nita Raut in Kathmandu. Raut sent some money home and her parents were able to arrange for a month's rations for Pokharel and three other families.
The government has promised relief packages for the most vulnerable populations throughout the country but in many instances, these have been insufficient, substandard, or completely inaccessible. In such instances, individuals like Raut and non-government organisations have come to the rescue, distributing food and other relief materials to the needy—from the mountains to the plains.
"I set aside around 20 percent of my salary every month so that I can provide support to the needy during such times," said 30-year-old Raut, who is a freelance journalist and Province Coordination Officer at the National Association of Rural Municipalities in Nepal. "People have heard about my work from my Facebook page and they too contribute whatever they can."
After the lockdown, Raut has provided relief to about 30 families, mostly consisting of daily wage labourers and people with disabilities.
With many non-governmental organisations headquartered in Kathmandu, those in the Valley can often avail of some kind of support, even though that might be inadequate. But outside of the Valley, things can be tougher, especially for hard-to-reach areas that require long travel times, which is difficult due to the lockdown that prohibits public movements.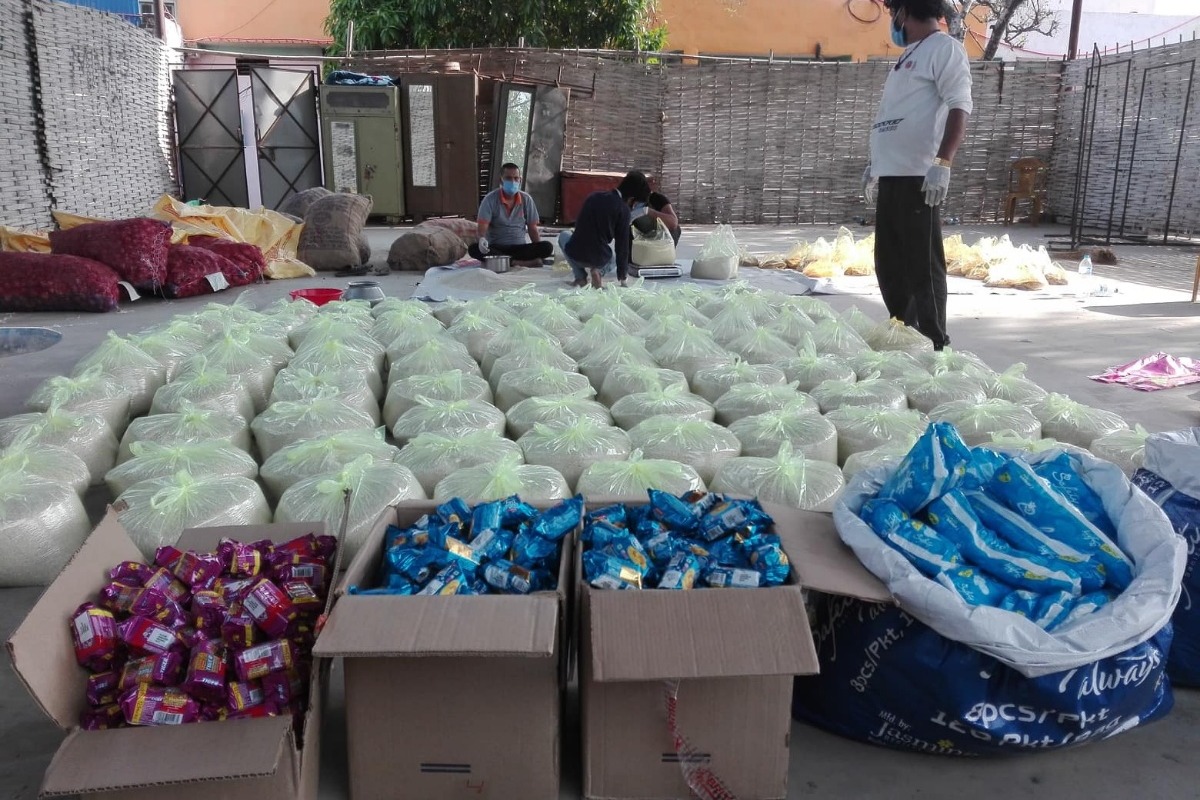 Food package being delivered at Aurahi. Photo Courtesy: Jay Poudyal.
But even in cities like Pokhara, individuals have stepped in where governments, both local and provincial, have failed.

Medical students Rahav Pokhrel and Sajjan Adhikari have collected enough funds to feed about 100 families in Pokhara for a month.
"The families we served could not collect relief from their respective ward offices since the officials would not put their names down on a list," said Adhikari. "While some families received food packages multiple times, there were some who never received any."
To ensure that the most vulnerable are not left hungry, Adhikari has even been delivering food packages to those who cannot travel to collect relief as they live far away and there is no public transport.
"There were these two visually impaired individuals, who had been starving for two days," said Adhikari. "When I reached their home, they offered me a glass of water saying that was all they had to offer."
While Adhikari believes that such small steps are necessary interventions, they are not sustainable and a proper distribution mechanism should be implemented to ensure that the needy receive what they are entitled to. Without support from the government, relief is difficult to distribute, especially in the mountainous regions of the country, he said.
Nyinchung Dungse Rinpoche from Dolpo agrees with Adhikari. In the absence of any support from the government, providing relief to families in his hometown has been difficult.
"Due to the absence of many shops, essential items are not available in one place and need to be transported by horses, which is extremely expensive and cumbersome," he said. Since the region is extremely arid and cold, it is difficult to grow anything and the area is growing increasingly food insecure.
Nyinchung himself has till date collected Rs200,000 to provide food to 100 families but has not been able to arrange transportation and volunteers to help provide relief materials.
However, some ward offices across the country are open to collaborating with individuals to serve the most vulnerable populations, and for some individuals, this has helped mobilise resources to successfully distribute aid.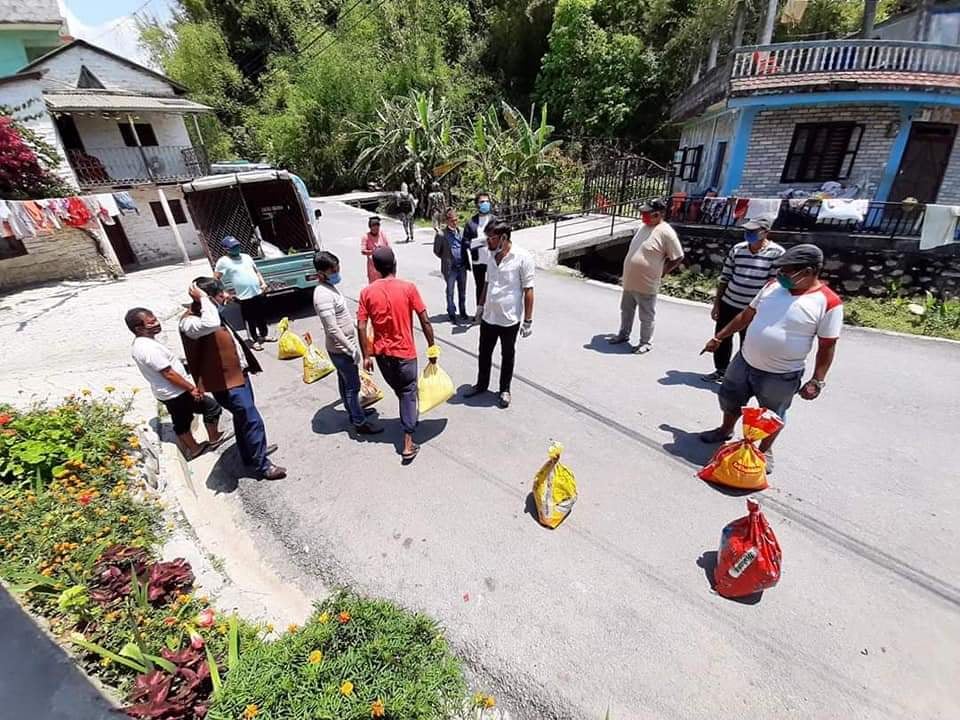 Sajjan Adhikari distributing relief in Pokhara to daily wage labourers. Photo Courtesy: Satish Parajuli
In Palpa, members of the Aafredanda community forest distributed food packages weighing 25 kilos and essentials like handwash, soaps, and sanitisers to 56 affected families, according to the community chairperson Rishi Lal Sunari. The community collected funds and deposited it with the ward office, which made the purchases and distributed them.
Such synergistic opportunities have proved beneficial to individuals like Jay Poudyal who have collected a significant amount of money to support vulnerable families.
Poudyal is an avid traveller who documents stories about the people he meets on his journeys through the popular Stories of Nepal page. After the lockdown was announced, Poudyal started a GoFundMe campaign to provide support to the most affected population. In less than a month, he had collected Rs1.8 million, which was utilised to provide food packages to 65 families in Saptari and 100 families in Dhanusha, two districts where many small-scale retailers and tailors have been struggling to find food.
Apart from providing food packages, Poudyal has also designed a Public Service Announcement following guidelines from the World Health Organization for broadcast via radio in Bajhang, Doti, Bajura, Baitadi, and Dadeldhura, where many did not have access to reliable information about Covid-19.
These interventions, however, have not been without challenges.
"There were no major hiccups but bureaucratic delays have been a problem," said Poudyal. "Government officials take time to prepare lists of people eligible to receive relief and we comply, but even a single day of delay means that some families may have to go without food for that day."
Similar to what happened in the aftermath of the 2015 earthquakes, individuals have come through to support vulnerable families. Although many believe that it is the government, especially one led by a communist party, that should bear the responsibility for making sure that those on the margins have access to support during trying times, they are well-aware that the government, even at its best is ineffective, and at worst, corrupt.
"Helping the needy without hoping for reciprocity is essential during such times," said Adhikari. "And it makes me happy seeing a smile on their faces."
---
---