Government extends lockdown and assigns ministers to coordinate preventive measures with provinces
The lockdown has been extended in light of the three new cases of Covid-19 identified on Saturday and the rising number of cases in neighbouring India.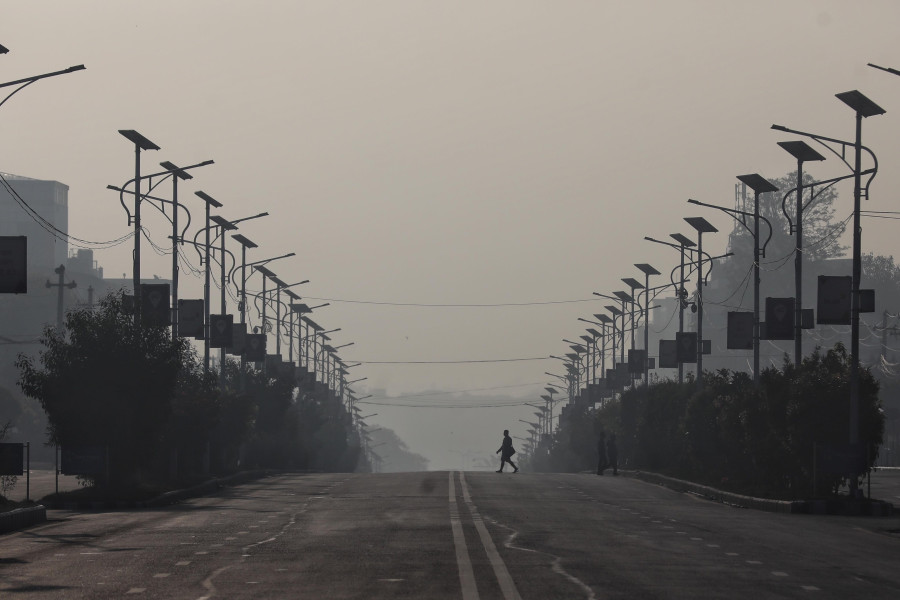 Post File Photo
bookmark
Published at : April 6, 2020
Updated at : April 6, 2020 20:43
Kathmandu
Amid growing fears of the spread of the coronavirus, the government on Monday decided to extend the ongoing nationwide lockdown until April 15.

"Today's Cabinet meeting decided to extend the lockdown until April 15 midnight as more Covid-19 cases have been reported," Minister for Energy Barsaman Pun told the Post.
The decision to extend the lockdown follows three more cases of Covid-19, including one local transmission, on Saturday in Kailali and Kanchanpur.
The Health Ministry said on Saturday that three patients—a 21-year-old man from Kailali who had returned from Mumbai, a 41-year-old man from Kanchanpur who returned from Uttarakhand, and a 34-year-old woman from Kailali, a relative of a person who had earlier tested positive for the disease—tested positive for Covid-19.
The Covid-19 tally in Nepal so far has reached nine.
Though the government on Saturday evening had decided to conduct Covid-19 tests on a large scale in Kailali, Kanchanpur and Baglung, the rapid diagnostic test kits that were to be used in the mass tests have yet to be tested for efficacy.
Among the nine Covid-19 cases reported so far, two more are from Baglung—both women, one 19-year-old and another 59-year-old.
If the lockdown is not extended further after April 15, it will likely be lifted simultaneously with India, which starting March 25 has enforced a 21-day lockdown. India's lockdown ends on April 15.
According to ministers, the decision to extend the lockdown was taken in light of the new cases in Nepal and the rising number of Covid-19 cases in India. The government does not want to take any chances, as more people could enter Nepal through the porous border if the lockdown is lifted, they said.
As of Monday, as many as 111 people had died and 3,851 active cases of Covid-19 in India, according to the Indian Health Ministry.
Besides extending the lockdown period, Monday's Cabinet meeting also assigned all ministers who are not on the committee for the prevention and control of Covid-19 to coordinate with the provinces on various coronavirus-related preventive activities.
There are seven ministers on the Defence Minister Ishwar Pokhrel-led committee for the prevention and control of Covid-19.
According to Finance Minister Yubaraj Khatiwada, who is also the government's spokesperson, Minister for Physical Planning and Transportation Basanta Kumar Nembang will coordinate with the Province 1 government; Minister for Labour, Employment and Social Security Rameswor Raya Yadav will coordinate with Province 2; Minister for Land Management and Cooperatives Padma Kumari Aryal will coordinate with Gandaki Province; Energy Minister Pun will coordinate with Province 5; Forest Minister Shakti Basnet with Karnali Province government; and Minister for Water Supply Bina Magar will coordinate with Sudurpaschim Province.
Law Minister Shiva Maya Tumbahangphe has been entrusted with the task of holding discussions with parties in the federal parliament to find ways on how they can support the government in its fight against the virus.
Monday's Cabinet meeting also decided to increase the 14-day quarantine period to 21 days, which will mean people have to follow one additional week of self-quarantine at home.
"Those who've completed 14-days of quarantine should stay at home for another week now," said Minister Pun. "Respective local-level authorities will monitor them."
The government has also decided to encourage public health volunteers by providing them with Rs 1,500 per day for dealing with Covid-19-related cases.
Similarly, doctors working at private hospitals who are willing to provide services at state-run health facilities will be remunerated on par with government doctors. Those treating coronavirus-related cases at private hospitals will also be paid accordingly, said Khatiwada.
"We want to pull resources to where there are none and also encourage private hospitals to begin treating Covid-19 cases," said Khatiwada at a press meet organised after the Cabinet meeting.
Frequently asked questions about the coronavirus outbreak
UPDATED as of September 22, 2020
What is Covid-19?
Covid-19, short for coronavirus disease, is an illness caused by the coronavirus SARS-CoV-2, short for severe acute respiratory syndrome coronavirus 2. Common symptoms of the disease include fever, dry cough, fatigue, shortness of breath and breathing difficulties. In severe cases, the infection can cause pneumonia, severe acute respiratory syndrome, kidney failure and even death.
How contagious is Covid-19?
Covid-19 can spread easily from person to person, especially in enclosed spaces. The virus can travel through the air in respiratory droplets produced when a sick person breathes, talks, coughs or sneezes. As the virus can also survive on plastic and steel surfaces for up to 72 hours and on cardboard for up to 24 hours, any contact with such surfaces can also spread the virus. Symptoms take between two to 14 days to appear, during which time the carrier is believed to be contagious.
Where did the virus come from?
The virus was first identified in Wuhan, China in late December. The coronavirus is a large family of viruses that is responsible for everything from the common cold to Middle East Respiratory Syndrome (MERS) and Severe Acute Respiratory Syndrome (SARS). After an initial outbreak in Wuhan that spread across Hubei province, eventually infecting over 80,000 and killing more than 3,000, new infection rates in mainland China have dropped. However, the disease has since spread across the world at an alarming rate.
What is the current status of Covid-19?
The World Health Organisation has called the ongoing outbreak a "pandemic" and urged countries across the world to take precautionary measures. Covid-19 has spread to 213 countries and territories around the world and infected more than 31,405,983 people with 967,505 deaths and 22,990,260 recoveries. In South Asia, India has reported the highest number of infections at 5,557,573 with 88,943 deaths. While Pakistan has reported 306,304 confirmed cases with 6,420 deaths. Nepal has so far reported 65,276 cases with 427 deaths.
How dangerous is the disease?
The mortality rate for Covid-19 is estimated to be 3.6 percent, but new studies have put the rate slightly higher at 5.7 percent. Although Covid-19 is not too dangerous to young healthy people, older individuals and those with immune-compromised systems are at greater risk of death. People with chronic medical conditions like heart disease, diabetes and lung disease, or those who've recently undergone serious medical procedures, are also at risk.
How do I keep myself safe?
The WHO advises that the most important thing you can do is wash your hands frequently with soap and water for at least 20 seconds or use hand sanitizers with at least 60 percent alcohol content. Avoid touching your eyes, nose and mouth with unclean hands. Clean and disinfect frequently used surfaces like your computers and phones. Avoid large crowds of people. Seek medical attention if symptoms persist for longer than a few days.
Is it time to panic?
No. The government has imposed a lockdown to limit the spread of the virus. There is no need to begin stockpiling food, cooking gas or hand sanitizers. However, it is always prudent to take sensible precautions like the ones identified above.
---
---