As Covid-19 fears grow, some medical personnel face eviction from their homes
Reports of medical personnel being forced to work without adequate protection have only aggravated discriminatory behaviour from landlords, say doctors.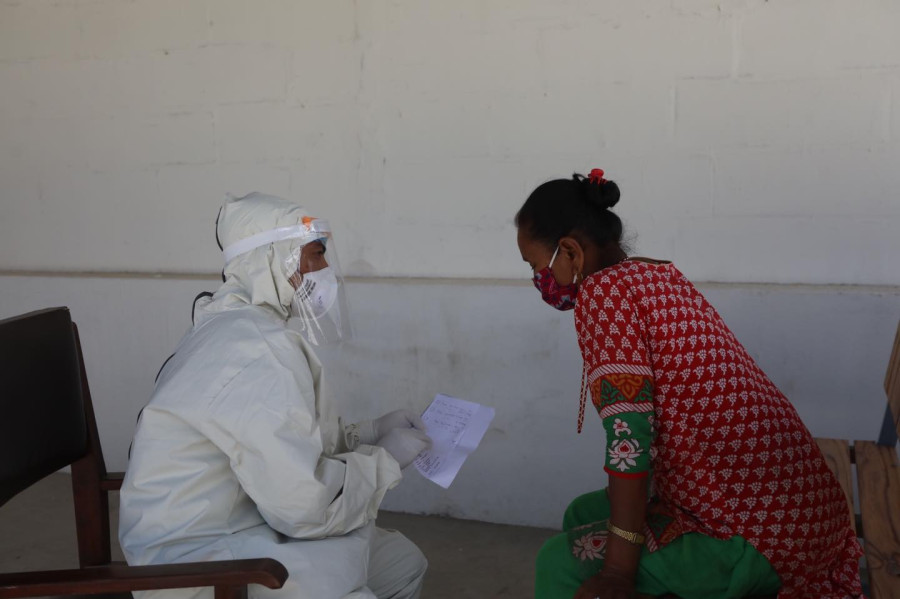 Elite Joshi/Post File Photo
bookmark
Published at : March 30, 2020
Updated at : March 30, 2020 16:55
Kathmandu
Namuna Khanal, a nurse at the dialysis unit of Lalitpur's Alka Hospital, last week quit her job and went home to Kapilvastu. Khanal's landlady had asked her to choose—the hospital job or her rented room—saying that her job at the hospital placed her at risk of contracting Covid-19 and she couldn't take the risk.

"We called her back, but she said that she was already in Kapilvastu," Anita Shrestha, Khanal's supervisor at the hospital, told the Post. "Some of our other staff, including doctors and nurses, have also been unable to go back home due to pressure from landlords."
Alka Hospital has been providing food and shelter to several staffers who have been unable to go home due to discriminatory behaviour from landlords, according to Shrestha.
Another nurse at the same hospital's neonatal intensive care unit had even informed the hospital administration that her landlord had offered her rent-free accommodation for three months if she quit the hospital job, said Shrestha.
Now that there have been five Covid-19 cases—four live cases—in the country, an increasing number of doctors and nurses are being subjected to mistreatment by their landlords. For medical personnel who are testing and treating patients, often without proper protective equipment, these incidents stem from a lack of empathy towards a profession that performs a crucial service in such trying times.
In Kathmandu alone, more than a dozen cases of medical professionals discriminatory behaviour from their landlords have surfaced, according to S.G., a senior doctor at a government hospital in Kathmandu. While no complaints have been officially filed, anecdotal reports have led the authorities to take necessary steps.
According to Dr Lochan Karki, president of the Nepal Medical Association, circulars have been sent to all sixteen branches of the association, demanding immediate responses on the arrangement of alternative residential facilities for medical professionals, and urging the respective District Administrative Offices to ensure stringent actions against those landlords found guilty of mistreating tenants.
"We should focus on the bigger picture. This attitude has fostered because they do not realise their own vulnerability during this pandemic," said Karki. "Tomorrow, the medical professionals they mistreat will be our only source of hope if we reach a situation like that in Italy or the US."
According to S.G., cases of mistreatment against medical professionals are abundant in the city's private hospitals, and that nurses were the most vulnerable, given that they make meager incomes, and rent facilities that are often shared with others.
"As women, they are susceptible to being asked to leave or mistreated because of the assumption that they will not put up a fight," said S.G., who also asked not to be identified. "Nurses make between 15 to 18 thousand a month and they can only afford to spend a little of their income on rent. They will have nowhere to go."
Similar instances have already been reported from across India, leading the authorities to impose penalties for any landlord who evicts medical personnel due to fears of the coronavirus.
Health care professionals already have to deal with possible cases of Covid-19 without adequate personal protective equipment, risking infection of themselves and their loved ones.
S.K., a general practitioner who has been transferred to the emergency department and has been working without protective equipment, said that she already practices self-isolation—she does not go back to her family after finishing her duty at the emergency ward.
Doctors and nurses at the Sukraraj Tropical and Infectious Disease Hospital often sleep over at the hospital and do not go back home, according to the hospital spokesperson, Dr Anup Bastola. They are afraid of infecting their family members with the coronavirus, as medical personnel are considered high-risk carriers of the coronavirus, said Bastola.
But another possible cause could also be warnings from landlords who have threatened to evict doctors and nurses if they return to their rented properties from hospitals, say doctors.
While health care personnel are at risk of carrying the coronavirus, given their exposure to patients and the lack of adequate protection in Nepal, being forced out of their homes will only leave the country without frontline defenders at a time of crisis, say doctors.
According to Dr Arun Uprety, president of the National Resident Doctors' Association, a proposal has been submitted to the Tribhuvan University Teaching Hospital authorities to permit the conversion of two newly constructed buildings at the hospital into isolation wards for medical staff. The Nepal Medical Association is also trying to push the Health Ministry to establish separate quarantine and isolation wards for medical professionals.
According to Dr Bishal Dhakal, incidents of discrimination are being aggravated by reports that medical professionals are working without adequate personal protective equipment but there is no immediate solution to this.
"Medical professionals have been unconditionally dedicated during these difficult times," said Dhakal, "and such behaviour only portrays the lack of appreciation we have for them."
Frequently asked questions about the coronavirus outbreak
UPDATED as of September 22, 2020
What is Covid-19?
Covid-19, short for coronavirus disease, is an illness caused by the coronavirus SARS-CoV-2, short for severe acute respiratory syndrome coronavirus 2. Common symptoms of the disease include fever, dry cough, fatigue, shortness of breath and breathing difficulties. In severe cases, the infection can cause pneumonia, severe acute respiratory syndrome, kidney failure and even death.
How contagious is Covid-19?
Covid-19 can spread easily from person to person, especially in enclosed spaces. The virus can travel through the air in respiratory droplets produced when a sick person breathes, talks, coughs or sneezes. As the virus can also survive on plastic and steel surfaces for up to 72 hours and on cardboard for up to 24 hours, any contact with such surfaces can also spread the virus. Symptoms take between two to 14 days to appear, during which time the carrier is believed to be contagious.
Where did the virus come from?
The virus was first identified in Wuhan, China in late December. The coronavirus is a large family of viruses that is responsible for everything from the common cold to Middle East Respiratory Syndrome (MERS) and Severe Acute Respiratory Syndrome (SARS). After an initial outbreak in Wuhan that spread across Hubei province, eventually infecting over 80,000 and killing more than 3,000, new infection rates in mainland China have dropped. However, the disease has since spread across the world at an alarming rate.
What is the current status of Covid-19?
The World Health Organisation has called the ongoing outbreak a "pandemic" and urged countries across the world to take precautionary measures. Covid-19 has spread to 213 countries and territories around the world and infected more than 31,405,983 people with 967,505 deaths and 22,990,260 recoveries. In South Asia, India has reported the highest number of infections at 5,557,573 with 88,943 deaths. While Pakistan has reported 306,304 confirmed cases with 6,420 deaths. Nepal has so far reported 65,276 cases with 427 deaths.
How dangerous is the disease?
The mortality rate for Covid-19 is estimated to be 3.6 percent, but new studies have put the rate slightly higher at 5.7 percent. Although Covid-19 is not too dangerous to young healthy people, older individuals and those with immune-compromised systems are at greater risk of death. People with chronic medical conditions like heart disease, diabetes and lung disease, or those who've recently undergone serious medical procedures, are also at risk.
How do I keep myself safe?
The WHO advises that the most important thing you can do is wash your hands frequently with soap and water for at least 20 seconds or use hand sanitizers with at least 60 percent alcohol content. Avoid touching your eyes, nose and mouth with unclean hands. Clean and disinfect frequently used surfaces like your computers and phones. Avoid large crowds of people. Seek medical attention if symptoms persist for longer than a few days.
Is it time to panic?
No. The government has imposed a lockdown to limit the spread of the virus. There is no need to begin stockpiling food, cooking gas or hand sanitizers. However, it is always prudent to take sensible precautions like the ones identified above.
---
---