Nepali economy starts to feel the pinch as coronavirus spreads
Given travel restrictions around the world and a fall in Chinese imports, tourism, manufacturing and remittance are all expected to see a slump.

The coronavirus outbreak has badly affected international travel. Reuters
bookmark
Published at : March 4, 2020
Updated at : March 30, 2020 12:14
It is tourist season and the occupancy rate at Durbarmarg's Hotel Annapurna is just 40-45 percent, down from 70 percent before the Covid-19 outbreak in China. Chinese tourists, who contributed around 20 percent to the hotel's occupancy, have dwindled and visitors from other countries have also cut short their plans in the wake of the outbreak.

"With international travel badly affected by the coronavirus outbreak, occupancy rates have decreased drastically," said Atma Khanal, a sales executive at the hotel.
As the coronavirus outbreak continues across the world, numerous countries have imposed travel restrictions and travellers themselves are taking precautionary measures to avoid overseas travel. Hotels across Nepal are feeling the heat.
According to hoteliers, average occupancy went down by half in January and February since the Covid-19 outbreak in late December.
"We are currently at 40-45 percent occupancy, down from an expected 75-80 percent," said Yogendra Sakya, director of ACE Hotels and Resorts.
With the agriculture and industrial sectors not performing as expected, tourism was expected to help boost the economy and contribute significantly to the high growth target of 8.5 percent that the government has set for this fiscal year. According to the Travel and Tourism Economic Impact 2019, a research report prepared by the World Travel and Tourism Council, the tourism sector's contribution to Nepal's economy stood at 7.9 percent in 2018.
But if the occupancy rates at numerous Nepali hotels is anything to go by, the tourism sector will not be contributing much, throwing a spanner in the government's plans for high growth.
Nepal Rastra Bank, in its Mid-Term Review of the 2019-20 Monetary Policy unveiled on Monday, said that the spread of the coronavirus, along with decreased paddy production this year, would have a negative impact on the economy.
The impact of the coronavirus has been most visible in the manufacturing industry, as most raw materials come from China.
According to Shekhar Golchha, senior vice-president of the Federation of Nepalese Chambers of Commerce and Industry, the supply of raw materials from China has decreased drastically or stopped altogether.
"Nepal's pharmaceutical industry is heavily dependent on China for the chemicals that are used to make medicines," said Golchha. "The packaging industry is also heavily dependent on China for raw materials."
While the manufacturing sector is already in trouble with the flow of raw materials from China slowing to a trickle, a big concern, possibly the biggest for the Nepali economy, regards foreign employment in the Middle East, where thousands of Nepalis are employed.
Foreign employment in the Gulf has not only been addressing the country's unemployment issues but has also been contributing significantly to the country's economy in the form of remittance. The money that labour migrants sent back in 2019 contributed 26 percent to the country's GDP. During the first four months of the current fiscal year, Nepal received more than 50 percent of its total remittance from five Gulf countries—Qatar, the United Arab Emirates, Saudi Arabia, Kuwait and Bahrain.
There have so far been 56 confirmed cases of the coronavirus in Kuwait, 49 in Bahrain and 21 in the UAE. Iran has the highest number of infections and deaths from Covid-19 outside China, with 2,336 cases and 77 deaths.
"If industries and businesses operating in the Gulf close down due to the coronavirus, many Nepalis will be unemployed and it will have a direct impact on remittance inflow into the country," said economist Govinda Nepal.
Remittance is the primary source of Nepal's foreign exchange reserves, which needs to be maintained at a comfortable level to sustain the import of essential goods from abroad.
Nepal itself has stopped issuing labour permits to Nepali migrant workers for the time being. Minister for Labour, Employment and Social Security Rameshwsr Ray Yadav told the Rastriya Samachar Samiti on Tuesday that labour permits were halted for the time being as the government has issued a travel advisory asking its citizens not to travel abroad as long as it is not an emergency.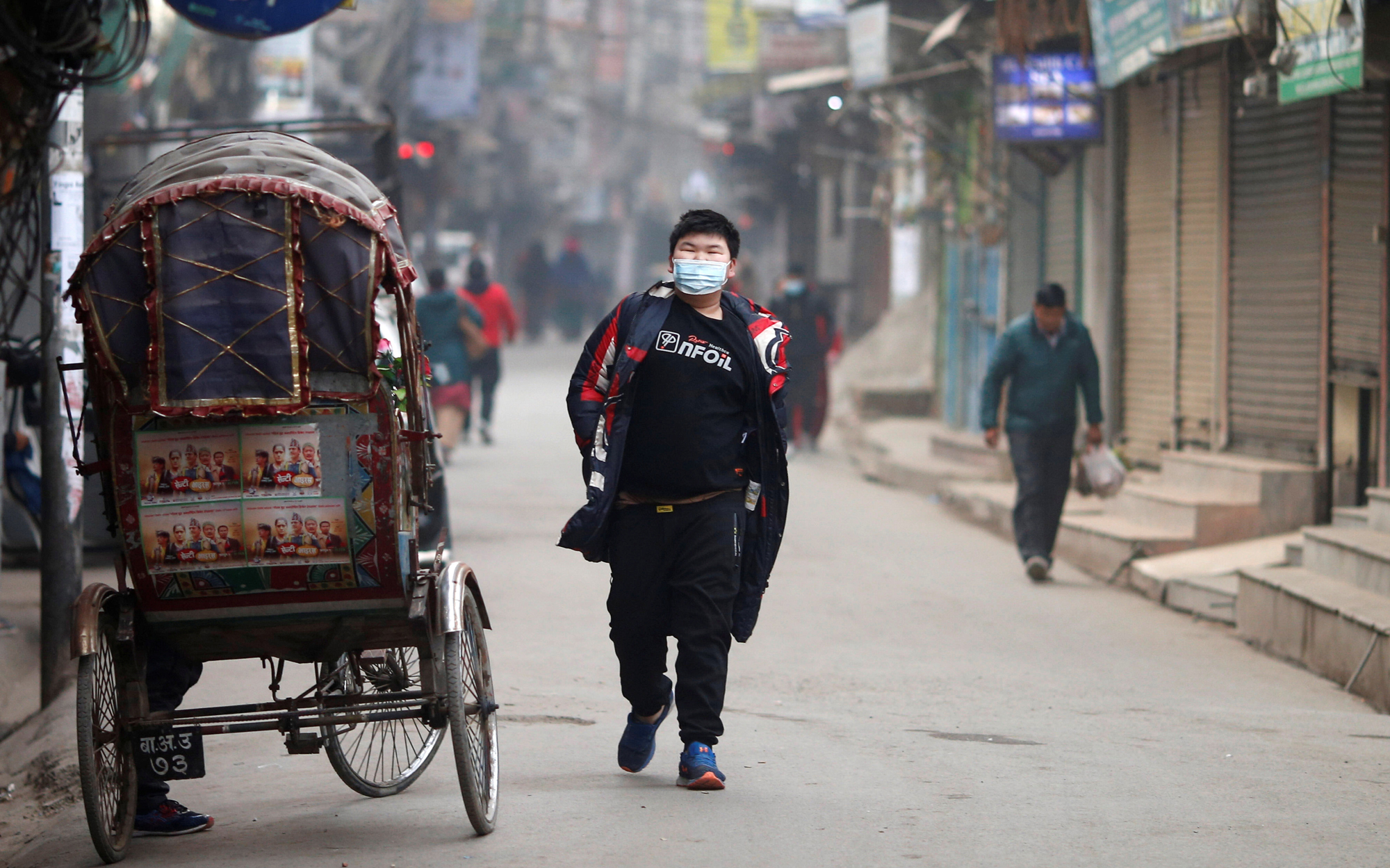 A foreign tourist wears a mask as a preventive measure against the coronavirus outbreak, in Kathmandu. Reuters
Many Nepali households are dependent on remittance for their daily consumption needs and Nepali banks rely on remittance to grow their deposits, which will enable them to lend to businesses. A possible downturn in remittance could thus have a severe impact on overall consumption in the country, according to economists.
"When consumption goes down, it will have an impact on the wholesale and retail sector," said economist Nepal.
The wholesale and retail sector is the second largest contributor to the economy, after agriculture. The sector contributes 14.37 percent to the economy, according to the Central Bureau of Statistics.
The wholesale and retail sector is already being affected by the drastic downfall in imports from China following the outbreak of the disease. China is Nepal's second largest trading partner, after India, and a large number of retail goods are imported from China.
According to Rajan Sharma, former president of the Nepal Freight Forwarders' Association, imports from China have decreased by more than 70 percent.
"Since early February, I have brought in no consignments from China," he said. "Shipment charges have also increased drastically, which will increase the cost of goods in the domestic market."
Most economic sectors are certain to feel constricted if the outbreak, and the ensuing import-export restrictions, continue.
The construction sector, which has already been sluggish from the early days of this fiscal year, is expected to be hit further. According to Golchha, Nepal imports a significant quantity of hardware used in buildings from China and hardware traders have said they will be in short supply after a month.
At a time when the central bank has eased lending for real estate and housing through the review in the Monetary Policy, the possible shortage of hardware could upend the construction sector, whose contribution to economy is around 7.7 percent. Construction of public works has already been affected by the coronavirus outbreak as Chinese contractors and workers who went home for the Chinese New Year in February have been unable to return.
"Projects like the Kathmandu-Narayangarh Road Widening Project and the expansion of the Kathmandu Ring Road have already been affected as Chinese contractors and workers have not returned," said Arjun Suwal, assistant spokesperson for the Department of Roads.
Chinese workers are also involved in various hydropower and transmission line projects developed by both the government and the private sector.
The deadline for the Gautam Buddha International Airport in Bhairahawa has already been postponed until mid-May from March 31 due to the coronavirus outbreak as vital components like runway lighting, baggage handling and other equipment for the airport terminal are unlikely to be delivered on time.
Considering the impact the epidemic could have on the economy, the central bank has said that it will introduce measures to assist businesses affected.
"We are currently studying the areas where the epidemic has had an effect," said Gunakar Bhatta, Nepal Rastra Bank spokesperson. "We will take measures like reorienting the refinance facility, under which businesses can get loans at cheaper rates, for affected sectors and allow banks to reschedule loans taken by affected enterprises."
Frequently asked questions about the coronavirus outbreak
UPDATED as of September 22, 2020
What is Covid-19?
Covid-19, short for coronavirus disease, is an illness caused by the coronavirus SARS-CoV-2, short for severe acute respiratory syndrome coronavirus 2. Common symptoms of the disease include fever, dry cough, fatigue, shortness of breath and breathing difficulties. In severe cases, the infection can cause pneumonia, severe acute respiratory syndrome, kidney failure and even death.
How contagious is Covid-19?
Covid-19 can spread easily from person to person, especially in enclosed spaces. The virus can travel through the air in respiratory droplets produced when a sick person breathes, talks, coughs or sneezes. As the virus can also survive on plastic and steel surfaces for up to 72 hours and on cardboard for up to 24 hours, any contact with such surfaces can also spread the virus. Symptoms take between two to 14 days to appear, during which time the carrier is believed to be contagious.
Where did the virus come from?
The virus was first identified in Wuhan, China in late December. The coronavirus is a large family of viruses that is responsible for everything from the common cold to Middle East Respiratory Syndrome (MERS) and Severe Acute Respiratory Syndrome (SARS). After an initial outbreak in Wuhan that spread across Hubei province, eventually infecting over 80,000 and killing more than 3,000, new infection rates in mainland China have dropped. However, the disease has since spread across the world at an alarming rate.
What is the current status of Covid-19?
The World Health Organisation has called the ongoing outbreak a "pandemic" and urged countries across the world to take precautionary measures. Covid-19 has spread to 213 countries and territories around the world and infected more than 31,405,983 people with 967,505 deaths and 22,990,260 recoveries. In South Asia, India has reported the highest number of infections at 5,557,573 with 88,943 deaths. While Pakistan has reported 306,304 confirmed cases with 6,420 deaths. Nepal has so far reported 65,276 cases with 427 deaths.
How dangerous is the disease?
The mortality rate for Covid-19 is estimated to be 3.6 percent, but new studies have put the rate slightly higher at 5.7 percent. Although Covid-19 is not too dangerous to young healthy people, older individuals and those with immune-compromised systems are at greater risk of death. People with chronic medical conditions like heart disease, diabetes and lung disease, or those who've recently undergone serious medical procedures, are also at risk.
How do I keep myself safe?
The WHO advises that the most important thing you can do is wash your hands frequently with soap and water for at least 20 seconds or use hand sanitizers with at least 60 percent alcohol content. Avoid touching your eyes, nose and mouth with unclean hands. Clean and disinfect frequently used surfaces like your computers and phones. Avoid large crowds of people. Seek medical attention if symptoms persist for longer than a few days.
Is it time to panic?
No. The government has imposed a lockdown to limit the spread of the virus. There is no need to begin stockpiling food, cooking gas or hand sanitizers. However, it is always prudent to take sensible precautions like the ones identified above.
---
---