Nepal's arrest and deportation of 122 Chinese raise legal and ethical questions
The Chinese were deported despite Nepal Police's failure to establish any criminal charges against them—and to a country that practices capital punishment.

All 122 Chinese nationals arrested from various parts of Kathmandu were deported on Wednesday. Angad Dhakal/TKP
bookmark
Published at : January 8, 2020
Updated at : January 8, 2020 20:05
Kathmandu
The Department of Immigration on Wednesday deported all 122 Chinese nationals who were arrested from various parts of Kathmandu on December 23 for their involvement in "suspicious activities".
The Chinese were fined Rs1,000 each for "indecent behaviour" and are being deported after the Chinese embassy issued travel documents, according to Home Ministry officials.
The deportation, which took place after security agencies failed to establish any criminal charges against them, has left many questions unanswered, including why they were arrested in the first place and what will happen to them once they are in China.
Former police officials said the entire arrest-and-deportation episode is flawed.
"Why did we arrest them and on what charges?" said Hemanta Malla, a former deputy inspector general. "Why were we looking for evidence and proof after arresting them and why did we fail to establish any charges?"
Security agencies and the KP Sharma Oli administration is already facing criticism for arresting Chinese nationals at the behest of Beijing.
A day after the arrest, the Chinese foreign ministry spokesperson had said that the Chinese nationals were arrested in Kathmandu as part of a joint operation between Nepal and China. However, Nepali security agencies objected, saying that it wasn't a joint operation and that they had only acted in coordination with Chinese authorities. Based on a Chinese tip-off, over 600 Nepal Police personnel had conducted raids on several houses in various parts of Kathmandu, arresting the 122 people, according to the Nepal Police.
Security officials had initially said that the Chinese were arrested for breaking cyber laws, breaching digital networking systems, online gambling and money laundering, among others. But the charges, if the Chinese foreign ministry spokesperson statement is anything to go by, were initiated by Beijing since Nepali agencies have failed to establish any concrete charges against the arrestees.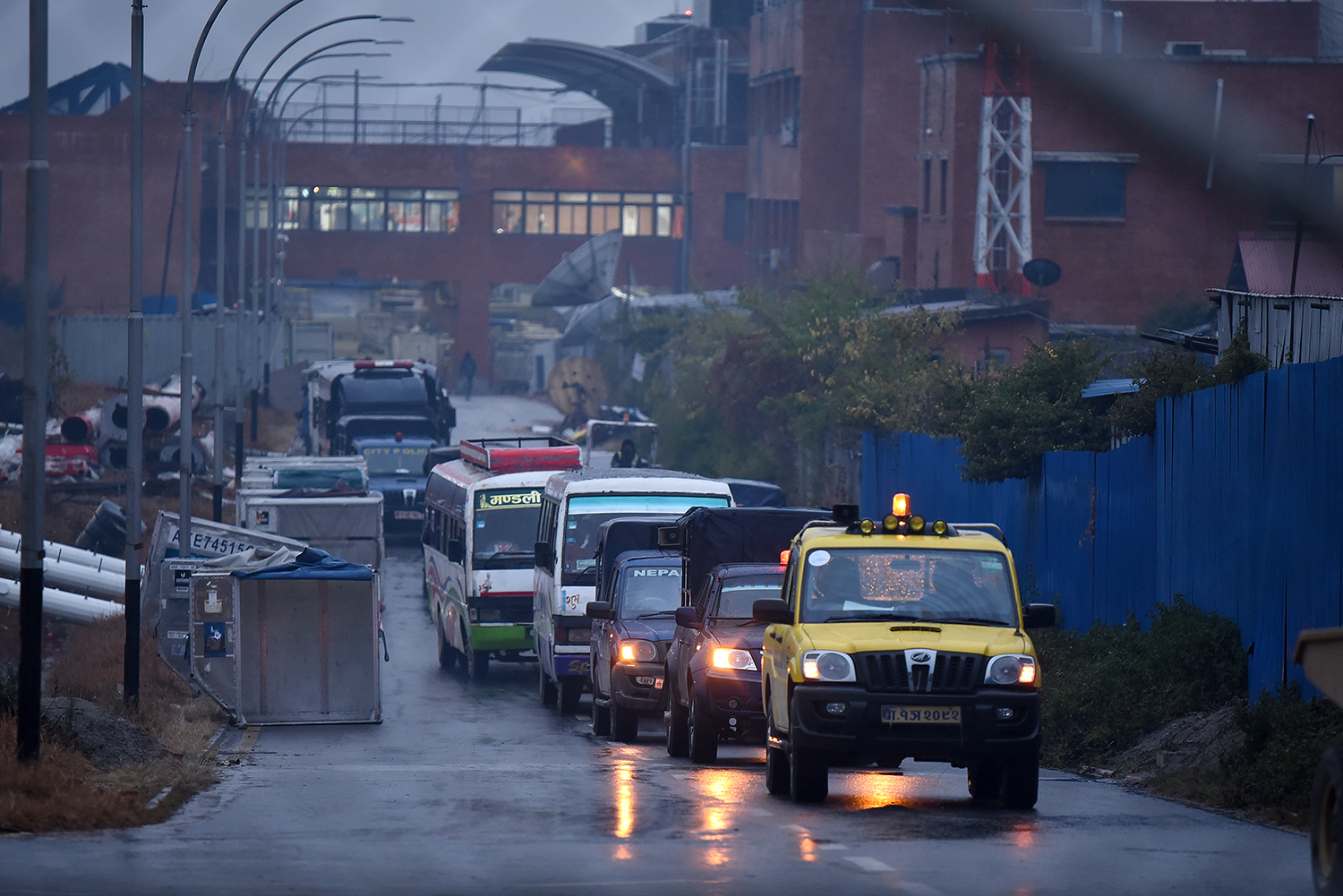 Chinese nationals on their way to Tribhuvan International Airport. Angad Dhakal/TKP
Nepal and China have not signed an extradition treaty, but during the visit of Chinese President Xi Jinping in October, the countries had signed a Mutual Legal Assistance on Criminal Matters treaty. As per the pact, Nepal can deport Chinese nationals arrested in Nepal.
A senior security official who has been closely following the arrest of Chinese nationals told the Post that such arrests have occurred in Malaysia and the Philippines as well, where a large number of Chinese have been detained in the last few months.
In case of Malaysia, even though the Chinese were deported, Malaysian authorities thoroughly investigated them, carrying out forensic analysis of their phones and computers to ascertain if any of them had acquired any critical national data, the official said.
Likewise, in the case of the Philippines, in spite of close relations between Rodrigo Duterte, the country's president, and Beijing, all the Chinese nationals arrested were meticulously investigated. Nationalist parties in the Philippines have demanded that strong rules be implemented regarding Chinese nationals entering and working in the country, with Duterte's defence chief expressing alarm over the large Chinese presence and their involvement in illegal activities.
"Therefore, there is a need to investigate the case by at least analysing the electronic data on the equipment held by the Chinese to rule out any possible threats to national security before deporting them," said the security official who did not wish to be named.
There are also questions regarding the fate of the Chinese nationals once they arrive in China. As Nepal does not have the death penalty, it would be ethically wrong to deport the Chinese if there is a possibility that they could face execution.
Since the arrest, the Oli administration has maintained that the Chinese nationals will be deported as long as they were found guilty of breaching visa rules. However, the deportation took place after Home Minister Ram Bahadur Thapa held delegation-level talks with Zhao Kezhi, a Chinese State Councilor and Minister of Public Security, on Monday.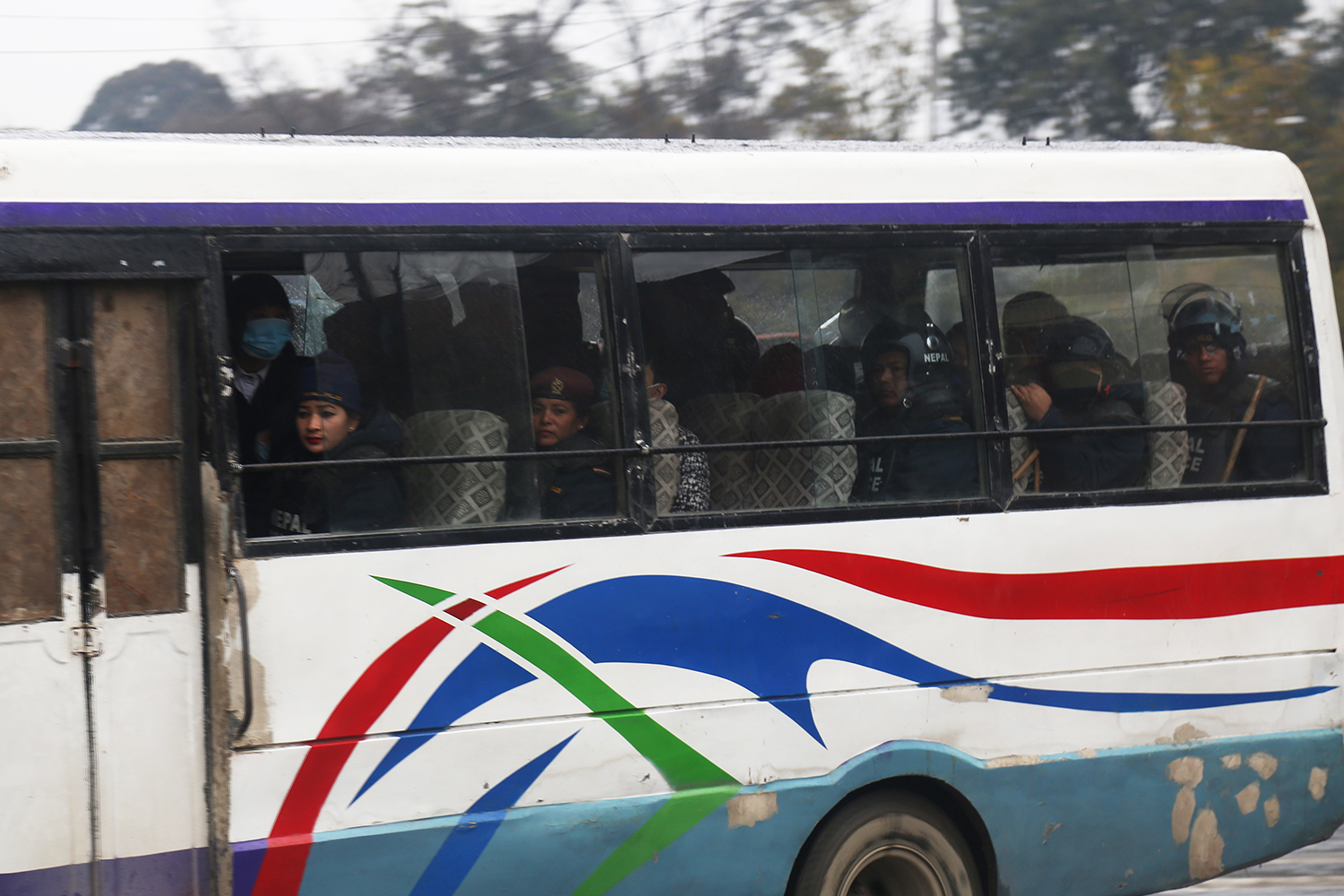 The deportation, which took place after security agencies failed to establish any criminal charges against them, has left many questions unanswered. Kabin Adhikari/TKP
A statement issued after the meeting failed to mention the arrest of Chinese nationals in Kathmandu.
"Matters pertaining to mutual interest, including the promotion of bilateral cooperation in public security, cross-border crime, capacity building and border management were discussed during the meeting," read the statement. "Both the leaders agreed to enhance cooperation and communication between law enforcement agencies of the two countries for maintaining peace and security across the border."
The Home Ministry and the Nepal Police have both failed to make public the nature of the crimes the Chinese had committed on Nepali soil or in China.
In normal practice, any Chinese national can visit Nepal on a tourist visa. Any foreign national, however, cannot be deported until and unless a criminal case is established in Nepal, said human rights defenders.
"There is no doubt that the operation was carried out at the behest of the Chinese government and now, they [the Chinese] are being handed over to China under pressure," said Indra Aryal, chairperson of the Nepal Human Rights Organisation. "There is no guarantee that these people will not face torture in China, which has severe capital punishment provisions, including the death penalty."
A security official, who did not wish to be named citing the sensitivity of the matter, confirmed to the Post that there was pressure from China to deport all the arrested Chinese nationals.
Another top investigation official told the Post on condition of anonymity that Chinese officials had repeatedly told Nepali officials that the arrested Chinese had "damaged China's image in Nepal".
Prior to the December 23 raids, a team from the Chinese Public Security Ministry was in Kathmandu, according to top security officials.
The team stayed in Kathmandu for over a week and met with top government officials, including officials from the Home Ministry and Nepal Police chief Sarbendra Khanal.
Though security officials say they were unable to establish cases against the arrested Chinese due to a lack of technical know-how, there are concerns whether over the entire exercise was just a premise to deport them.
Chinese authorities were quick to deactivate the passports of those arrested—security officials had recovered only 67 passports—and issue travel documents.
China on Wednesday sent two chartered planes to Kathmandu to take the Chinese back.
Home Secretary Prem Kumar Rai, however, rebuffed all allegations that the entire operation had been carried out at China's behest.
"It is not just the Chinese, we are going to launch operations against all those who are living in Nepal illegally and involved in visa fraud," said Rai. "Those who are doing business on tourist visas will be deported."
According to Rai, a bigger number of Chinese nationals living in Nepal and involved in suspicious activities have already left of their own volition after the December 23 operation. He did not explain how and why they left and why they were not arrested if they were involved in suspicious activities.
"Deportation is fine; it's an international procedure. But we should at least know that charges on which these Chinese were arrested," said Malla, the former police official. "The grounds on which they were deported should be made public. The clouds of suspicion have already thickened as various versions have appeared in the media on the arrest and deportation episode."
Rights activists too expressed concern over the deported Chinese nationals' human rights once they are in their home country.
"The government has not been mindful of the Chinese legal system," said Aryal. "Sending them back without establishing a case is illegal. This is against our rules, our constitution and our commitment to human rights."
---
---