For communities across Tanahun, Tihar is a festival with benefit
Many community groups in the district indulge in deusi bhailo programmes and use the collected amount to fund community infrastructure projects.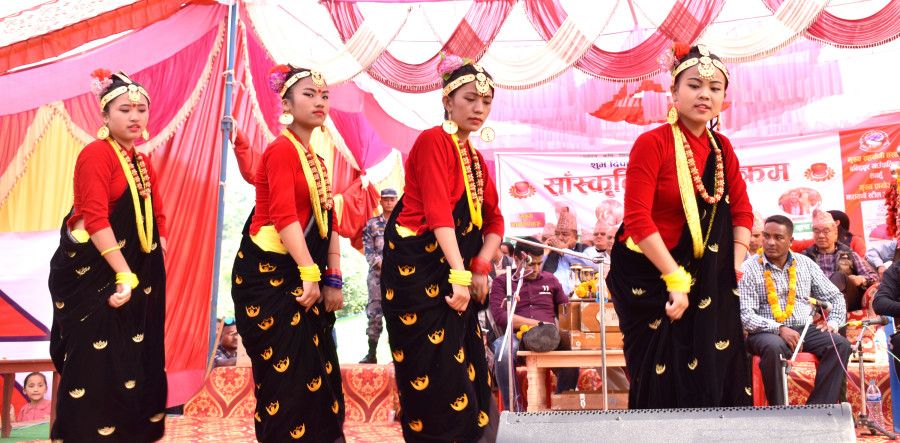 Women perform Kaura dance at a cultural programme organised in Bandipur Rural Municipality-1, Tanahun. Samjhana Rasaili/TKP
bookmark
Published at : October 28, 2019
Updated at : October 28, 2019 07:59
Tanahun
Several organisations across Tanahun of late are using Deusi Bhailo programmes to fund community infrastructure projects and community services. Deusi bhailo is a cultural function where people indulge in singing and dancing and get Dakshina in return.
One such group is Bagbazaar Tole Sudhar Samuha, a community welfare group in Byas Municipality.
"We used last year's Deusi Bhailo funds to construct a one-storey building for our committee," said Hari Prasad Laudari, a member of the group. "But the building was left incomplete for lack of budget. We aim to complete it with this year's Deusi Bhailo money."
Laudari said the group's aim is two-pronged: to preserve the ancient culture while also funding community infrastructure projects.
Like Bagbazaar Tole Sudhar Samuha, many such groups across the district are doing just that.
"We aim to invest the fund collected from Deusi Bhailo programmes on infrastructure building," said Buddhimaya Sunar, a local of Sirjanshil Tole. "This is our culture, and we use it for our development."
Meanwhile, Shree Krishna Aama Samuha, a mothers' group, is aiming to open a group-owned grocery shop with the Deusi Bhailo collection this year.
"After we complete our household chores, we are mostly free," said Chandra Maya Gurung, a member of the mothers' group. "We can contribute labour to the shop."
Likewise, several schools across the district that run by hiring teachers under private sources are seeking to fund the teachers' salary by this year's Deusi Bhailo sum. Some of the schools also plan to fund scholarship programmes and infrastructure with the collected amount.
Tihar, also called Deepawali and Yamapanchak, is a Hindu festival celebrated for five days in Autumn after the families complete their harvest. It is widely celebrated by communities in Nepal and some parts of India. Tihar is also called the "festival of lights", as it is a norm to decorate houses with lights.
"Festivals like Tihar are important, as they help unite people in a community," Gurung said.
---
---