Why are there so many road accidents during Dashain?
Speed, overload, fatigued drivers and poorly maintained vehicles lead to crashes in the festival travel rush, authorities say.

Nagendra Adhikari/TKP
bookmark
Published at : September 26, 2019
Updated at : September 30, 2019 16:23
Kathmandu
Dashain is a time for celebration. Thousands leave Kathmandu for their hometowns during this time of the year to meet family and friends; many use the holidays as a time to travel and explore. All this means travel rush on Nepal's highways. Often, this rush leads to events of despair and mourning for families whose members get killed or injured in Nepal's notorious traffic accidents, particularly in remote hilly regions.

Only last year, on the morning of October 21, six people died and 16 others were injured when a passenger bus met with an accident near Arunkhola along the East-West Highway in Nawalparasi (East). According to the District Traffic Police Office, the crash occurred as the driver dozed off while driving. The speeding 40-seater night bus was carrying 52 passengers.
On the same day, in Tanahun, 23 people were injured when a Muglin-bound bus veered off the road at Aabukhaireni along the Prithvi Highway. Most of the victims were returning after celebrating Dashain with their families or were on their way to receive tika.
Last Dashain, 568 road accidents took place in various parts of the country. As many as 129 people (passengers and pedestrians) were killed and 271 critically injured in road accidents, as per the records of the Nepal Police Headquarters. In the Dashain of 2017, 104 people were killed from 380 road accidents. In 2016, 101 persons were killed and 221 injured in 563 accidents.
As it is, Nepal's highways see a lot of accidents, but during the festive season, when traffic is heavy, things are more perilous. Here's why that happens every year.
Why do accidents happen?
Most accidents occur due to the driver's carelessness and bad roads. Other reasons are speeding, disregard for traffic rules, overloading and old and poorly maintained vehicles. Accidents may also occur if one driver has to complete an entire long route by himself, without breaks. Overloaded vehicles and drunk-driving are also the causes of road accidents. Pedestrians and stray animals sometimes cause accidents too.
In the festival rush, people have no option but to travel, often overlooking the risk of accidents. As there are limited public vehicles, they rush to board overcrowded buses, microbuses and other vehicles. Because of the rush, reckless driving by public vehicle drivers often causes accidents. Most motorcycle accidents occur due to speed and riding under the influence of alcohol.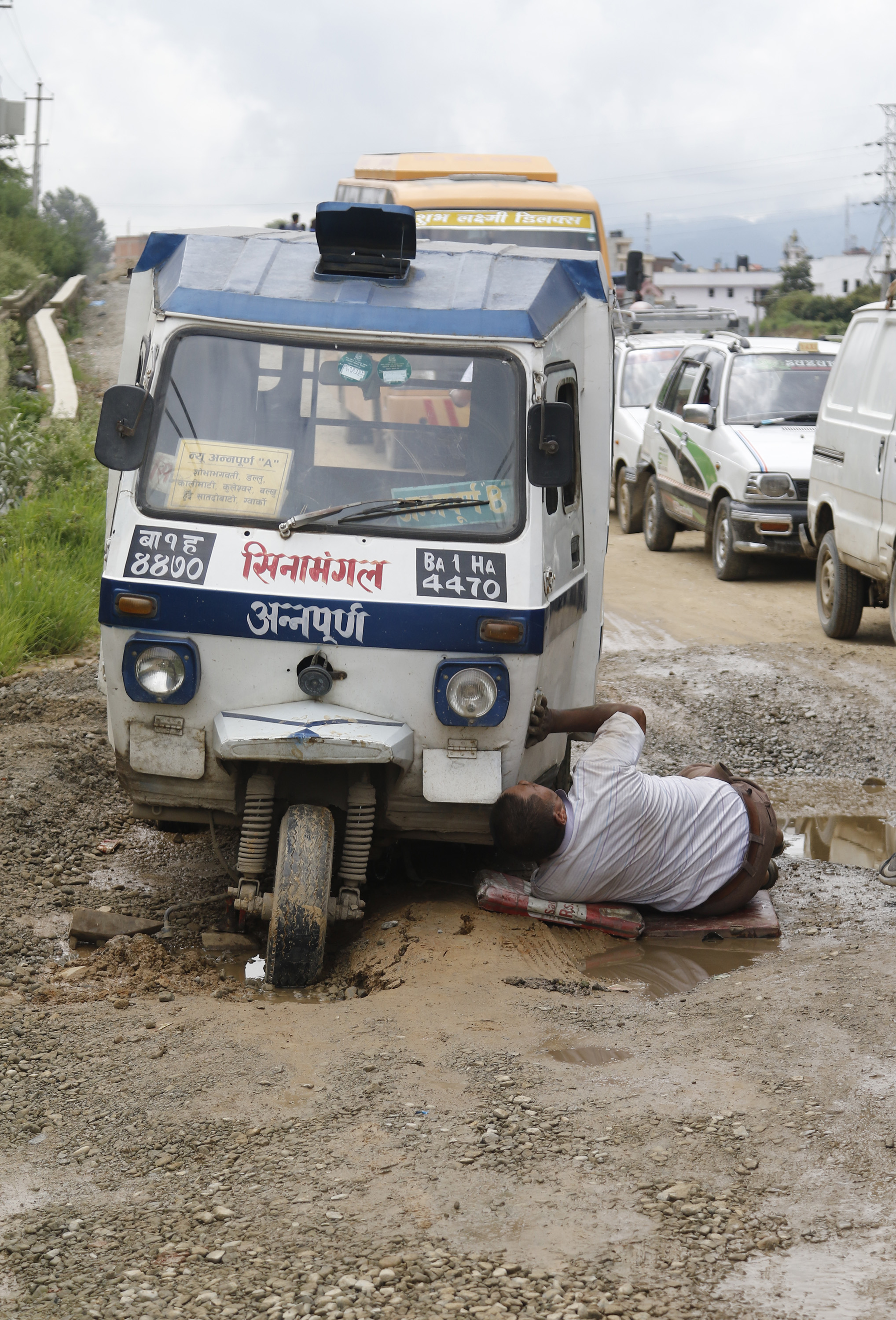 Lack of regular maintenance of vehicles is one of the causes of accidents. Post Photo

Are drivers to blame?
Experts say more than 90 percent of the accidents in Nepal occur due to the negligence of drivers. Mechanical failure, poor road conditions, careless pedestrians and bad weather are also some other reasons, they say. According to them, accidents caused by poor road maintenance and the presence of animals and pedestrians on the roads are under-reported. Every day, seven people die in road accidents in Nepal. Authorities have failed to enforce effective measures to control road accidents.
Ashish Gajurel, a transportation and traffic engineer, said dilapidated conditions of roads and poor implementation of traffic rules are the major causes of accidents. "A majority of the roads lack proper infrastructure like street signs, barriers and street lights," he said. According to Senior Superintendent of Police Bhim Prasad Dhakal, chief at the Metropolitan Traffic Police Division, overload and driver's negligence are the main reasons for accidents during the festival season.
What are the authorities doing?
In order to control reckless driving, officials have started using technology such as laser-equipped speed gun. "We will also monitor whether long-distance vehicles have two drivers with a change in shift. More personnel have been deployed in the checkpoints to ensure the safety of passengers. Traffic inspection has been intensified in major points to control drink-driving," said SSP Dhakal.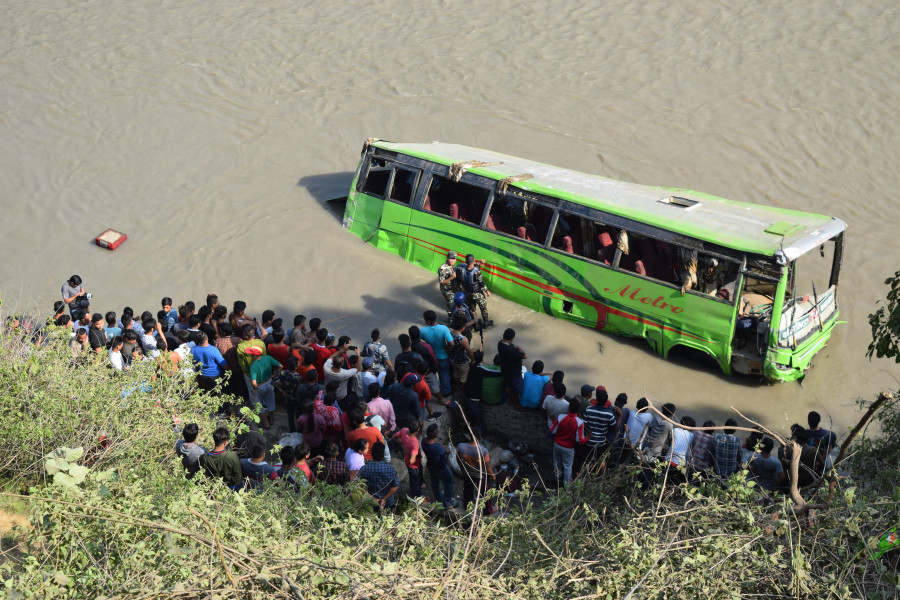 Nine people were killed and 29 injured when a Kathmandu-bound night bus plunged into the Trishuli river in Dhading on May 19. The cause of the accident was not immediately known. Post Photo
Are the roads still accident-prone?
The Nepal Police Headquarters recorded a total of 48,981 accidents across the country in the past five years. Experts suspect that the number of road accidents could increase this year due to bad roads. Former deputy inspector general of Nepal Police Keshav Adhikari, who also served as the chief at the Metropolitan Traffic Division, said most of the roads in the country are being constructed without technical survey. "The roads are poorly designed and there's a lack of periodic maintenance. This is why many road accidents occur during the festival travel rush," he said.
What are the precautions a motorcyclist should take?
Travelling on a motorcycle is unsafe compared to other vehicles. On a highway, motorcycle riders should take extra caution. A rider must be well informed about the road condition, the terrain and the dynamics of the two-wheeler they're riding. It is necessary to be watchful of large vehicles on the road and to follow traffic signs and symbols. A helmet is a must for the rider and also important for the pillion rider's safety. Traffic police advise motorcyclists to not carry more than one pillion rider, to wear reflective clothing to improve the chances of being seen in poor light, and to avoid using a cell phone while driving.
What can the authorities do to ensure safe travel?
The authorities' role comes in making roads safer for drivers and pedestrians. Particularly during the festival travel rush, the administration, transport entrepreneurs, drivers and passengers can assess the situation of roads and take measures to avoid accidents. According to Gajurel, transportation and traffic engineers and government agencies should regularly monitor the condition of the roads.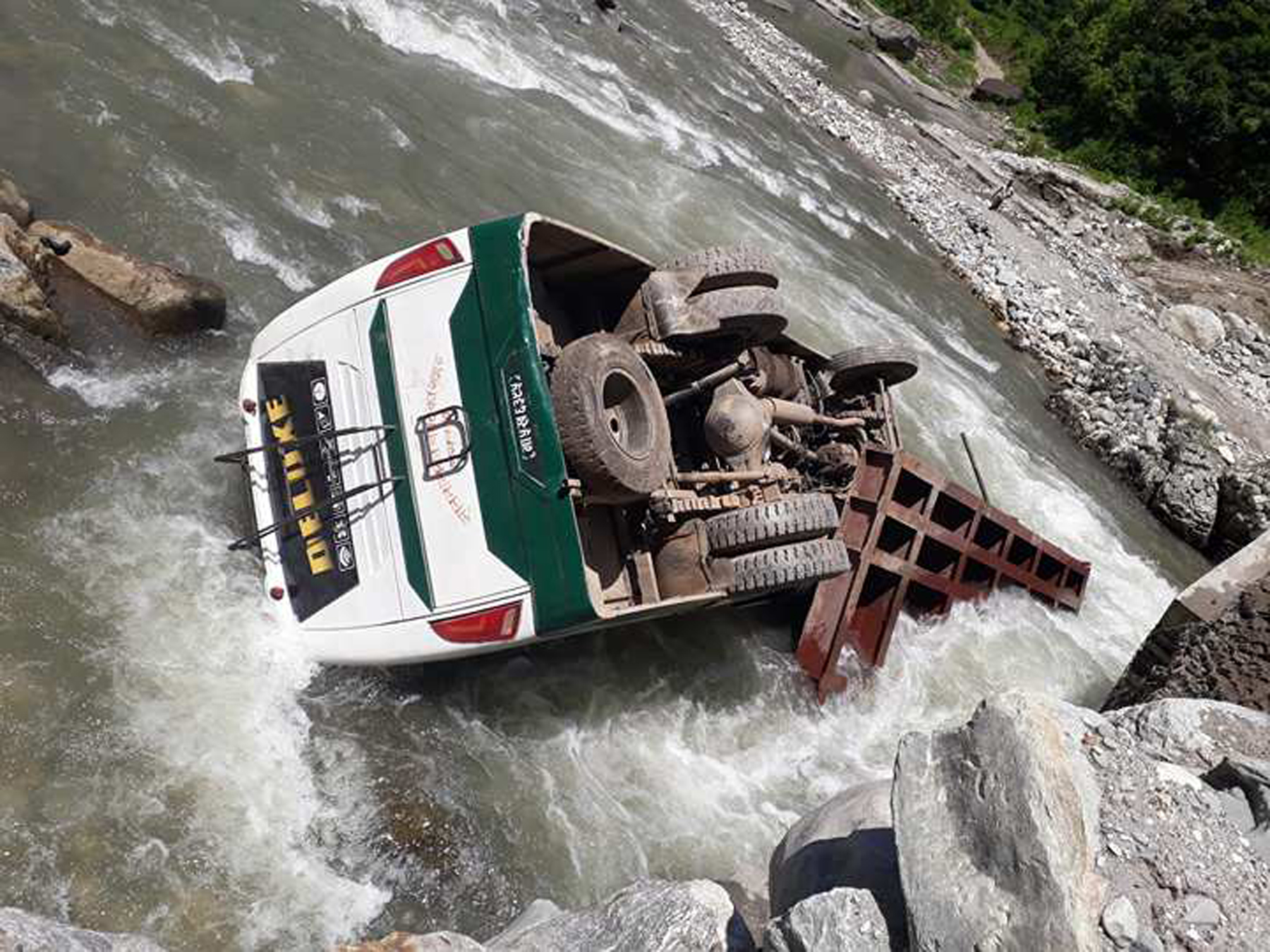 RSS
How can rescue efforts be made more effective in the aftermath of accidents?
Even if an accident occurs, local administration, security agencies and other stakeholders should gear up for immediate rescue operations. Focus should be on immediate medical help. The National Academy of Medical Sciences operates a trauma centre in Kathmandu, but it is not enough. Establishment and operation of similar health facilities in all the provinces is crucial to providing critical care. On highways, setting up a mechanism for immediate rescue and medical aid can save more lives.
What is the compensation provisioned?
Presently, four-wheeler and two-wheeler passengers receive up to Rs 500,000 in case of death in a road accident. The provision is applicable also to pillion riders on two-wheelers. According to the rule, the transport committee or the owner of the vehicle should pay for all the medical expenses of the injured. According to the law, Rs300, 000 should be provided for treatment and an additional Rs250, 000 to the victim in case s/he is maimed. Two years ago, the Insurance Board raised the insurance coverage for road accident victims to Rs500,000 from Rs100,000 in case of death. Victims' families may need help in accessing the compensation and treatment allowances.
What are the legal measures?
As per Article 257 of the Vehicle and Transport Management Act-1993, the Department of Transport Management can appoint transport supervisors to fine or seize the driving license of individuals violating traffic rules. The Act requires all vehicles to pass pollution tests and their operators to possess the vehicle inspection report. Drivers are required to take a half-hour break after four hours on the road. According to the law, passenger vehicles are also restricted from carrying more people than the total number of seats, and long-distance vehicles should have two drivers with a change in shift after 6 hours. Traffic police say most of the accidents happen when drivers violate these rules. The transport department coordinates with traffic police to enforce the rules and take action against the guilty.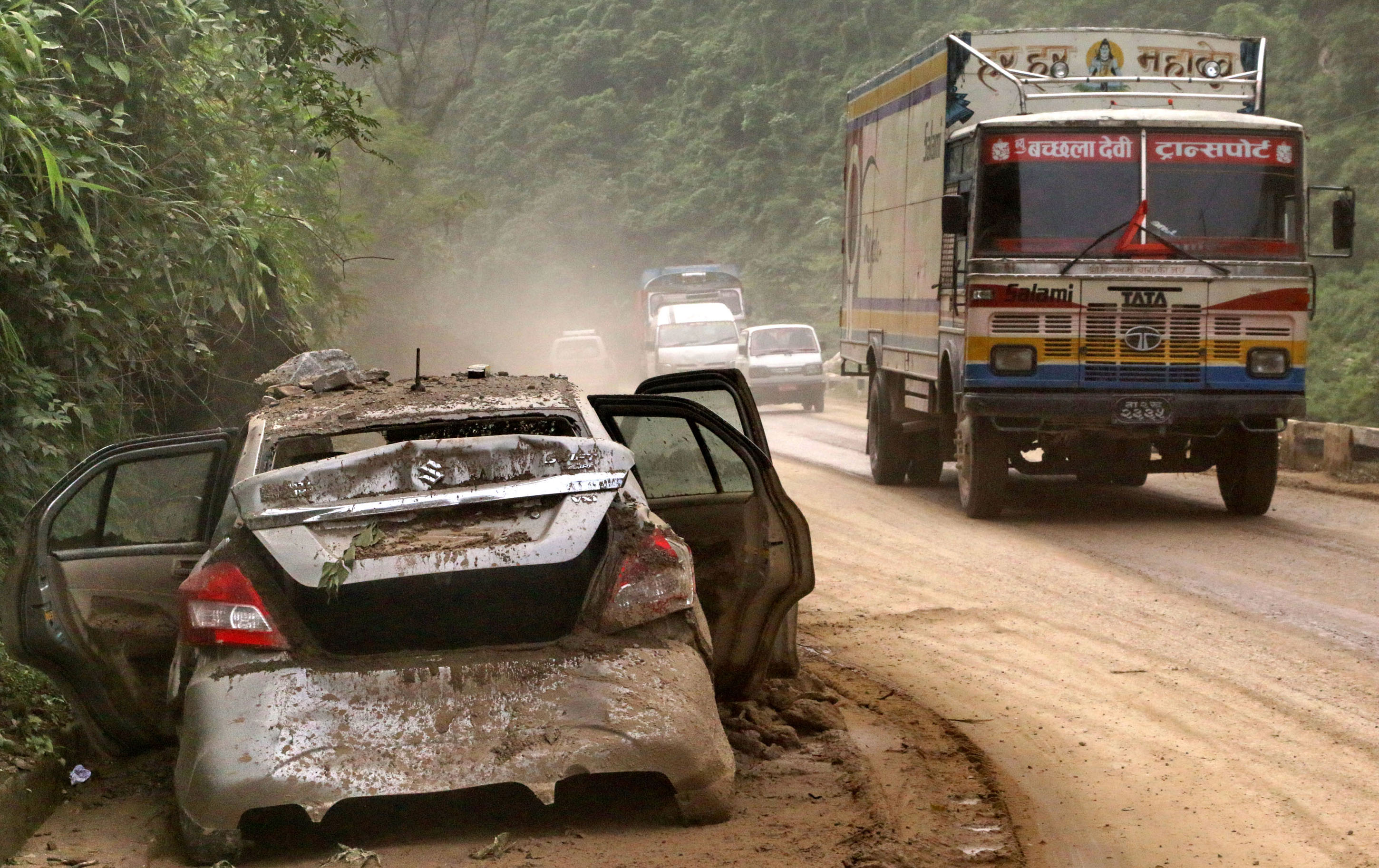 Post Photo
Guidelines for bus and truck drivers
Buses and trucks fall under the category of heavy vehicles. They should be driven on the extreme left, and speed governors are mandatory for them, with maximum speed limit for buses and trucks being 40 KMPH. Buses and trucks should never overtake another vehicle. Bus drivers should drive their buses along the bus lane and should stop the buses inside the bus box that is drawn at bus stops. Other buses that are coming behind and are destined to stop at this bus stop should stop behind the first bus in a line and wait for their turn. Under no circumstances can the latter bus stand parallel to the former bus or overtake it.
Source: Nepal Traffic Police
Dangerous Dashain
Year Casualties
2018- 129 people killed, 271 injured
2017- 104 people killed in 380 road accidents
2016- 101 people killed and 221 injured in 563 accidents
Source: Nepal Police Headquarters
---
---