Thirteen years on, victims of the Badarmude incident await compensation
Despite a pledge from Pushpa Kamal Dahal, victims of the 2005 civilian bus bombing have received nothing.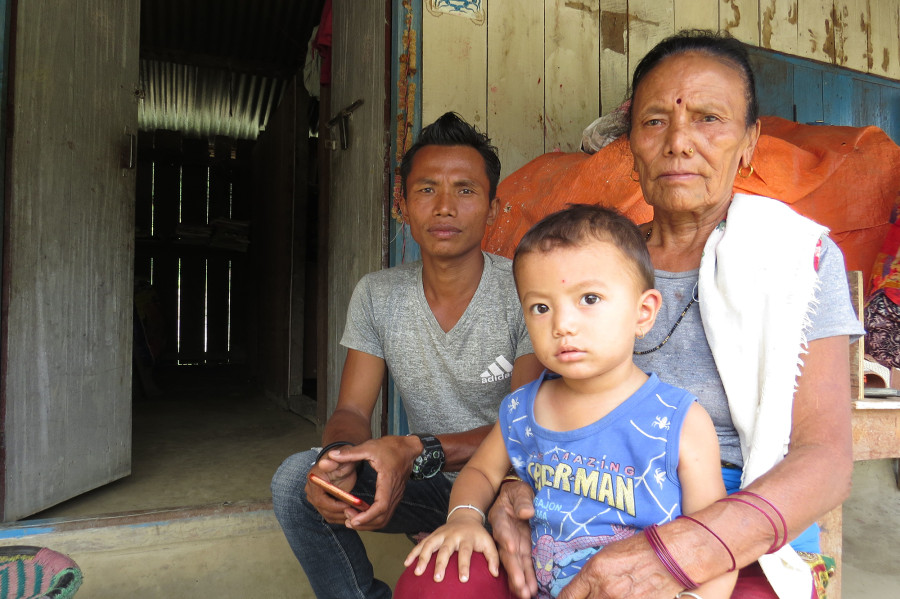 Til Bahadur Chepang (left) with his mother Padam Kumari Chepang and son at their home in Bahraghare, Madi. Til Bahadur lost his father, sister and brother in-law in the Badermude incident. Post Photo: Ramesh Kumar Poudel
bookmark
Published at : June 6, 2019
Updated at : June 7, 2019 07:50
Chitwan
On June 6, 2005, Til Bahadur Chepang was travelling to Bharatpur with his father Sun Bahadur, younger sister Mina and her husband, Rabindra Chaudhary. Twenty-five-year-old Chepang, from Bahraghare in Madi, was on his way to acquire a citizenship certificate so that he could to go abroad for employment.
As the Bharatpur-bound bus, with about 120 passengers on board, crossed the Badarmude river, a bomb placed under the bridge was detonated, causing the bridge to collapse and the bus to be torn apart. Thirty-eight people, along with Sun Bahadur, Mina and Rabindra Chaudhary, died. Chepang, who was sitting on the roof of the bus for lack of space, sustained injuries to his abdomen. Seventy-two others were injured, with most rendered physically disabled.
"I lost three family members in that incident," Chepang told the Post over the phone. "It's been 13 years since that tragedy, but the state has yet to make good on its promises to compensate us for our loss."
The explosion was attributed to the Communist Party of Nepal-Maoist, which was then locked in an armed civil insurgency against the Nepal government. But the fact that a civilian bus had been bombed, a first for the Maoists, was severely criticised by all sectors of society. Even Pushpa Kamal Dahal, while campaigning for the 2017 elections in Chitwan, had called the incident "the biggest mistake of the civil war."
At the time, Dahal had even signed an agreement with victims of what has come to be known as the 'Badarmude incident', promising compensation in the form of Rs 6 million to those who had lost family members, along with free treatment for the injured. The agreement also promised employment for victims' family members, education for the children of the deceased, and the building of a memorial park.
Chepang, who sustained injuries to his waist during the explosion, is now 38 and says he no longer has the strength to do physically demanding work. Even 13 years after the incident, he hasn't recovered from his injuries.
"People don't believe me when I tell them that I was injured in the Badarmude incident," he said. "I don't have noticeable injuries to my body, but I have problems walking properly and cannot work in the fields anymore.
Chepang eventually did end up going abroad to Malaysia for work but says he was in poor health all the time and was forced to return when he couldn't do the work required of him. He wants to operate a poultry farm or open up a general store, but he doesn't have the required capital, he says.
Like Chepang, most victims of the Badarmude incident complain about the government's apathy towards their condition. Neither the government authorities nor the then Maoist party really cared about the victims, they say.
"The victims didn't receive justice or any help, as assured by the Maoists," said Krishna Prasad Adhikari, vice-chairman of the Badarmude Victims Committee.
However, Thakur Prasad Dhakal, mayor of Madi Municipality, said that preparations were underway to provide victims with some financial assistance.
"The municipality has allocated Rs 2.5 million for Badarmude victims. We will provide Rs 100,000 to each family so that they can use the money to rear goats, chicken or open up a small shop," said Dhakal. So far, 60 families have submitted applications for the promised amount, he said. But for victims, this amount is still a long way from the Rs 6 million that Dahal promised during election season.
---
---