Masons, carpenters hone skills
1,346 engineers, 650 sub-engineers and 575 assistant sub-engineers are deployed in 14 districts by the government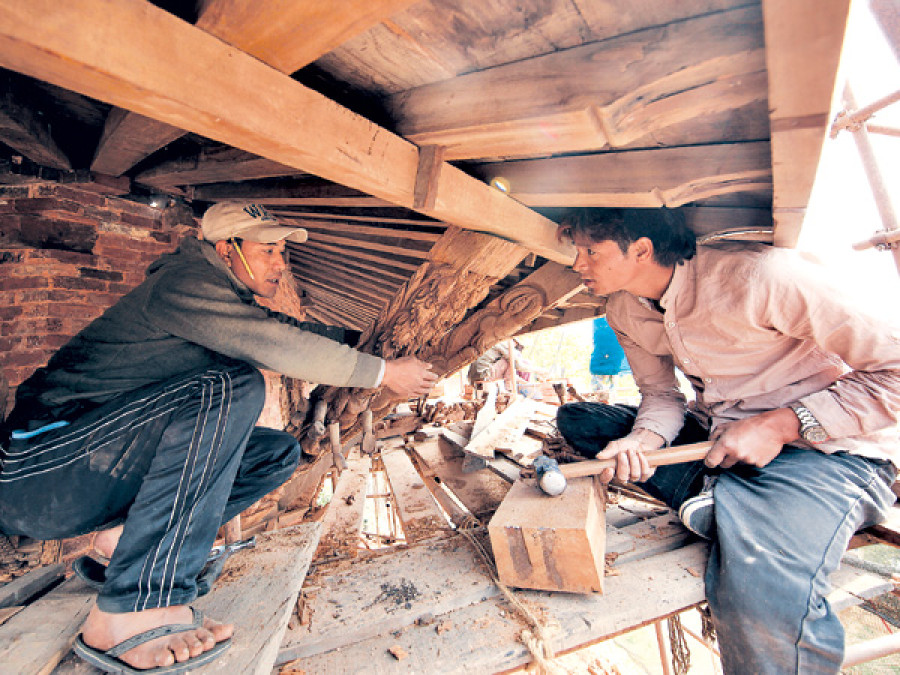 bookmark
Published at : June 5, 2016
Panauti
It's midday. A clattering sound of the hammer echoes in a sattal (traditional space for resting in the Newari community) in Panauti. Fifty-two-year-old Lakpa Sherpa, a traditional carpenter from Tempathan Village Development Committee of Sindupalchowk, along with his eighteen friends, is busy honing his newly acquired skills to build earthquake-resilient structures.
Following the devastating earthquake in April last year, there is a demand of 50,000 masons and carpenters trained to build quake-safe structures. The government has been training such masons and workers in almost every district.
Lakpa and his eighteen friends (eight carpenters and other 10 masons), are all traditional carpenters and masons from Tempathan VDC, one of the quake-ravaged district, on Nepal's border with China.
They have undergone 45 days of training from Nepal Vocational Academy (NVA), Panauti, to construct quake-resistant houses with the help of mud, stone and wood.
They will be leaving for their village of Tempathan sometime this week. Tempathan is a six-day walk from Balefi, the last point up to where there are motorable roads. These traditional builders were brought in for training by conservationist Rabindra Puri, who champions a movement to restore Newari architecture and Sonam Sherpa, chairman of Tempathan Nepemasal Society.
"I had seen the struggle of our villagers and there was a urgent need of making quake-resistant buildings," said Sonam. "I was aware of Rabindra Puri's work, so I contacted him for some assistance." According to Sonam, 140 houses have been completely destroyed by last year's quake in Tempathan.
The earthquake had overall damaged 600,000 houses in the affected districts. The government has announced to provide up to Rs200,000 as housing grant.
But accessing the money isn't as easy. The money released in instalments requires clear verification that houses constructed are earthquake-safe and that they meet government standards. According to the data given by the Ministry of Urban Development, 1,346 engineers, 650 sub-engineers and 575 assistant sub-engineers have been deployed in all 14 earthquake affected districts.
Lakpa's house was also destroyed by the quake and his five-member family have been living in a temporary makeshift since. "Now we will together build earthquake-resistant houses with local mud and stones, and with the technique we have learnt," he said. It is not possible for the villagers to make cemented houses since there is no means to ferry construction materials to Tempathan.
Besides building their own homes, their updated skills will be much in demand in other villages too. Once they get back to the village, their daily wages will be somewhere in between Rs 800 to 1,000 per day, they said. "Earlier we used to take Rs500 to Rs 700 per day but we will now be paid more for the acquired skills," said Lakpa.
Villagers in Tempathan have never witness electric machines such as the ones used in cutting woods. They traditionally rely on axe, chisel, saw and other hand made equipments.
"Now we can use electric drilling machines and other equipments," said -48-year-old Pasang Norbhu Sherpa.
Even though the academy has provided a 5KVA generator, the remote village has no electricity.
---
---