Dry landslide strikes Annapurna region
Five locals hiding in cave rescued n Dust plumes hover over villages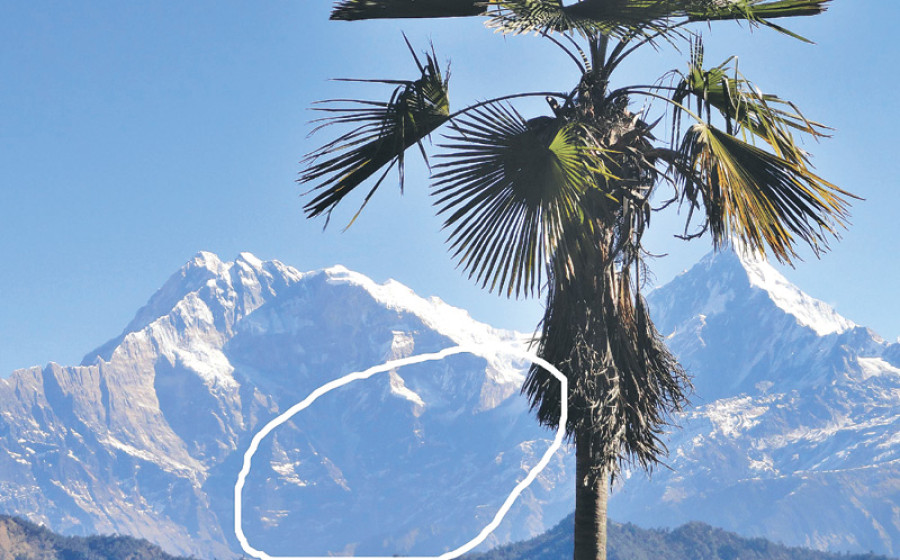 bookmark
Published at : February 24, 2016
Myagdi
Narchyang, Dana, Bhurung-Tatopani, Ghar and Histan villages in Myagdi district were covered in thick plumes of dust following Sunday's night's massive dry landslide, which was triggered by an aftershock. A magnitude 5.5 aftershock with its epicenter in Gorkha was recorded at 11:54pm on Sunday.
Five locals who had gone to collect bamboo in the forest were rescued from the cave where they were hiding when Narchyang village, situated between Annapurna South and Nilgiri mountains along the Annapurna mountain range in the district, was hit by the dry landslide.
"Mud and debris are continuously falling from the steep slope, threatening villages and people living there," said Bishwa Singh Khadka, district police chief. "However, no immediate impact has been recorded so far."
People of Narchyang village and around 160 construction workers, who were at the 5-megawatt Galemdi Hydropower Project site, have moved to safer locations. Construction work at the hydel project has been halted.
"We have moved to safer places, but the landslide has resulted in massive dust plumes, due to which we are facing difficulty in breathing," said Mukunda Baruwal, site in-charge of the hydropower project.
This is not the first earthquake-induced dry landslide in the Annapurna mountain range since the April 25 earthquake.
Geologists and scientists have warned of increase in number of landslides and avalanches in the mountains and hills due to the impact of the earthquake. In May last year, just a month after the April 25 earthquake, a massive landslide had blocked the Kali Gandaki river at Baisari in Bhagwati VDC of Myagdi. Twenty five houses were buried.
Though no human casualties were reported, hundreds of villagers of Beni, Ghatan, Benibazaar, Galeshwor, Pokharebagar were relocated to safer areas.
Various studies conducted after the earthquake have identified 4,312 landslide incidents after the quake and warned that tens of thousands of landslides could occur due to the impact of the earthquake.
"The steep mountain slopes and weak rock structure, further weakened by the earthquake, make the Kali Gandaki river basin area prone to landslips and landslides," said Basanta Raj Adhikari, deputy director at the Centre for Disaster Studies at Institute of Engineering.
---
---