Best to stay 'para' (away) from 'Parastree'
The romantic thriller featuring Shilpa Maskey attempts to deal with all things taboo: from infidelity to necrophilia.

Maskey in a scene from the film. Screengrab via YouTube
bookmark
Published at : July 5, 2023
Updated at : July 5, 2023 08:22
Kathmandu
This review contains major spoilers.

'Parastree' begins with a man getting arrested. As the police drag the man in handcuffs, we hear the narrator say, "Seeking others' wealth and others' wife is like burning yourself." Considering that this line was allegedly said by Chanakya (who isn't exactly a feminist), I should've seen the red flags and promptly left the cinema hall. But no, I stayed. And my dear friend who'd accompanied me stayed too. I don't think she'll ever watch a film with me again.
'Parastree' is a romantic thriller drama by Suraj Pandey. Written by Dipendra K Khanal (who directed Pashupati Prasad, by the way), it stars Shilpa Maskey, Koshish Chhetri, and Gaurav Bista as a part of a rather twisted love triangle. It follows the life of a radio jockey Aavya (played by Maskey), and her relationship with her husband and 'the other man.'
Aavya wants to divorce her husband because he loves to drug the poor woman, wrap and tie her unconscious body and then proceed to 'do the devil's tango.' Umm, yes, he has a necrophilia kink (later revealed by an awkwardly placed screenshot of a Google search result for necrophilia).
From multiple flashbacks the audience is subjected to (one every three seconds), it is revealed this fetish is passed down to him from his father, a pathologist who does post-mortem surgeries. We're shown with the help of ultra close-ups that a twitch of the eyes (in both father and son) means the fetish has been 'activated.'
Anyways, I guess wives don't like husbands that constantly drug them, so Aavya makes the rational choice to leave him and preps for divorce. This is when she meets Aayan (played by Bista), a hyper-confident, borderline creepy man who joins her gym.
This guy's extremely creepy and stalkery advances end up wooing Aavya, and they begin a steamy affair. Their tryst is symbolised by the song 'Maya Basyo Timisanga'—a 'Radha-Krishna' inspired fever dream with overused mirrors and a singular tree set on fire solely for the video. (I'm team tree.)
This was the first half. Yes, it was cliche, but I was atleast having fun. Nothing prepared me for the things that would happen after the intermission. And I mean, nothing.
The husband catches Aavya and Aayan at home (if you're going to have an affair, at least be smart about it) and goes through a mental breakdown—symbolised by the constant fade-to-black transitions, which got very annoying very quickly.
This spiral leads him to pick up a woman at a bar, smother her at a hotel room, do what makes his eyes twitch, and chop her to bits. The montage is incredibly graphic—one scene captures her hand being sawed off.
Parallely, Aavya discovers that Aayan just wanted to sleep with her. Her subsequent confrontation leads to her head being smashed into multiple pieces of furniture by Aayan.
And after all that violence, Khanal has her character say, "Yes, hit me some more because at least you'll be near me." Things don't end here. When she returns home all bloody and wounded, her husband is so angered (who, lest I remind you, chopped up a woman) that instead of taking her to the hospital, he beats her some more and ends up killing her.
The message the director and the writer are trying to give is pretty clear: A married woman who has an affair is much worse than the husband who is into necrophilia and brutally murdered a stranger. In the end, Aavya is dead, and Aayan is arrested, but the husband is free, basking in the fact that he sought revenge on those who had 'wronged' him.
The attempt (and subsequent failure) to aestheticise fetishes aside, the film comes off as incredibly tone-deaf, brazen, rash and arrogant—especially considering how it constantly uses violence against women as a plot device. Establishing Maksey's character as a modern, suave and rich Kathmanduite does nothing for the film, as her dialogues are as archaic and distasteful as in any old Hollywood slasher flick.
It is clear that the men behind this film (yes, this is the sole product of the male gaze) have such a dim-witted sense of what a woman thinks and feels. An instance from the film is how Aavya uses makeup and clothes to cope with her trauma—she dramatically overlines her lipstick and tries on new dresses.
There were 12 of us in that movie hall. From the sighs and occasional gasps I heard, I'm fairly certain this film left a pungent aftertaste in most of our minds. I can vouch for two people (me and my friend).
The only good takeaway from this film: women, please have the confidence of the team behind 'Parastree.' The fact that the film went through several production phases and no one batted an eye means they really had faith in their vision. Many of us could use that kind of self-confidence.
Parastree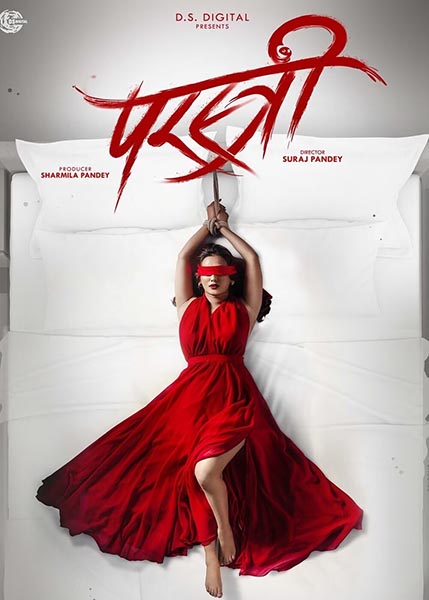 Language: Nepali
Cast: Shilpa Maskey, Koshish Chhetri, Gaurav Bista
Released on: June 29
Duration: 2 hours
Now showing: One Cinemas, QFX cinemas
---
---