A forgettable and insensitive take on love
'Atrangi Re' is a big misfire as it doesn't have a sharper and sensitive writing to deal with the serious issues it raises.

Screengrab via YouTube
bookmark
Published at : December 28, 2021
Kathmandu
(Editor's note: This review contains the spoilers of the film)
"I am a psychiatrist. I know women well," says Madhusudhan to Vishu, when he hands some medicines to him for Rinku.
Throughout the film, we don't know whether Madhusudhan (played by Ashish Verma) is even a licensed medical practitioner. But Vishu (played by Dhanush) is so naive that just because he is friends with Madhusudhan, he doesn't even question him once and gives the medicines to Rinku (played by Sara Ali Khan), believing it will cure her mental disorder.
This is the level of stupidity Disney Hotstar's new film 'Atrangi Re' suffers from. As the movie proceeds, we get to witness an insensitive portrayal of serious mental health illnesses such as schizophrenia in the name of the plot.
Directed by Anand L Rai, who's known for his 'hatke' (unique) films like 'Tanu Weds Manu' and 'Ranjhana', 'Atrangi Re', as its name suggests, is a strange film.
Rinku is a high-spirited twenty-something-year-old girl from Bihar. She is a feisty, no-nonsense woman who can do anything for love. For years, she has made several attempts to run away from her extended family as she wants to marry her lover, whom her family disapproves of.
In one of her attempts, like always, she gets caught by her family members. To save themselves from further troubles, her family forces her to marry Vishu, a medical student from Tamil Nadu, whom they have also kidnapped.
Eventually, after a lot of hassle, both get married and move to Delhi the very next day after they exchange their vows.
On a train ride to Delhi, Rinku reveals that she's in love with Sajjad Ali Khan (played by Akshay Kumar), a magician, who's currently in Africa to learn new magic tricks. On the other hand, Vishu is also set to marry a Tamil woman.
But as destiny had other plans, they both get trapped in the marriage and are forced to live together until they get a divorce.
Rinku is obsessed with Sajjad and wants to start a new chapter with him, believing that he is the one who will make her happy. But after meeting Vishu, her heart also starts beating for him.
Will she pick Sajjad, who's almost 30 years older than her? Or will she make a rational decision and choose Vishu?
Written by Himanshu Sharma, a long-time collaborator of Rai, from the very first scene, the film takes off, inviting the viewers to see a world the director and writer have created and envisioned. There are no unnecessary subplots or characters that take away a lot of space and we directly dive into the story.
Yet the 138 minute-long runtime feels stretched because the film spends too much time showing how 'weird' this love story is, rather than actually making us feel for the characters, who have traumatic pasts and are suffering emotionally and mentally.
Rinku, who's an orphan, suffers from post-traumatic stress disorder. When she was young, she witnessed her parents being burned alive; as an act of honour killing.
To experience such a traumatic experience for any child is beyond comprehension. A trauma of that magnitude can hit anyone hard, and even if one tries to forget that memory, it can keep on disturbing the person throughout their life.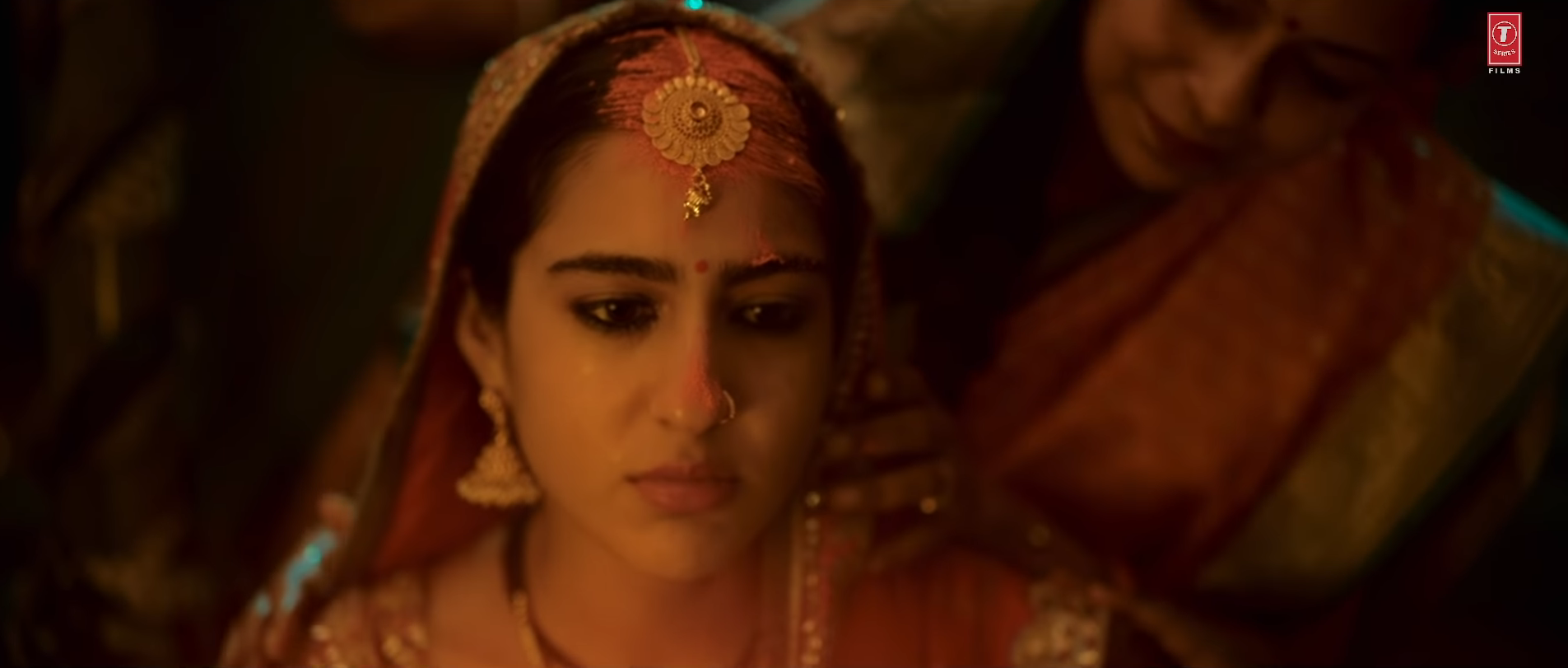 Screengrab via YouTube
However, both Rai and Sharma do not deep dive into the childhood trauma that has affected Rinku. Instead, they use her trauma as a plot device to make the love story atrangi (weird) between her and the two male leads and even use it frequently as comic relief. The schizophrenia, which she develops because of her past experiences, is neither dealt with sensitivity nor depth, due to which, the film at one point becomes borderline problematic.
In the movie, we never hear anyone saying that Rinku might need help from professional medical practitioners. They instead try to 'solve' her issues by making her fall in love and treating her with medicines prescribed by a person who's not even authorised to give them.
Such dangerous and problematic portrayal can further accelerate people's stereotypes and misconceptions about schizophrenia, believing that it can be cured by love and random medications.
However, the lack of nuanced and sensitive writing isn't only limited to the portrayal of mental health issues.
The love story between Rinku and Vishu is implausible—it happens too quickly within two/three scenes. Not enough time and space is given for them to actually fall in love due to which it becomes difficult for the audience to understand their motivations and goals.
But even within this convoluted plot, the actors shine, depicting the emotions required for the role, which is probably the reason why we feel for them, even if we don't understand their motives.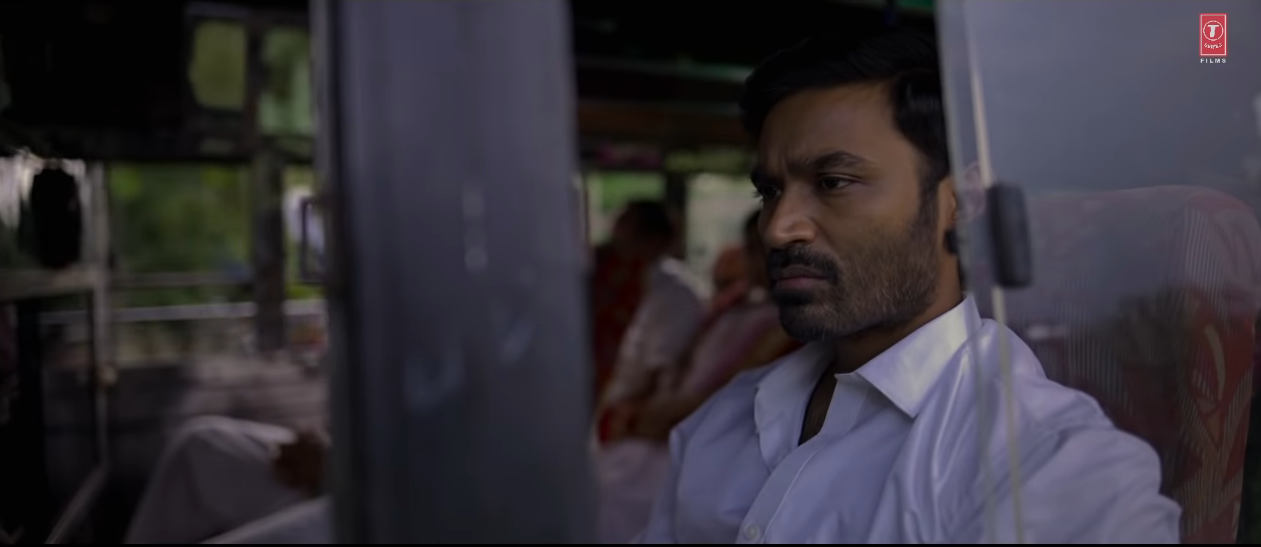 Screengrab via YouTube
Dhanush as Vishu gives an outstanding performance, something you can expect from an actor of his calibre. Although his character shares some similar shades with his previous role as Kundan from 'Ranjhana' (which was also written by Sharma, with Rai directing it), in 'Atrangi Re', he sincerely brings out the emotions of vulnerability, love, anger, disappointment, and many more.
In one of the film's major scenes where Vishu expresses his love for Rinku, in Tamil, his acting is praiseworthy.
They say that art transcends language, culture, and boundaries, and Dhanush is a living example. In the film, whatever he does, he creates art, even if we might not understand it.
Khan also does a decent job. There are a few scenes where she falls flat, but she shows her acting prowess in the majority of the film. But since the writing is limited, she doesn't get enough material to play around with.
Kumar is the weakest link to the film, not because he doesn't act well, but because his character is so poorly written that he doesn't add much value to the film.
The supporting cast is forgettable, which is a big disappointment as both Rai and Sharma are known for creating fascinating supporting characters who have their own charm.
But what the film lacks, it makes up through its music.
AR Rahman's composition is breathtaking. His songs for the movie hit the right chords from the otherwise remixed, soulless, unoriginal songs that have plagued Bollywood in recent times.
I don't know whether it was done intentionally or not, but in the credit roll, when AR Rahman's name appears, it's written: "Original songs and Background score by AR Rahman."
And indeed, the songs not only sound original but also elevate the experience of watching the film. Whether it's 'Chaka Chaka' (a peppy number that shares some resemblance with 'Chinnamma Chilakkamma') or the soulful 'Tere Rang', and even the divine 'Rait Zara Si', the movie's album is a musical treat.
Pankaj Kumar also does a decent job in the cinematography department. The scenes featuring Khan, where she's imagining and recalling her memories with Sajjad, is dreamy with colours popping out from the frame, making us actually understand what's going on inside her mind.
However, the biggest letdown is the messy script of the film and the lack of sensitivity shown by the makers to tackle a serious mental health condition like schizophrenia within the film.
To make their film stand out and present an atrangi (weird) love story, both Sharma and Rai take the wrong path of an insensitive representation.
They might have taken this route, believing that it might make the film unique. Yet the film feels like every other love story, as it contains the same old elements—obsessive lovers, mockery of someone's mental health, and unattainable romance—that we have seen, again and again, making 'Atrangi Re' an easily forgettable film of the year.
---
---