"We have many stories from Upper Mustang that need to be told"
Filmmaker Dhondup Tsering talks about his award-winning film Ama Khando and the hard work that went into making the movie and the need to give more platforms to Nepal's indigenous filmmakers.

Photo Courtesy: Media Port
bookmark
Published at : May 15, 2021
Kathmandu
On paper, the story of Ama Khando is simple. It's a film that depicts the story of a mother and son who embarks on a journey from Upper Mustang, their homeland, to the lowlands, so the mother can hand over her son to foster care.
However, within this simple story of separation, the film explores many complicated issues of migration, racial discrimination and the impact of modernisation on one's culture. This makes the movie poignant and filled with significant subtext.
Directed by Dhondup Tsering, one of the first filmmakers from Upper Mustang, Ama Khando has been screened at many international film festivals, including the prestigious Busan International Film Festival, in 2019. Likewise, in May this year, at the Nepal International Film Festival, the film won the award for the Best Film and Tsering won the Best Director.
Tsering spoke with the Post's Ankit Khadgi and shared his memories of making the movie, the research that went behind writing the script and why local indigenous filmmakers in Nepal need more platforms. Excerpts.
Tell us about your childhood? What are the fond memories you can remember when you were a kid?
Although I was born in Kathmandu, I spent the first five years of my life in Upper Mustang. My father passed away when I was two and it was my mother who raised me. My earliest memories are all of my mother. I was very close with her when I was a kid. She was the only family I had as I don't have siblings and other members in my family.
I still remember that it took us almost 13-14 days to walk all the way from Upper Mustang to Pokhara. I remember the classes that I took in the government school. I, along with my friends, used to bunk most of our classes, and we would go to the fields and play with animals.
When the sun went down, my friends and I would go outside with torchlight in our hands and play in the dark.
When I turned 5, I found a foster care and started living in a Tibetan Refugee Camp in Pokhara. There, I completed my schooling and later came to Kathmandu for my higher education.
Before you became a filmmaker, you were studying Masters in Buddhist Philosophy, in Banaras, India. What made you take the filmmaking road?

I think it's because of Ali Rasheed, the film's cinematographer and also an old friend.
In 2015, Ali worked in a film called, Serdhak: The Golden Hill along with my childhood friend Tsewang Rinzin. Ali was interested in making another film based in Upper Mustang, and since he knew me, he asked me if I could write a script for him.
At first, I was unsure, since I had no knowledge of scriptwriting. But with his guidance, I wrote the film's script.
After we finalised the script, we started looking for a director. We wanted a local person to direct the film to make it as authentic as possible. However, we couldn't find one. And that's when the whole crew encouraged me to direct the film since I was the one who wrote the story and was actually a local of Upper Mustang.
I wasn't sure in the beginning to take such a big responsibility but with the encouragement and the guidance from my friends and crew members, I somehow managed to direct the film.
Ama Khando's story is heavily inspired by your life. Even the little kid, the protagonist, is named after you and you also appear in the film. Why did you feel important to tell this particular story through your film?
Yes, indeed. The story is very personal to me as I wrote it based on the events that took place in my life. My mother is the only family I have. The movie is my attempt to preserve the memory of her in a visual form.
The movie was also a platform through which I wanted to tell the story of my homeland. Although the central plot of the film is the mother-son relationship, the film also dives into the issues of migration, the region's youth neglecting their culture, and the value the place holds for its local people.

I wanted to show what it felt like when I walked the region's arid landscape as a child and the warm hospitality of the people and how they always gave refuge to travellers.
It is true that a lot has changed in the region. We no longer give our culture the importance we once gave. But through movies, we can show what Upper Mustang was like. We have many stories from Upper Mustang that need to be told. And I attempted telling one through my film.
Was it emotionally difficult for you to tell a story so heavily inspired by your own life?
Since most of the events in the movie were based on my life, making the film indeed was an emotional journey for me. I don't remember how my dad looked. I have only heard from people that he looked like me and that made it hard for me to cast an actor to play his role. In a lot of ways, making the movie was like reliving my old memories.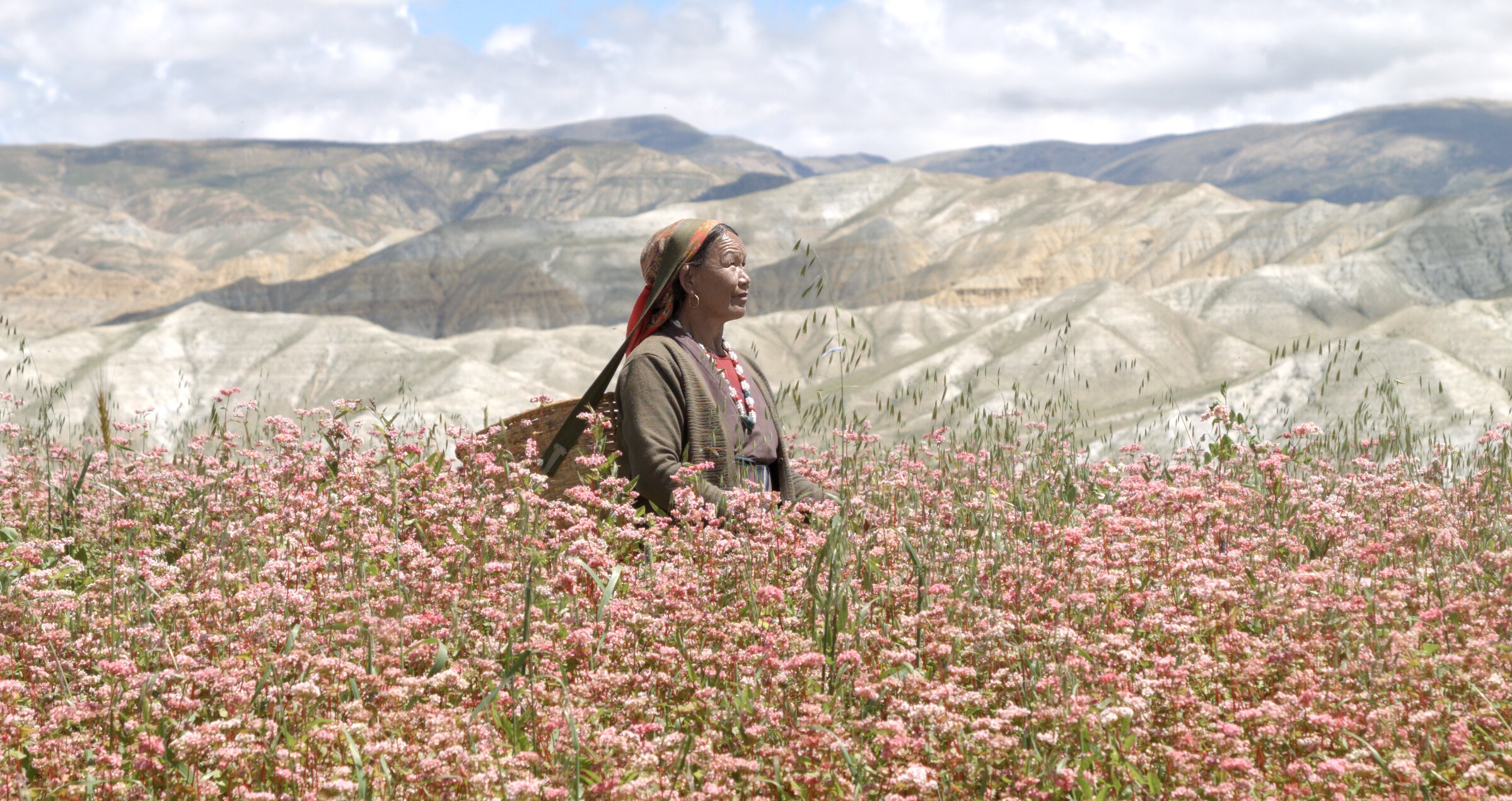 Photo Courtesy: Media Port
What were the challenges you had to face while making the movie?
The most challenging part was the shooting in a geographical place like Lo Manthang. The terrain is such that it's not a very comfortable place to shoot a feature film. Due to budget constraints, our team only had six to seven people and all of us had to carry everything, all the heavy equipment plus, ourselves. Being a small team also meant that everyone had many responsibilities.
Another challenge was working with non-actors. Except one, all of the characters of the film were non-actors, who were facing the camera for the first time. To make them feel comfortable, rather than giving them dialogues to speak we decided to explain the scenes to them, which honestly turned out to be great. They were more natural.
Another issue was the language barrier. Since I spent most of my childhood in Pokhara, my Mustangi (Loke) dialect is very rusty. This made it difficult to communicate with locals but I somehow managed it.
There's this particular scene in the film where one of the characters is forced to include Gurung as his surname by a government officer from a so-called high caste. The officer says that it's the only way with which the character can get citizenship. Did you intentionally include this scene?
Yes. I had to address this issue in the movie. This scene was included intentionally in the film to show the discrimination locals from Upper Mustang are subjected to. Usually, in Upper Mustang, people don't have caste as their surnames. We don't believe in the caste system.
However, as per the rule of the country, it's necessary to have a caste as a surname in your citizenship. Despite our objections, the government officers force us to write Gurung as our surname.
Gurung people are different from us. But still, the government fails to acknowledge it and hence I felt it important to show the experience of people from Mustang and how they are forced to take the surname of a completely different ethnic group.
Are you currently working on any film or a project?
Currently, I am writing a script that is similar to Ama Khando. It also deals with family relationships and is based in Upper Mustang. But I am still unsure whether I can manage the finances for the film or get a producer on board.
---
---