Fleshing out real-life characters to depict real-life problems
Directed by Alankrita Shrivastava, Netflix's Dolly Kitty Aur Woh Chamakte is a messy but important portrayal of everyday women battling sexism and figuring their lives in a testosterone-driven society.

Screengrab via Netflix
bookmark
Published at : September 26, 2020
Updated at : September 28, 2020 06:15
Kathmandu
In an amusement ride, filled with spooky creatures that are waiting to scare them, we see two cousins trying to have a conversation. While Dolly (played by Konkona Sen Sharma) has immersed herself in this make-believe world, Kajal (played by Bhumi Pednekar), her cousin, expresses her concern about how a few minutes ago, Dolly's husband tried to inappropriately touch her.
Casually laughing off the incident, Dolly tries to deviate from the issue by telling Kajal not to overthink her husband's behaviour, as she calls his touch as an expression of his love and care towards Kajal.
This is how Netflix's latest Hindi film Dolly Kitty Aur Woh Chamakte Sitare sets the premise of the movie, and how the audience is introduced to the two protagonists, Dolly and Kajal, who are navigating their lives in Greater Noida, India.
From the very first scene, director Alankrita Shrivastava presents the realities and personalities of these two women. Dolly, who's a civil service officer, lives with her two kids with her husband, (played by Aamir Bashir). Her everyday schedule plays out like a known verse, as there's nothing new that excites her. In her home, she has to be this dutiful wife, taking care of the children by herself, even when she's working.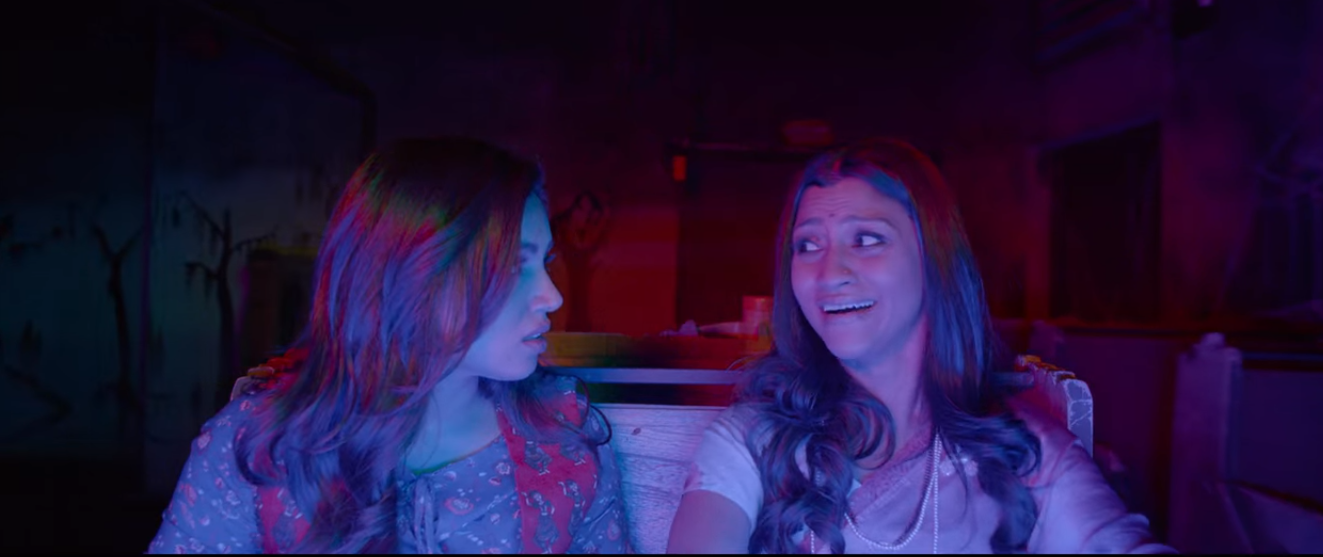 Screengrab via Netflix
But she has to pretend to be happy and act like her 'we two, our two' family is happy, which is far away from reality. Her acceptance of her restricted life, where she has to succumb to others' needs is depicted in one of her first scenes, in the amusement park, when even knowing the truth, she tries to brush the truth off with a lie.
However, her younger cousin, Kajal, is completely different in her ideas about life. She wants to be independent and shine in this city of lights, by enjoying the freedom and liberty, which her hometown Darbhanga, Bihar, failed to provide her. Likewise, unlike her sister, she speaks her mind, even when situations aren't easy, and knows her worth.
After Kajal lands a job in an adult phone call service company that sells 'romance' and 'companionship' to guys, she decides to leave Dolly's house and moves to a crammed hostel-like setting, where she finds friends that help in her path to self-discovery.
Both sisters then move in their own direction, where they encounter many instances that shape them. For instance, Dolly, while ordering food, meets a delivery guy, Osmman (played by Amol Parashar), with whom she starts spending quality time, and rekindles warm and romantic emotions that help her in discovering the path to freedom and sexuality.
Likewise, Kajal, who uses Kitty as her pseudonym, through her work, starts exploring her newfound freedom. She spends time working, traveling, meeting new people, and enjoying little moments of her life, and finds solace in Pradeep (played by Vikrant Massey), who is a regular caller of the phone call service company.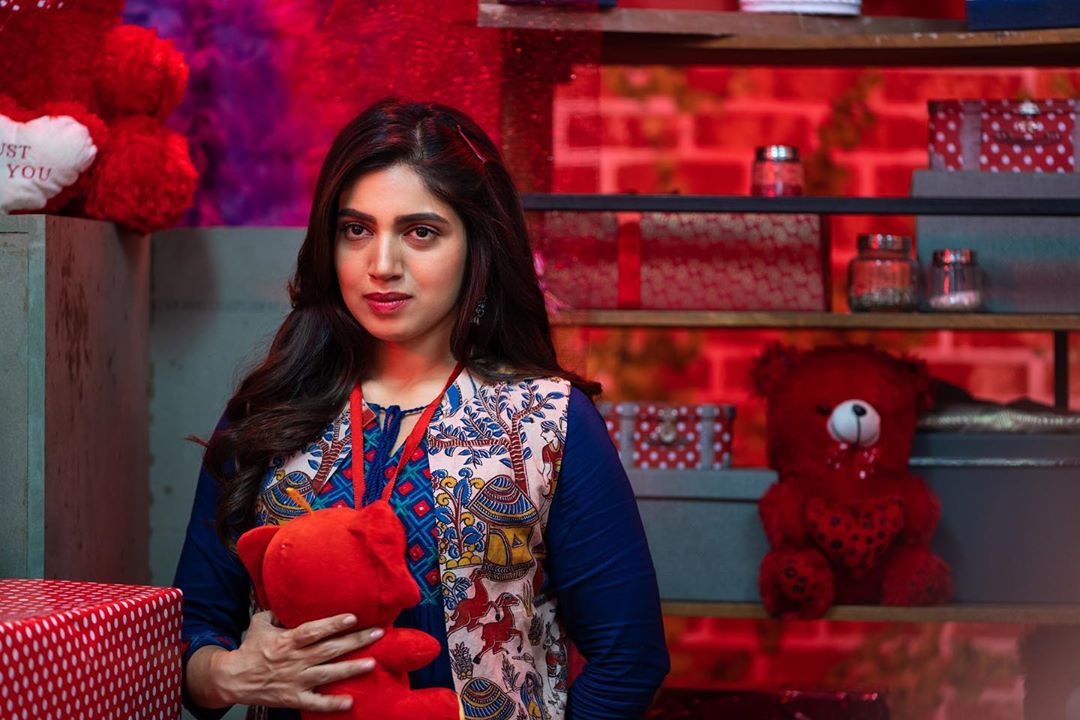 Screengrab via Netflix
But their path to achieving peace and being unapologetic about their choices isn't easy. Kajal has to regularly face cat-calling for her decision of working in the phone call service company. Neither is Dolly's workplace, which is considered as an ideal job for South Asians, a comfortable place to work at. Despite being eligible for her job, she has to make tea for everyone, as she is expected to do it since she's a woman. Likewise, the constant sexism in the workplace, which fails to see her as equal labour, is equally bothering her work.
All of these issues are masterfully depicted on the screen, as they play out naturally and in an authentic manner, and that's because the subject matter is in the safe hands of the filmmaker Shrivastivaa. Known for her hard-hitting movie Lipstick under my Burkha (2017) that explored women's desires and sexual fantasies, and 2019's exceptional series Made in Heaven, Shrivastava is well-known for building women characters that are authentic, poles apart from the far-fetched representations we see in Hindi movies.
The protagonists of the movie, Dolly and Kajal, are messy, complex, and fighting their own battles, which is an exact and authentic depiction of real-life women. They aren't women who are dancing, lurking around the trees, and serving their function of being 'manic pixie dream girls' for men so that they can discover themselves. They are like everyday women battling sexism in the workplace, figuring their lives in a testosterone-driven society that deprives them from exploring and shining.
And this is why, even when the plot starts getting convoluted as the narrative gets fluttered, with too many subplots and events happening in the same time, the audience is invested in completing the movie, as they can easily feel and empathise for the characters since they are like everyday middle-class women who are navigating their lives.
While both Dolly and Kajal's trajectory becomes the central plotline, Dolly's younger child, Pappu's narrative is equally evocative, as, through their story, Shrivastava makes the larger point of criticising the outdated gender norms, which is responsible for stopping people from being themselves.
Dolly is furious at Pappu for not adhering to the gender norms, as the child likes to play with dolls rather than cars. Pappu is also fond of applying makeup and wearing dresses, which makes Dolly feel a sense of discomfort and stigma.
The issue, however, is sensitively depicted by the director. Though there are scenes where the kid is shown suffering, as family members fail to provide a sense of comfort to the child and instead exert a pressure of succumbing to two rigid binary gender roles, Shrivastava, rather than making Pappu's character a pitiful person, helps the audience to empathise with them.
There's this one beautiful scene, where Dolly finds Pappu in a doll museum, a place Dolly had restricted Pappu from going to. "I know you are going to beat me when we reach home, but let me enjoy this brief moment," says the kid, who through a simple yet powerful dialogue, paints the bleak reality of our society that stops people from doing what they love.
However, while the characters and their stories keep the audience hooked to the screen, there are too many subplots inserted in this two-hour-long film that the film-watching experience becomes a bit overwhelming.
It is evident that Shrivastava is well-aware of the value of the craft, but she is so consumed with her ideas, that there are many subtexts and plots which her writing fails to unhook.
The right-wing culture warriors and the housing scam honestly feel too much for the plot, as they fail to add anything substantial to the film. Likewise, the characters of Shazia (played by Kubra Sait) and DJ Teja (Karan Kundra), who are Kajal's friends, fail to make an impression, as their characters aren't given enough depth.
The narrative at times shifts abruptly and the ending is so hurriedly written that it feels like Shrivastava was entangled in her own web of themes.
But there are many moments in the film that sparks interest among the audience, whose credit should be also given to the impeccable cast who are successful in making the characters stand out even if the narrative gets messy.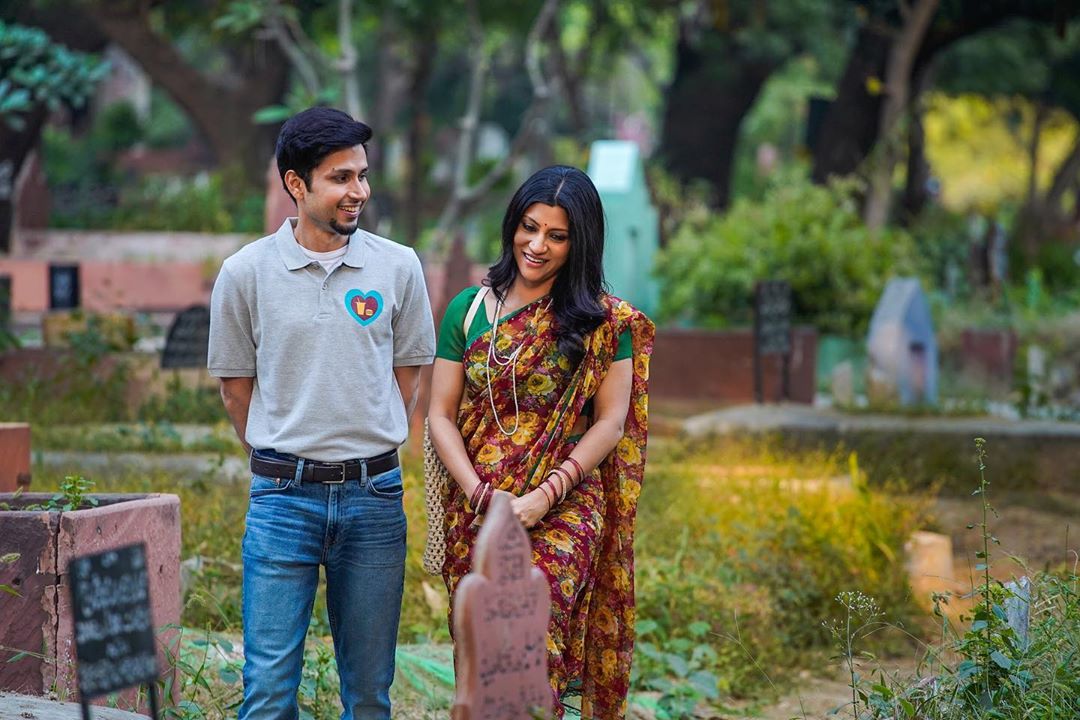 Screengrab via Netflix
The depiction of the changing milieu and the mindset of India, by setting the story in Greater Noida, in itself is a witness of the modification and the constant tussle between two ideologies— conservatism and modernity. The smallest details, like their names, Dolly (which reflects the character's acceptance to be treated like a mere doll) and Kitty (a pseudonym name used by Kajal, after she gets her independence, as cats are considered as independent and flexible pets), shows us the talent Shrivastava has.
Like every human being, the movie is messy and complex to understand. There are too many things happening in the plot, but for its authentic depiction of women, it's wonderful acting performance, and its commentary on rigid gender norms, the movie should be watched.
There are many moments in the film where we see women characters finding power in each other's empathy and support. Although that's not the central theme, for a society that vilifies and objectifies women for just being unapologetically themselves, this film can be a great learning lesson for the viewers, to understand the value of collective effort and supporting each other to smash the patriarchy.
If we have enjoyed so many substantially problematic movies for years, then why not enjoy this messy, but important, heartfelt piece of art.
Movie: Dolly Kitty Aur Woh Chamakte
Directed by: Alankrita Shrivastava
Starring: Konkona Sen Sharma ,Bhumi Pednekar, Vikrant Massey, Amol Parashar

Stars: 3 out of 5
---
---