Not an eye-opener but still consequential
Here's why you should watch Netflix's latest docu-drama The Social Dilemma.

Screengrab via Netflix
bookmark
Published at : September 19, 2020
Updated at : September 19, 2020 05:17
Kathmandu
Five years ago, when I started using Instagram, the "likes" I got on my posts meant something to me. For a 17-year-old, getting these "likes" meant constant doses of instant gratification. And I was so hooked to this form of social approval that my dopamine rushed if I received more likes on my posts.
The fixation reached such a level that I even downloaded applications to increase likes on my posts (even if it was from bots) and spent time researching how I could be Instagram-famous and how I could look cool on the platform so more and more people would follow me.
This was how Instagram made me obsessed with likes. And depicting similar stories of how social media platforms are responsible for making people hooked to their phones is Netflix's latest docu-drama The Social Dilemma.
Directed by Jeff Orlowski, the 94-minute-long docu-drama, which premiered at this year's Sundance Film Festival, is a genre-bending cinematic experience. The film features head-short interviews of former honchos of big tech companies like Facebook, Instagram, Pinterest, Twitter, and other platforms, who speak against the obsession brought on by the social media frenzy.
Parallelly to this runs a fictional story of a suburban American family, who are falling prey to social media. The family, which consists of three children, a son, a daughter, and a pre-teen kid, represents the psyche of Generation Z, whose mind revolves around their social media platforms.
The son, although tries to resist his phone consumption, is hooked to his phone so much that he even starts missing his soccer practice. The pre-teen girl has her fair share obsession with social media as well. While in her age, it's understandable for kids willing to conform to social norms to get acceptance from their friend circle, but social media has made her so conscious about her looks that she starts doubting herself when a friend of hers comments about her big ears.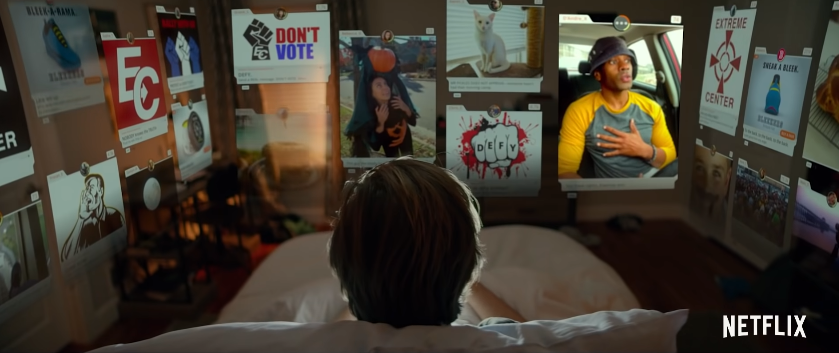 Screengrab via Netflix
The film presents us how everything we see on our news feed is cleverly curated by an algorithm that knows us better than we know ourselves. The cute cat video or a picture of a quote about loneliness, which people assume is god sending them a message to move on, doesn't just appear out of nowhere. The algorithm knows whether we are sad, happy, depressed, and excited. It knows how to hit the right button and curates our feed in such a way that we keep scrolling.
There's no denying that algorithms help us find content we like. But the problem it creates is it widens an already divided social fabric. And this is what the film depicts. The docu-drama also touches on how social media, because of its algorithm, is polarising and radicalising society in terms of political beliefs.
The Pizzagate scandal, the killing of Rohingya people, Facebook's role in the manipulation of US elections, and the travelling of fake news, viewers are exposed to the dismantling of objectivity and falling of democratic institutions of which social media is often the flagbearer of.
There have been multiple articles, documentaries, and movies that have also warned about the falling of the human civilisation because of social media. But what makes this docu-drama different is that it knows how to pursue the subject material in a way that it can be an engaging watch.
Director Jeff Orlowski understands that the attention span of people in today's world is minimal and if he wants to make people engage with the message he wants to convey he can't follow the conventional documentary style. Hence he binds two genres and thus develops a narrative that is familiar to people.
As a filmmaker, Orlowski understands how the mind of his target audience works, hence he provides a dramatised account of a family who is dealing with the problems of social media, which the drama-loving people of today's generation can relate and even engage to.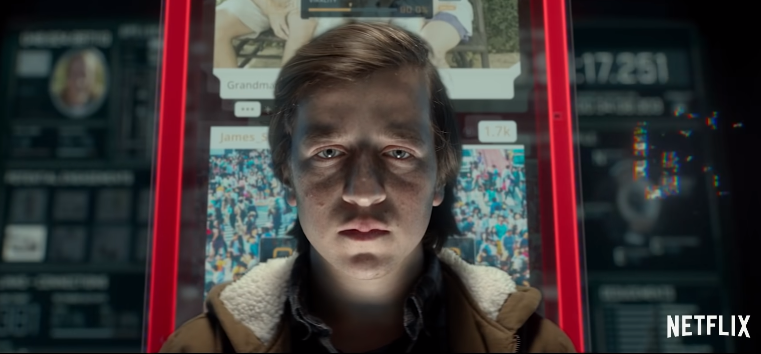 Screengrab via Netflix
He also, instead of relying on just the tech experts speaking on the functioning of the algorithm in trapping us to use or phones, deploys the use of a Black Mirror-esque kind of setting, wherein a laboratory we see a humanoid form of an algorithm that is making the users fall prey to its system, which is successful in keeping the audience engaged.
Likewise, thoughtful quotes are placed in-between the fictional story and interviews, through which Orlowski subliminally tries to depict the need and urgency of how we should shift our focus on being aware of the consequences of social media.
What also works for the film is its soundtrack, graphics, the new footage, and even the B-rolls. However, there's no new piece of information or surprising facts and knowledge that can incite new discourse around the effects of social media. Likewise, even though it touches the issues of making technologies as humane as possible so that we can use it for our goodwill, solutions aren't given too much space.
The docu-drama just scratches the issue and even the treatment that is there of the issue is not hard-hitting as the manipulation done by the people in power, from the government to private companies, to safeguard their authority and money isn't explicitly covered, failing to hold them accountable for the destruction they have created.
For this kind of a subject matter of surveillance capitalism, which the media, general people, and concerned authorities have been raising their voices against, the space to answer the questions of battling the insecurities should also have received the space in the docu-drama.
There is no space given to digital rights activists, who probably have been raising this topic for years also. The troupe of 'white-saviour' is also evident, as white men are presented as messiahs who will help us to come out from the tunnel.
Likewise, as a filmmaker, Orlowski should have also used the bottom-up approach, rather than the top-bottom. We know we are all in the Matrix. Now how can we come out of it? By focusing on solutions and issues that could answer all of our queries about the future, then already depicting or answering the known, the series could have incited a new discussion and imparted people with new knowledge. The film thus fails in some ways but there is no denying that in many ways the film is consequential.
Docu/Drama: The Social Dilemma
Director: Jeff Orlowski
Starring: Tristan Harris, Aza Raskin, Justin Rosenstein
Stars: 3 out of 5
---
---