Despite its predictability, Gunjan Saxena: The Kargil Girl is an engaging watch
What's refreshing about the film is that it shows Gunjan Saxena as a human being with her own dreams, rather than as an hyper-nationalist 'daughter of the nation'.

Screengrab via Netflix
bookmark
Published at : August 15, 2020
Updated at : August 15, 2020 06:44
Kathmandu
The film starts thus: the flight commander-in-chief is informed that there's an immediate need for an air force officer for a rescue operation. Tension builds, the army panics and then we see someone running towards a helipad. The camera moves in slow-motion, and then we see Gunjan Saxena, taking charge of the mission.
This is how the audience is introduced to Gunjan Saxena (played by Janvi Kapoor), a 24-year-old flight lieutenant, who was the only female pilot to be part of the 1999 Kargil War, fought between India and Pakistan, where she played a major role in conducting rescue operations as well as transporting supplies and helping in surveillance for Indian force.
Based on her life, Netflix's latest movie Gunjan Saxena: The Kargil Girl brings forth a rousing tale of a woman, who, fighting all of the odds, was successful in fulfilling her duties as an Indian air force officer. But the film—directed by Sharan Sharma and co-written by Nikhil Mehrotra—is more than just that, it is also a personal, moving tale of a young girl who fought sexist and patriarchal notions to realise her desire of flying.
From her childhood, all Saxena dreamt of was becoming a pilot, flying high in the sky. But since a young child, she is constantly reminded, either by family members or society, that as she is a girl her dreams should be limited.
But regardless of whatever views society passes onto her, she is determined to fulfill her dreams, which her father (played by Pankaj Tripathi) is fully supportive of. But her journey of becoming one of the first female air force officers isn't easy. There are struggles—whether it's the constant change in the requirements in the Indian air force (which is cleverly shown through a series of montages) or the constant sexism showed by her colleagues, who find various ways not to fly with her, as they believe she isn't capable of flying because she is a women. These struggles become the focal point of the narrative.
One character that makes life difficult for Saxena is the flight-commanding officer, Dileep Singh (played by Vineet Singh). Whether it's his rude behavior or his actions (in one scene, he makes her arm wrestle with another air force officer to prove his point that women are weaker than men), Singh constantly comes in her way.
However, Singh isn't portrayed as a menacing villain who is plotting plans against her and whose only life goal is to stop Saxena from flying or make her life miserable. Rather it's his thought, his mindset, and his fragile male ego that is shown as villainous, making the movie depict a nuanced and subtle depiction of sexism.
And writers Sharma and Mehrotra deserve credit for having written a very tight script, one that allows a nuanced portrayal of its characters and how women have to struggle to make their own way in a male-dominated society.
Likewise, the beauty of the film also lies in how the creators have humanised Gunjan's story. The protagonist is not a hyper-nationalist character, whose only aim is to protect the valour of the nation. She is an ordinary girl, who has her own dreams and aspirations, her own inner conflicts and dilemmas.
Another highlight of the movie is Gunjan's warm relationship with her father. Whenever Pankaj appears, his presence lightens up the screen, both literally and figuratively. A true chameleon, he deeply immerses himself into the skin of the character, that of a supportive pillar of a father, which strikes a chord with the audience.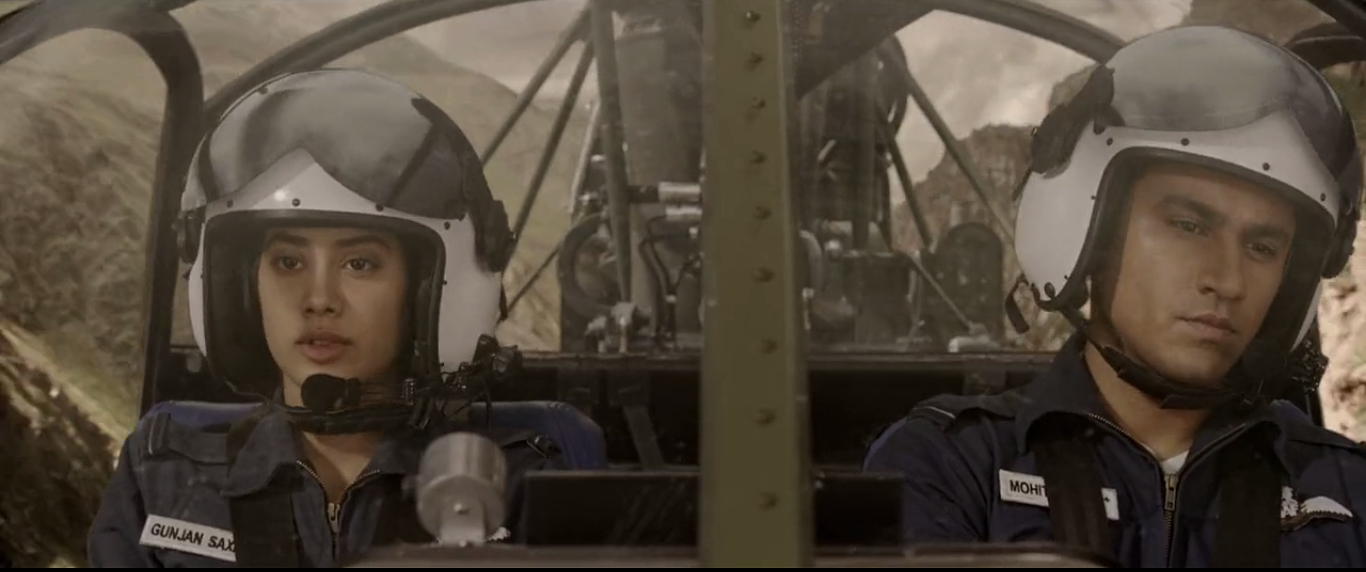 Screengrab via Netflix
As for Kapoor's performance, while I was dubious at first, of whether the actor was the right choice to play the role of Gunjan Saxena (judging her on the basis of her first film Dhadak), here, she had done a fairly decent job. As an actor, she has made progress. Her calm demeanour and her stoic voice brings an innocence, sincerity and vulnerability that Gunjan's character required.
Likewise, the colour palette of the movie as well as the production design also encapsulates the time and space the movie is set in, making the movie quite authentic. The war scenes are choreographed well as well; however, there are moments where the CGI is not as good.
However, regardless of the heartfelt story and good acting, the film becomes too simplistic at times. The 'hero's journey' trope is so evident and has been used so many times that there's no surprise element in the movie. It follows the basic template of how most biographies are written: the protagonist faces a series of hurdles but emerges victorious in the end.
Similarly, some scenes are just overdramatised, written with the sole motive of targeting the pathos of the audience. For instance, take the last scene, when the flight-commander-in-chief who always troubled Gunjan realises his mistake in misjudging Gunjan, as she ends up saving his life, the creators use a typical Hindi filmi-esque way to depict his realisation. The over-dramatised scene brings down the film's otherwise overall nuanced story-telling.
Regardless, the film celebrates Gunjan Saxena, a strong woman, who doesn't just fulfill her duty as a soldier of the state but also as a woman who follows her dream.
And while the film may not be an as powerful and nuanced feminist movie like Kangana Ranaut's Queen, in the landscape of Hindi cinema, which still mints money by making Munni badnam or by making audiences lusting over Sheila's jawani, Gunjan Saxena is a film that gives space for women to tell their personal story—of struggles and successes that are they own.
Film: Gunjan Saxena: The Kargil Girl
Starring: Janhvi Kapoor, Pankaj Tripathi, Vineet Singh
Director: Sharan Sharma
Star: 3 out of 5 stars
---
---