Let Crazy World remind you what cinema can also be
Director Nabwana IGG's writing, directing and sequencing doesn't adhere to traditional storytelling notions—and that is perhaps its biggest feat.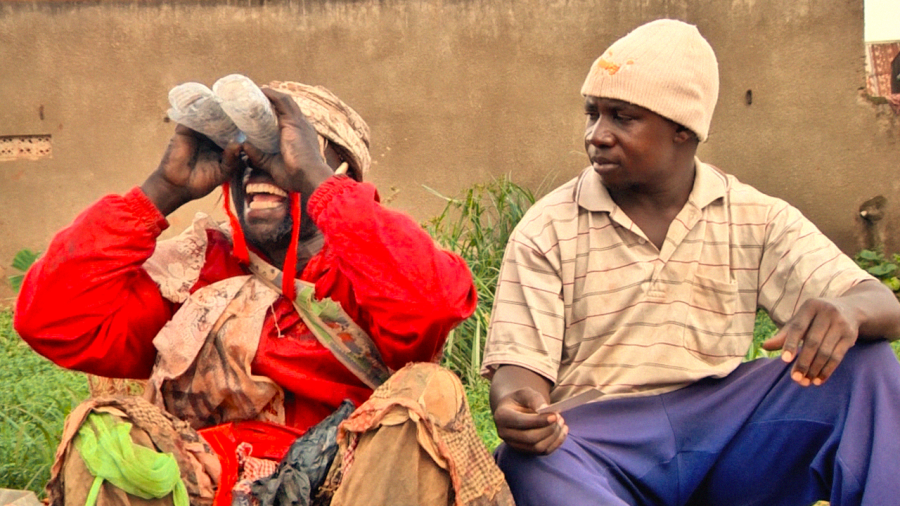 A still from the film Crazy World, which was being screened as part of We Are One, an online international film festival, on YouTube. Screengrab via We Are One's website
bookmark
Published at : June 6, 2020
"The whole world is in lockdown; even Uganda is in lockdown," announces director Nabwana IGG in the opening line of his film Crazy World. His feature film is streaming as a part of We Are One—a free 10-day online film festival that has been being aired on YouTube from May 29. It will end on June 7.
We Are One, which is showing a selection of films curated by prestigious global film festivals, is a representation of the global film industry's solidarity against the viral epidemic of Covid-19. The festivals that are a part of We Are One are Berlin International Film Festival, Cannes Film Festival, Sundance Film Festival, Tribeca Film Festival, Venice Film Festival and many more. And the film Crazy World is part of the Toronto International Film Festival.
Usually, before screening a film, festivals prime their audiences by introducing the makers. We Are One too introduces filmmakers through short clips that run before their films. But while other filmmakers, from Mumbai and Jerusalem, speak directly into their phone cameras, Nabwana introduces himself with a 360 pan of the slums of Wakaliga, home to his studio—Wakaliwood, in Uganda.
Nabwana is the founder of Wakaliwood. Here, in this poorer part of Uganda, a majority of the filmmakers, actors and technicians come from the slums of Wakaliga, Kampala. In his introduction, Nabwana tells us that in his hometown, heavy rains, winds and floods occur regularly. And now, with the global pandemic, things will take a turn for the worse. But he is committed to entertaining the audiences.
Intrigued, I then looked through Wakaliwood's website: Home of da Best of da Best movies. And I was quite impressed with their films, media coverage, and global fan base. What impressed me the most was that these films and makers have never been bogged down by money, technology, or even the need for production value. They are committed to making films despite all odds.
Most problems for filmmakers—the world over, and not just in Nepal—rise out of budgetary constraints, but Wakaliwood filmmakers regard such issues as opportunities to be more creative. Can't have your actors bleed? Use CGI. Can't go to foreign locations? Use a green screen. And if there's no money for the costume department, have your actors wear the same character-defining clothes throughout the film. I was left envying their guts and their commitment to telling stories.
Many times, we as film critics tend to be cinema snobs and disregard low budget, technically messy productions as inferior. And if we look at Wakaliwood movies from a critical lens, we'll point out that the shots are either too bright or too dark; there's no camera focus in certain scenes; the background noise dominates dialogues, the editing is jarring at times, and inconsistent colour correction draws attention to filmmaking.
For many, uncompromising adherence to technicalities might be a cinematic law. And that's alright. But contemporary filmmaking doesn't always have to be limited to technical rules and traditions. Had makers strictly followed rules over the years, we would not have the masters of the Italian Neo-Realism, legends of Iranian cinema, and the rebels of the French New Wave (all probably worth Google searches).
The Wakaliwood makers haven't yet attained greatness like the makers from France, Italy or Iran. But they have found recognition by bringing global attention to Uganda. And, honestly, to have a film festival like the Toronto International Film Festival urge YouTube viewers to give Wakaliwood's Crazy World a chance is already a big win.
Coming to the movie itself, the first thing you'll notice in Crazy World is the narrator, the VJ (Video Joker) Emmie—also known as 'World's greatest tongue-fu master'. Nabwana uses him as a cinematic Disc Jockey who introduces characters, gives background to the actors' earlier films, and guides you through the movie until the end. He maintains the pace, gives context, and deconstructs the story for foreign audiences. He will definitely make you smile with his references to Avengers, Fast and Furious, and other Hollywood films.
Also watching the film with us is Uganda Piracy Patrol—a group of uniformed soldiers committed to preventing piracy of the film. They're monitoring the screening from Uganda making sure that our experience is a pleasant one. I'll talk more about these guys later.
Narrator Emmie introduces the bad guys: the tiger mafia and Uganda's biggest crime boss, Mr Big (Alex Ssemwogerere), a short guy who always wears a suit and wields a golden gun. He may look smart and comical, but he is evil incarnate. He plans to sacrifice children to further his evil empire. The film begins as he orders his minions—the tiger mafia—to kidnap children.
Then there's Dauda Bisaso (Omulalu), who is the film's good guy. According to Emmie, he is Uganda's greatest commando. He has a daughter, Diana (Kiabro Beatrice), who is a martial arts expert, and part of Waka Starz—a gang of children who perform martial arts in Wakaliwood. There's also a lone wolf, Bruce U—the Ugandan Bruce Lee. Like his namesake, Bruce U is also fluent in martial arts.
With the stage set, the film opens with a shaky cam action consisting of stunts, gun shots, blood splatters, choreographed martial arts, and bomb blasts. At the end of the sequence, the tiger mafia kidnaps Diana. The good commando Bisaso cannot deal with this grief and loses his mind.
Now, let's get back to the Uganda Piracy Patrol. Remember them? Well, the patrol pauses the film midway to warn us that viewers from Canada, France, Korea, Jamaica, the UK, Spain, Ukraine, Pakistan and other countries are pirating the film (the one you're watching). They send a piracy hunter to eliminate the threats. But, in a huge reveal, the Piracy Patrol figures out that director Nabwana himself is pirating his own movie. They arrest him.
As you can tell, the film's meta storytelling is completely captivating. The director often steps aside from the primary narrative of the film to present issues ranging from slum life of Ugandan villages, piracy of Ugandan films, and kidnapping of African children whilst criticising the inability of the police to do anything about it. And he does this with a humorous overtone throughout.
Nabwana's writing and sequencing don't adhere to traditional storytelling either. In fact, the film takes a huge swing at the power structures of cinema. For years, the commerce of Hollywood and Bollywood has dictated terms on how a film should look and feel like. Nepali films too in the last decade have adhered to strict notions of technical finesse.
But the problem with sticking to strict filmmaking is dangerous. Because of attempting to fit into this commercial model, many film school graduates struggle to get their films made and are held back by money and technology. The problem here is that audiences and critics alike tend to point out technicalities quickly because they're the most visible. However, this is where film festivals like Toronto International Film Festival and We Are One are important because they validate diversity in visual storytelling.
With life under lockdown, we all have free time in our hands at the moment. Perhaps we could utilise this time to explore diverse films from around the world. Maybe doing so will remind us what cinema can be rather than what cinema should be.
Crazy World
Writer, Director, Editor, Cinematographer: Nabwana IGG
---
---