After a short hiatus, misogyny is back in Nepali theaters
'Cha Cha Hui' is a film about perverts chasing their perversions with an especially perverted item song.

Screengrab via YouTube
bookmark
Published at : November 29, 2019
Updated at : November 29, 2019 21:13
Kathmandu
Imagine you're celebrating your 23rd birthday with your friends. You blow out the candles on your cake when out of nowhere, a pot-bellied middle-aged stranger barges into your party, and hands you a rose and a sticky note with 'Name?' written on it. For most of us, this situation would be creepy and bizarre. But for the delusional filmmakers of Cha Cha Hui, this is how the romantic leads meet.

And that is not the only cringe-inducing moment in the film. The filmmakers glorify perversion, romanticise harassment, and somehow manage to get more regressive at every opportunity.
Migrant workers Prem (Aryan Sigdel) and Bhola (Bhola Raj Sapkota) are friends. Prem is a middle-aged pervert who says he gets off by ogling at 'sukila tigra' (women's thighs). Bhola, also middle-aged, doesn't really have any defining character trait. He just follows Prem around.
Prem goes to the beach for a vacation and there, they meet Shyamlal Pandit (Maotse Gurung), who, in a drunken stupor, inspires Prem and Bhola to return to Nepal. Prem decides it's a good idea so he can reconnect with his estranged father, and as a parting gift, Pandit gifts the duo a book.
When Prem and Bhola reach Nepal, we learn that everyone in the country is after that book. The taxi driver Robert (Praku Pandey), the hotel manager (Samrant Thapa) and even the local inspector Bhatta (Janak Khakurel) all seem to want the book. We don't quite know what is in the book but in one scene, Bhola reads out from it—'Maile nachhoyeko premika ko pet kasari bhukka bhayo' (How did my girlfriend's belly grow, when I haven't even touched her). Both of them praise the writer for this kind of perversion.
Amidst all of this, Prem happens to have a glimpse of Sangita (Meruna Magar) celebrating her 23rd birthday, in the aforementioned scene. What follows is the item song—'Jawani' where Prem mouths this line—'Magera dinchau ki timro tyo jawani, chhinera laijamki bhana yo jawani', which basically translates to "Will you give me your youth (which is code for sex) or should I take it from you?" In case anyone missed it, they're talking about rape.
Prem and Bhola escape with the book to Pokhara. On the same bus, Prem notices Sangita. Prem now switches into eve-teasing mode as he first attracts attention to himself by talking loudly. Then, when he sees Sangita is alone, he makes passes at her. This is a Nepali film, and since this is a hero courting the heroine, the scene is designed to be romantic. But the scene can be read as: 'young girl politely rejects old pervert's unwanted advances'.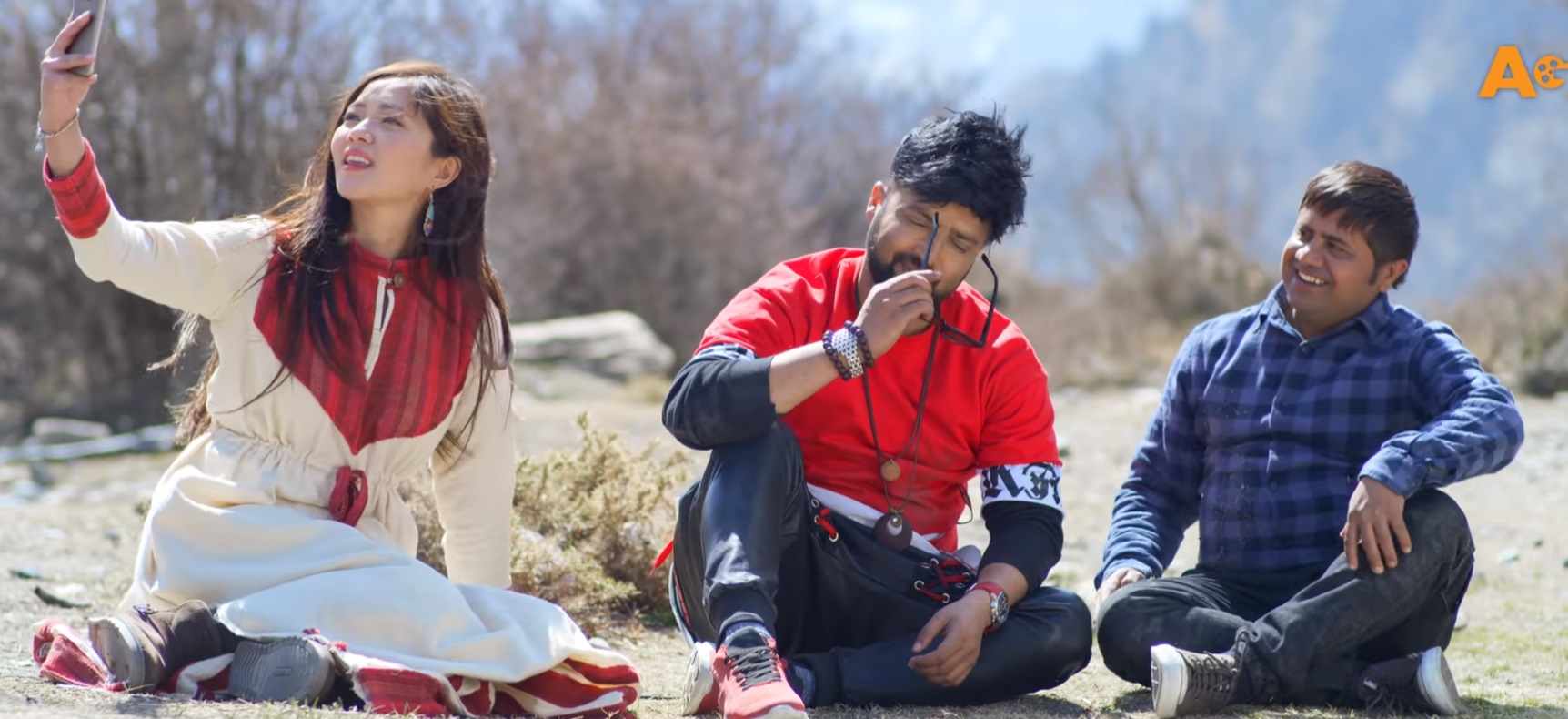 Screengrab via YouTube
When Prem and Bhola reach Pokhara, Sangita is gone. Prem then decides to go to Jomsom, because he suddenly realises that his father's address on his citizenship card is Jomsom. So, they board a bus for Jomsom and again, on the bus, they meet a random passenger who mentions that his life's mission is to impregnate his enemy's sister. Prem and Bhola egg him on. This passenger is never seen or heard from again.
When Prem and Bhola reach Jomsom, things get even more regressive, if that was possible. The whole town is gearing up for elections and a lot of new characters are introduced. All of the males—and I literally mean all—lust after Sangeeta, whether it's the local policeman or the political party leaders. There's one scene, which is also in the trailers, where both Prem and Bhola talk about Sangeeta like she's a prize to be won.
The film has two writers—Sijan Dahal and Sandesh Aryal. Dahal's name is mentioned by several characters in the film as an "accomplished poet" and he's also the writer of the book that's central to the film. Since he is so desperate to take credit, I hope he is ready to take the blame as well.
That people are lustful is not the problem and neither is the fact that the film displays a patriarchal society. None of this would've been a problem if the female character was just stronger, if she wasn't so docile, had an arc of her own, or if she had any real desires. But, the female lead is a flawless innocent woman who has no aim or purpose. She is there simply to smile, look pretty, be objectified, and support the male lead. There's only conclusion you can reach from this film—misogyny is back in Nepali theaters.
The film is more troubling because the torch bearers are veterans. Samten Bhutia, the director and editor, has been in Nepali cinema for a decade now while his lead actor, Aryan Sigdel, has been around even longer. Bhola Raj Sapkota's claim to fame is from the Hindi film Barfi! And all of them have contributed to make this nothing of a film.
The film has too many loose ends and too many underdeveloped instances. The film spends a lot of time in establishing the names of all the parties and their speeches, but nothing comes of it. There is a whole scene at 'Interpole' (sic) but nothing ever comes of this scene.
Aryan Sigdel as an actor is also the undoing of this film. You can tell that he's trying hard, and that's never a good sign for any actor. The way he is dressed—in sleeveless t-shirts and weird colours—only amplifies his perversion. Sigdel has had a long career and it's time he treated his craft with more respect, instead of stooping to dancing awkwardly in an item song. Even more disappointing is Sapkota. The man has nothing to show in terms of acting chops. All he does is smile. You could replace him with a smiling puppet in the film and it would've served just fine.
The only commendable thing about this film is the art direction by Kishor Nepal. The item dance, despite all its perversion, is very well crafted. Nepal is also successful in creating the ambiance of an election in Jomsom. And, there's a drug-making scene with chemistry sets and even though the setup looks like a discount version of Breaking Bad, it's believable. Susan Prajapati, the cinematographer does his job—there's nothing great but nothing to complain about either.
This film is part of a developing trend in Nepali cinema. While the male actors get older, their female counterparts get younger. Filmmakers are taking flawed notes from hit series like Kabaddi and the Cha-films, which star aging Dayahang Rai and Deepak Raj Giri, respectively. And by including younger female characters for them to have their way with, misogyny is becoming a norm in Nepali cinema.
Cha Cha Hui
Stars: 1 out of 5
Starring: Aryan Sigdel, Bhola Raj Sapkota, Meruna Magar
Director: Samten Bhutia
Writers: Sijan Dahal, Sandesh Aryal
Art director: Kishor Nepal
---
---