It is time to save the Terminator for once, and let it rest
The plot is still the same: a time-travelling protector must save an ordinary human from a killing machine sent from the future. But there's still something missing with Dark Fate.

Arnold Schwarzenegger returns once more in the latest iteration of the 'Terminator' film series. Screengrab via YouTube
bookmark
Published at : November 8, 2019
Updated at : November 9, 2019 07:42
Kathmandu
As a 90's kid, Terminator was 'the film' to watch. When the second installment of the franchise was released, I remember reading the title Terminator 2: Judgment Day out aloud from a hoarding board at Biswajyoti cinema hall from a tempo stand right beside it. The excitement was palpable and the movie didn't disappoint us either.
With only a few television channels and VCR cassettes as resources for cinema, Terminator 2 was one of the first English films we watched as kids. Arnold Schwarzenegger was our first superstar and 'Hasta-la-vista baby' was our first Hollywood slang. For us, for a long time, Terminator was Hollywood. And we loved it.
In Hollywood, the film was equally successful. Writer and Director James Cameron created T-800—the titular character who was an indestructible cybernetic organism, a cyborg that was a robot skeleton with human flesh—from the future. He got Schwarzenegger to portray it and the rest, as they say, is history.
From 1984, where it all began, to now, the franchise has been expanded from films to TV shows. But all of the spin-offs revolve around artificial intelligence, time travel, and the fate of humanity.
In the first film, T-800's only mission is to kill Sarah Connor (Linda Hamilton) because she will birth John Connor, who will eventually become the saviour of all humankind. To counteract the machines, John Connor of the future sends Kyle Reese (Micheal Biehn) to protect his mother.
A love story unfolds between Reese and Sarah as they escape multiple attempts on their lives from T-800. By the end of the film, Reese sacrifices himself to defeat the robot, leaving behind Connor and the hope of the world in her womb.
The film was such a massive success that a sequel was immediately in the works, but even for Hollywood, making sequels can be a little tricky. The audience will almost always expect the film to be superior to its predecessor—both in terms of production and storytelling. The stakes have to be raised, but you can never deviate far from the original's content.
And Cameron had no problems with making things bigger; in fact, he had to wait seven years until the technology—most specifically, Computer Graphics Imagery (CGI)—caught up to his concept. When the sequel was finally made, it became the most expensive film at the time. Terminator 2: Judgment Day (T2) came to be known as James Cameron's masterpiece.
The original's story didn't change. Ordinary humans were aided by a time travelling protector to escape a killing machine from the future. But Cameron changed the story's design, the antagonist was not just a cyborg but an indestructible shape shifting robot T-1000 (Robert Patrick) made out of liquid metal. Schwarzenegger returned as T-800 but reprogrammed as the good guy. His mission this time is to save a pre-teen John Connor (Edward Furlong) and his mother Sarah. And perhaps the best redesigning was that of Sarah Connor because she was no longer a damsel in distress. She wielded guns and showed physical prowess. She was never sexualised. She was an action hero of the generation, a role model for many.
The audience found T2's plot exciting and soulful. The T-800 evoked emotions as a machine learning to become human-like. He was a father figure to little John. Sarah, John, and T-800 made up a family, fighting an external threat. In the end, they not only succeed in escaping the threat, but manage to save the future of the whole world.
The film had everything—carnage, conspiracy and emotions. T2's storytelling, filmmaking, and acting are praised until today by makers, critics and the audience. The film was the highest grossing film of the year and found global recognition. And this was before multiplexes.
Then, Cameron went on to make Titanic (1997) and Avatar (2009), while the terminator franchise continued without him. Three more films and a TV show followed but nothing came close to the first two films. But that doesn't mean the makers didn't try.
Terminator 3: The rise of the machines gave us a female terminator far superior to T-1000. The fourth film, Terminator: Salvation, cast Christian Bale of the Batman fame as John Connor. And in the fifth film, Terminator: Genesis, Emilia Clarke, Khaleesi from Game of Thrones, was hired for the role of Sarah Connor. But sadly, nothing has worked for the franchise. All these films were massive flops.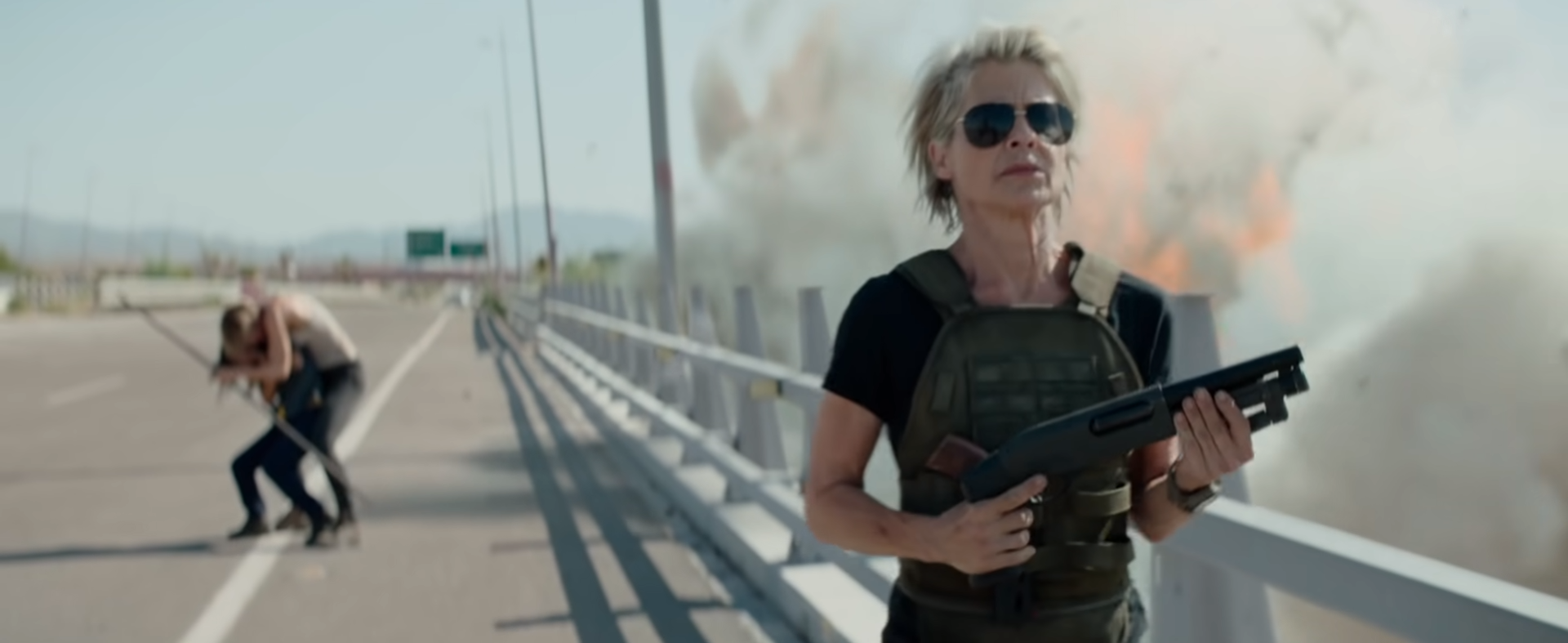 Gun-toting Sarah Conner, played by Linda Hamilton, plays a central role in the latest film. Screengrab via YouTube
But this time around, the makers decided to change their strategy—instead of hiring famous cast members, the studio executives called in Cameron as a producer and writer.
Cameron treats Dark fate as a successor to T2. This film ignores everything after T2. although in the beginning, the audience is led to believe this is a different film, with a different set of characters. But alas, it is not!
The plot is still the same: a time-travelling protector must save an ordinary human from a killing machine sent from the future. Daniella Ramos or Dani (Natalia Reyes) is the ordinary human. The protector is not a machine, but an enhanced human, called Grace (Mackenzie Davies). And the killing machine, Rev 9 (Gabriel Luna) is more powerful than any other terminator in the series. Rev 9 is so dangerous that Dani and Grace need help from a significantly older Connor and T-800.
Director Tim Miller tries to balance out the story and the action. But this is an action film, so there's plenty of it, especially after the second half. The action scenes are neatly done, and the audience always has a grasp of what's happening, unlike much of the films today that prefer fast cuts and overpowering zoom-ins and zoom-outs. And all this is not suffocating either, because the makers give time and attention to the newer characters. However, this character building is superficial, and we don't really care for the characters or their journey. There is no compelling reason to be attached to either the new characters, or the much older ones.
Also, the new killing machine, Rev 9, takes breather moments to heal after he is shot. It's as if he is rebooting. Every time, he is shot, he will reboot to heal, and then come running after the humans. Maybe this is the CGI team showing off their skills, because this is not plot design or foreshadowing.
Add to that, Dark Fate foregoes its most essential element, it doesn't have a 'save the world' plot!
Now as far as Cameron's involvement is concerned, you can tell that he is an activist, and you can read that throughout his filmography. His dislike for American imperialism has been quite obvious through his previous films like Avatar, and you can sense strong contemporary politics in this film too. For instance, it touches upon the immigration crisis, especially on the US-Mexico border, but it is neither subtle nor carries any substance.
It is safe to say that the franchise clearly topped with T2. Then, it was an innovative concept and Cameron had something to prove. He certainly left a legacy for future filmmakers, and opened possibilities of integrating CGI into cinema. But that was 1991. Today, CGI is the norm in any action film. We're saturated with superheroes saving the world and giant robots stomping over cities. With so much content at their disposal, the audiences today are spoilt for choice and if you really want to impress, you will have to come up with something much more than a mediocre Terminator flick.
If reports are correct, it may finally be time to say goodbye to the Terminator. And I, for one, am really happy to let him go. For the sake of my memories, please let the Terminator rest.
Terminator: Dark Fate

Starring: Arnold Schwarzenegger, Linda Hamilton, Mackenzie Davies, Natalia Reyes
Director: Tim Miller
Stars: 2 Out of 5
---
---