Taxman launches new fiscal year with VAT on air travel
Collecting VAT from international air passengers violates Nepal's commitment to ICAO.

SHUTTERSTOCK
bookmark
Published at : July 18, 2023
Updated at : July 18, 2023 07:26
Kathmandu
Grabbing every opportunity to boost flagging revenue collection, the taxman kicked off the new fiscal year by imposing 13 percent value-added tax on air tickets.
Industry insiders say flying is already expensive in Nepal, and the addition of VAT from Monday will make it more so.
Domestic airlines started collecting VAT from their passengers from today, but international carriers are confused and have not implemented the new rule.
Officials of the travel trade and tourism industry say collecting VAT from passengers on international flights violates Nepal's commitment to the International Civil Aviation Organisation (ICAO), a specialised agency of the United Nations.
According to the resolutions of ICAO, of which Nepal is a member, no taxation on the sales or use of international air transport should be levied.
The International Air Transport Association (IATA), too, urges all states to fully implement the ICAO resolutions by ensuring that international air (1 ICAO Doc. 8632) transport is fully exempt and international air transport enterprises have the right of reclaiming all VAT paid (zero-rated).
Tourism entrepreneurs worry that the series of taxes slapped on the tourism sector has made Nepal an expensive destination, and the consequences will become apparent in the coming years in the form of a drop in arrivals.
A travel trade entrepreneur said that Nepali outbound travellers were hopping across the border to nearby airports in India as the tickets were a lot cheaper there.
India has levied taxes on air travel too, but the rates vary with the class.
The Goods and Service Tax Act (GST) of India, which went effective on July 1, 2017, has imposed a 5 percent tax on air travel in economy class, whether domestic or international. The GST is 12 percent for premium class.
But Nepal has been doubling and tripling taxes.
"We are unable to promote Nepal even though we have everything that tourists expect. We are moving in the reverse direction," said Basant Raj Mishra, a senior tourism entrepreneur.
"This will impact tourism in the long term. Imposing tax is a counterproductive move."
According to Mishra, a huge number of outbound Nepalis have been flying from Indian airports like Bagdogra in West Bengal, Darbhanga in Bihar and Lucknow in Uttar Pradesh to escape the high prices in Nepal.
For instance, a traveller can save $400 by flying to Madrid from Delhi instead of Kathmandu.
In June last year, the Civil Aviation Authority of Nepal hiked the passenger service charge to Rs500 from Rs200 for passengers flying from an international airport to any domestic airport.
The civil aviation body increased the passenger service charge threefold for international passengers flying out of Kathmandu's Tribhuvan International Airport.
International travellers are paying Rs3,000 each for passing through the airport, up from Rs1,000 previously.
The tax discount provided to passengers flying within South Asia has been tossed out. Earlier, travellers flying out of Kathmandu to destinations in South Asia were charged only Rs700 in the spirit of regional solidarity.
Despite the announcement that all air travel would be taxed, international travellers departing from Kathmandu on Monday were not charged VAT.
"There is confusion everywhere," said Shyam Raj Thapaliya, managing director of Osho World Travel Nepal, one of the leading travel agencies.
A meeting of the Nepal Association of Tour and Travel Agents (NATTA) ended inconclusively on Monday.
But domestic airlines have started collecting VAT from their passengers.
"We have introduced the VAT system from Monday," said Rupesh Joshi, director of the marketing department at Buddha Air, the country's leading domestic airline.
"We have multiple fare options, and high-priced tickets have become costlier," he said. "But the lower fares have not increased much."
Taxes, particularly VAT, are rarely imposed on international passengers around the world.
Nigeria used to impose 5 percent VAT on commercial flight tickets, but gave up in 2020.
Nepal's private sector has accused the government of bringing a new rule without any homework as it may make travel, one of the key economic indicators, costlier.
They said that instead of promoting travel, the government's mindset is that everything that can be taxed should be taxed to the limit.
An official at an international airline told the Post that the government was indifferent towards the tourism industry and airlines.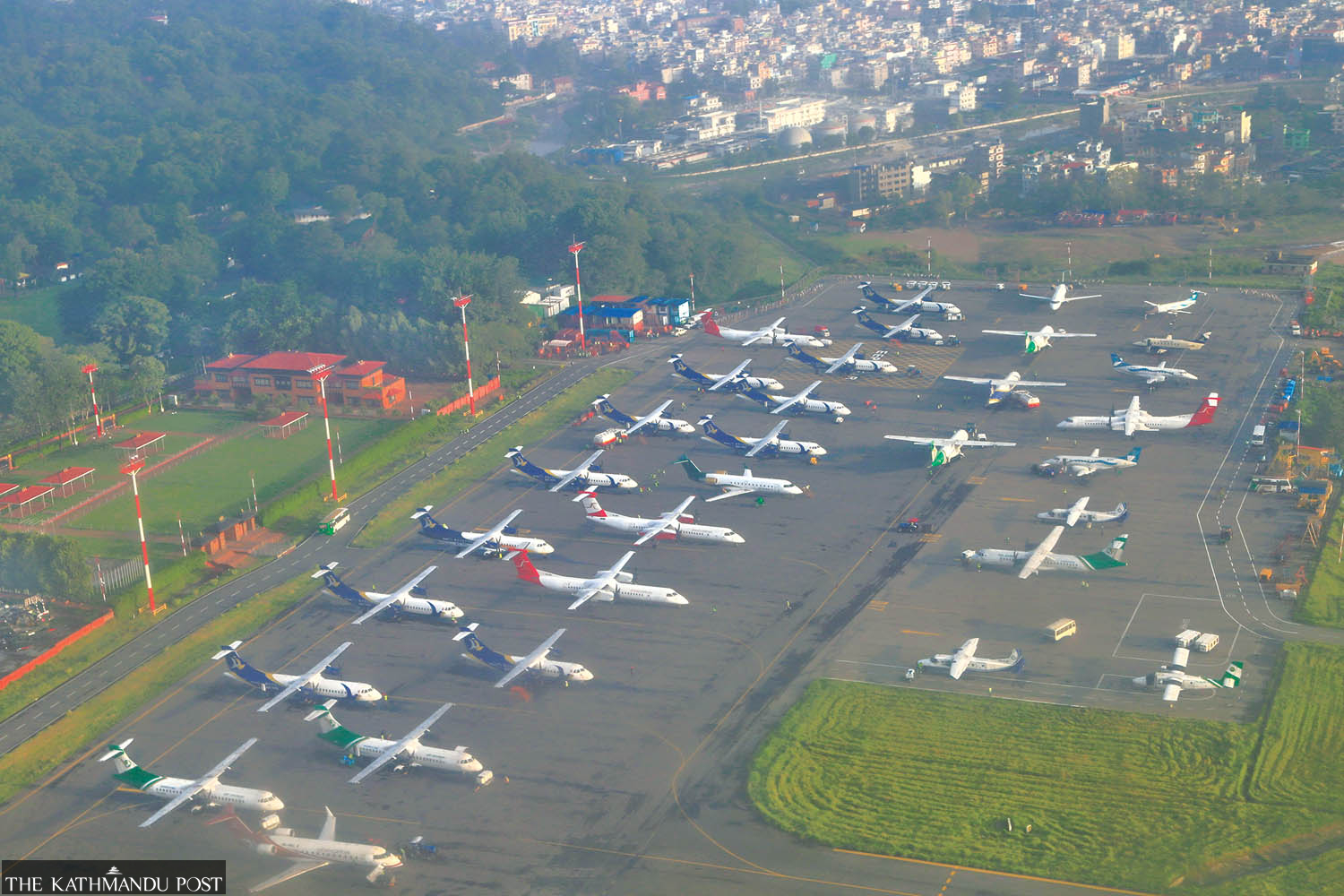 Taxes, particularly VAT, are rarely imposed on international passengers around the world. Post File Photo
"This is short-sighted destruction of the tourism industry," said the official. "It's like killing the goose that lays the golden egg."
Domestic airlines saw an all-time high passenger numbers last year amid stiff competition and despite jet fuel prices nearly doubling.
Nepal's domestic airlines—nine fixed-wing operators and 12 helicopters—flew 4.46 million passengers in 2022.
The country's international air passenger numbers rebounded sharply in 2022, reaching 84 percent of pre-Covid 2019 levels.
According to Tribhuvan International Airport in Kathmandu, the country's main gateway, 3.48 million international air travellers passed through last year, up 141.61 percent from 2021.
State-owned Nepal Oil Corporation on Sunday decided to revive automatic fuel pricing from the start of the new fiscal year. The mechanism had been defunct for nine years.
But the pricing formula, used to determine local prices in response to global price changes, only applies to petrol, diesel, kerosene and liquefied petroleum gas (LPG), and not jet fuel, which has experts crying foul.
The government oil monopoly has not given any credible reason why aviation fuel has been left out.
The high cost of aviation fuel at Kathmandu airport is hurting Nepal's tourism industry because foreign airlines don't want to come here, according to a government committee report.
In 2019, an eight-member panel headed by former government secretary Suresh Man Shrestha issued a report which said that the steep cost of fuel was keeping international carriers away, and urged the government to cut prices to put them on a par with the global market to boost market confidence.
Economist Govinda Nepal said that keeping jet fuel out of the auto pricing system was unfair.
"The auto pricing system needs to cover all petroleum products," he said. "Now flying is no more a luxury. It has become an essential mode of transport, given the terrible state of the highways."
He says that Nepal Oil's announcement not to put aviation fuel under the auto pricing mechanism reflects its conflicting policy.
"The government says it has accorded priority to the tourism industry, but it has been charging hefty prices for jet fuel."
---
---