Nearly 500 climbers may try to scale Everest this season
In 2021, Nepal's Department of Tourism had issued a record 409 Everest permits.

Climbing is possible only from Nepal side this year as well with China yet to reopen its route. Shutterstock
bookmark
Published at : April 8, 2023
Updated at : April 8, 2023 09:08
Nepal's expedition organisers say that the number of Everest permits issued for the spring climbing season may exceed expectations, but a re-emergence of coronavirus infections, erratic weather and overcrowding caused by new climbers may ruin the season.

According to the firms the Post talked to, booking trends and inquiries show that nearly 500 climbers may attempt to summit the world's highest peak this climbing season beginning in the second week of May.
Concerns over a possible repeat of the overcrowding seen on Everest in the past have also grown.
In 2021, Nepal's Department of Tourism issued a record 409 Everest permits. The number dropped to 325 in 2022 as the Russia-Ukraine war prevented potential climbers from Russia, Ukraine, Poland and some European countries from coming to Nepal.
"As China has created a new rule requiring its citizens to climb an 8,000-metre peak before making an attempt on Everest, Chinese climbers could come to Nepal in droves," said Mingma Sherpa, chairman of Seven Summit Treks, Nepal's largest expedition organiser.
"We expect the number of climbers to rise close to 500 this spring."
Seven Summit Treks says it has received confirmed bookings from more than 100 individuals.
On March 15, China lifted a three-year-old restriction and reallowed its citizens to visit Nepal. But Beijing has not opened Everest to foreign climbers for the fourth consecutive year.
Travel trade entrepreneurs say the revised policy during Nepal's trekking and mountaineering season could bring big business to Nepal's tourism industry.
Bigyan Koirala, an official at the mountaineering division of the Department of Tourism, said they also expect the number of climbers to grow to nearly 500. "The number of Chinese climbers alone may cross 100 based on the current application trend," he said.
Hordes of adventurers are again plodding to the Khumbu region with fresh hopes, dreams and enthusiasm. They are spending millions of rupees to achieve their goals, but a question remains: Will climbing Everest become safer this year?
Surya Prasad Upadhyay, director of the Department of Tourism, says they have constituted a nine-member committee to assist the climbers. The team will also monitor activities at base camp. "Besides the liaison officers, we will also send our members to base camp."
Upadhyay said the department was coordinating with the Meteorological Department to provide weather data. "We have been assured that the department will give us weather information at least three days before the start of any climb."
A picture of a long line of mountaineers waiting to get to the summit in May 2019 went viral. Insiders say something like that may happen again this season.
"We cannot rule out traffic jams on Everest. It depends on the weather. If the good weather window is long, the queues on Everest will obviously be short," said Koirala. "But to avoid long exposure at high altitudes, the expedition may implement a quota system—a fixed number of climbers on a particular day."
He says it has been left up to the expedition organisers to manage the crowds.
Initial preparations are ongoing.
The Sagarmatha Pollution Control Committee, an agency authorised to fix ropes and ladders up to Camp 2 on Everest, said on its Facebook page that a team of its "icefall doctors" completed preparing the route from base camp through the Khumbu Icefall to Camp 2 on Thursday.
Imagine Nepal Trek and Expedition has won the bid to prepare the route from Camp 2 to the summit.
"Our route-fixing team leader Dawa Gyalje Sherpa headed towards base camp on April 5 to prepare the route," said Mingma G, managing director of Imagine Nepal Trek and Expedition.
"We have 30 confirmed bookings for Everest this spring, up from 12 last spring," said Mingma G. "We closed bookings in February."
The Tourism Department had issued 178 permits to climb Everest as of April 7, collecting $1.84 million in fees.
Normally, permits are issued until April-end.
According to Mingma G, there could be a record number of climbers this season, but the weather pattern is not looking good. He says there has been continuous heavy snowfall on Annapurna and Manaslu even in the spring after a dry winter. Expedition organisers say fresh snow is dangerous.
Avalanches can happen anytime, but the risk is heightened when fresh new snow falls on top of an already compacted snow base. The newer snow becomes unstable, triggering an avalanche
"Last Monday, winds blew away tents at Everest base camp. The weather has not been behaving well right from the beginning of the climbing season," said Mingma G.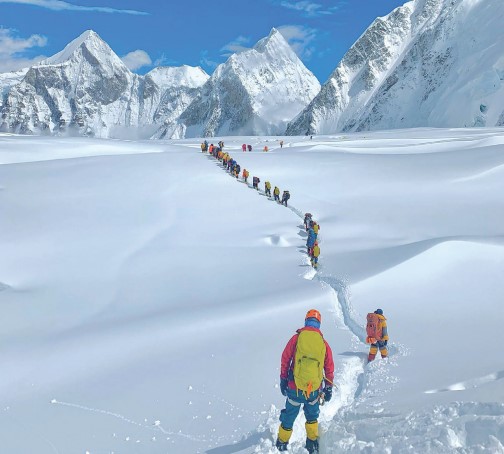 A file photo shows climbers along the Khumbu Icefall. Photo: Courtesy of Seven Summit Treks
Kami Rita Sherpa, who plans to climb Everest for the 27th time this season and break his previous record, said, "As there is still a month left for commercial climbing to begin on Everest, we hope the snowfall will not be a bother."
"Obviously, it's risky. There could be avalanches if snow falls on the mountain when the expedition is taking place," said Kami Rita, who is leading a Chinese team this May.
There are also concerns about Covid, which is spreading.
"The coronavirus might have already spread in communities as patients suffering from other ailments are testing Covid positive," Dr Ravi Shakya, director of Patan Hospital, told the Post in a recent interview.
"Even if serious cases of infection are yet to arrive at the hospital, the number of people testing positive for the coronavirus has been rising."
On March 31, out of 1,079 tests, coronavirus infections were found in 142 people, the highest in months. On Friday, 99 new infections were recorded.
March is a peak tourist season in Nepal. On April 1, the Nepal Tourism Board issued a rule requiring trekkers to be accompanied by a guide. But local authorities in the Everest region have not implemented the rule, and hordes of trekkers have been visiting the Khumbu area on their own.
Climbing expeditions are an expensive affair.
An Everest climbing permit costs $11,000 for foreigners and Rs75,000 for Nepalis. Climbers pay between $50,000 and $90,000 to climb Everest. An experienced climbing guide makes as much as $12,000 during the 45-day Everest season, where the good weather window is normally available for two weeks in a year.
A normal or beginner guide earns $7,000 per season, while high-altitude porters earn up to $4,000 per season. Even the income of a porter is five times greater than the average income of Nepalis.
The climbing time from Everest Base Camp (altitude 5,364 metres) to Camp 1 (5,943 metres) is six hours. The Khumbu Icefall, the most treacherous part of the route, lies between these two camps.
Most climbers try to cross the Khumbu Icefall in the very early morning before sunrise when it is less susceptible to movement. As sunlight warms up the ice, the chances of crevasses opening up or blocks falling become much greater.
It takes four hours to reach Camp 2 (6,400 metres) from Camp 1, the most exciting and easiest part of the route. From Camp 2 to Camp 3 (7,162 metres), the average walking time is seven hours, while from Camp 3 to 4 (8,000 metres) or South Col, the average walking time is seven hours.
At Camp 4, the ultimate thrill begins as it's the last point from where the Everest push starts.
It takes 10 hours to reach the summit (8,848 metres) from Camp 4. Normally, the summit push begins at 11 pm or midnight so that climbers can reach the summit and begin their descent during the day.
---
---