It's a hard life for low-wage Nepali tea workers
The tea industry is one of the oldest and largest export-oriented sectors in the country, but it has no social protection scheme.

Ram Prasad Kheruwal and his daughter sit in front of their home in Jhapa. POST PHOTO: ARJUN RAJBANSHI
bookmark
Published at : November 30, 2022
Updated at : December 1, 2022 08:06
Birtamode
Every morning, Ram Prasad Kheruwal leaves home and trundles off to work on his vintage bicycle, two pots full of sloshing water tied on either side of the rear wheel.

He negotiates the potholed roads to the tea plantation where women workers are picking tea leaves. His job is to deliver drinking water to the tea pickers, a position he has held for the last seven years since he retired.
Kheruwal, now 62 years old, used to be a tea worker himself. He grew up in a poor family, and lives in a tiny room provided by his company Budhkaran Tea Estate in Bhadrapur Municipality-7.
He makes Rs435 a day, which he says is not enough to pay for his household expenses. "We don't have our own house," he said.
Kheruwal and his wife have raised three daughters and one granddaughter in the same one-room apartment. He does not know exactly how many years his family has been engaged in the tea industry.
"Four generations of my family have worked in the tea garden," he said. "My grandfather and father have passed away. I am old now. Everything has changed except the wages. They are not sufficient for two square meals a day."
Nepal's tea industry is one of the oldest and largest export-oriented sectors, but it has no social protection scheme.
There are no statutory labour benefits like provident fund, gratuity, bonus, housing or medical assistance to attract workers to the sector.
Officials say that as the country's tea industry does not provide these benefits, tea has become a cheap export commodity.
Tea workers have a minimum wage system, but the rate is lower than what is provided in the manufacturing sector.
Kheruwal's daughter Alisa started picking tea leaves in the garden two years ago as her father's earnings weren't enough to feed the family.
"We do not have any ancestral property and my father's income is not sufficient for us to survive. So I decided to work in the tea garden too," said Alisha who studies in class 12.
Hundreds of tea garden workers in Jhapa have a similar story to tell. Most workers live in small rooms in houses built in the 1930s, which are now falling apart.
"It is difficult to protect the elderly and children during the winter," said Suchita Kheruwal, 26, a tea estate worker.
Anil Rishidev, 22, is a third-generation tea worker. His grandfather Jagdhar and his father Rikhidev also spent their lives in the tea garden.
Rishidev's grandfather and father had built a small hut on one side of Budhkaran Tea Estate, and this is where he lives with his family. He has a one-year-old child.
"I make Rs12,000 a month," Rishidev said. "With such meagre wages, it is difficult to even put food on the table, forget education and medical expenses."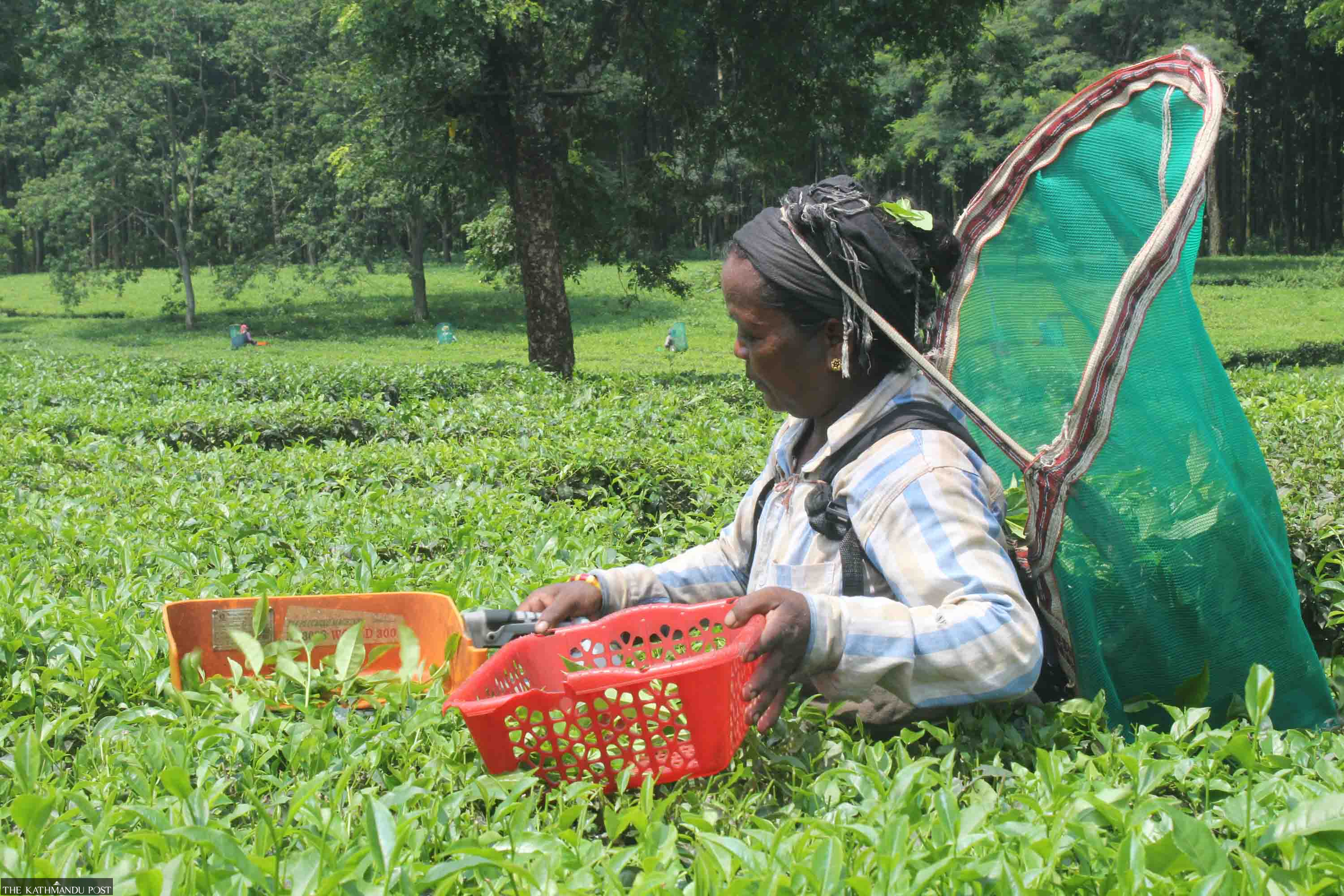 A worker harvests tea leaves at a garden in Jhapa. POST PHOTO: ARJUN RAJBANSHI
Many workers' families in the tea garden are in debt, most of them in deep debt. As their loans grow, they are forced to work longer.
Most of them have taken loans ranging from Rs40,000 to Rs200,000 from microfinance companies to repair their houses. The debts pile up whenever the festival season arrives.
"We have to repair our home frequently. We have to borrow most of the time," said Rishidev. "We have to pay instalments fortnightly, and the remaining money goes for home expenses. Forget about savings."
Fourth generation tea workers who grew up in tea gardens don't want to follow in their ancestors' footsteps, but their options are limited. The debts become so large that the next generation has to continue the work to repay them.
Most of the new generation workers do not possess citizenship papers. This too has prevented them from pursuing higher education, according to tea workers.
The new generation is looking for foreign employment, but without a citizenship certificate, it's no go. Almost none of the tea workers has a passport.
Because of the low wages, a few workers have started working outside the tea gardens, but they fear the owner of the tea estate may fire them. The tea sector hires seasonal workers.
Devanand Rikhiyasan, 25, from the Musahar settlement of Budhkaran Tea Estate, says he has started doing part-time work. He works as a mason to build houses outside the tea garden.
The situation of disabled workers or those who become disabled while working in the tea gardens is pathetic.
Chandan Chaudhary, 67, spent his entire life in the tea factory. He used to run the factory machinery.
One day, Chaudhary fell and injured his leg. As he did not seek timely treatment, the wound became infected, and the problem worsened. For two years now, he has been bed-ridden.
Chaudhary's three sons also work in the tea garden. They have not been able to arrange money for the treatment of their father because they earn very little at the tea garden.
Nepal used to export tea worth Rs5 billion annually when the industry was booming. The tea sector was once an important source of foreign exchange. The industry prospered, but the workers' conditions never improved.
Currently, tea is cultivated on 17,000 hectares. More than 70,000 workers are employed in the industry, according to the National Tea and Coffee Development Board.
There is a separate labour law for tea workers, but it has not been properly implemented and so they live a hard life.
The Labour Act 2017, Labour Rules 2018 and Contribution-Based Social Security Act 2017 also have clear legal provisions for workers in the tea sector. But the tea workers have not been able to get the service and facilities as mentioned in the laws.
The tea workers have also been voting for the leaders who come and make lofty promises during the election campaigns. But as soon as the elections are over, they forget the plight of the tea workers.
"We have voted for the leaders many times. No one is interested in us," said Shukratia Rikhiasan, a tea garden worker.
"I spent my whole life working in the tea garden, and they have been making promises to address our grievances for decades," he said. "Now, how can I believe that the leaders will do something this time?"
Deepak Tamang, central president of the Nepal Tea Garden Labour Association. said that more than 40,000 tea workers have voted in the elections this year.
In Budhkaran Tea Estate alone, there are 400 voters. "In the previous elections, the leaders came to ask for our votes and they assured us they would increase wages, build better houses, provide drinking water and build toilets," Tamang said.
"This time they have promised to provide service and facilities according to the Labour Act and implement the Social Security Act," he said. "But we are not convinced that they will deliver."
---
---