Yak jerky market booms in Nepal's Himalaya
Dried yak meat locally known as sukuti is popular among domestic sightseers in Mustang.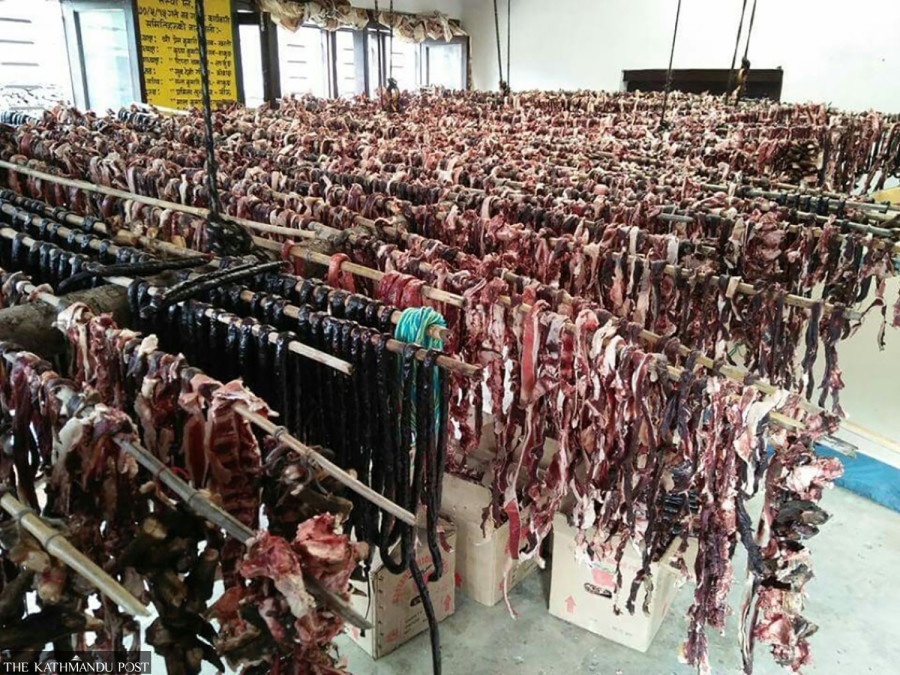 Yak jerky costs up to Rs7,000 per kg. POST FILE PHOTO
bookmark
Published at : November 20, 2022
Updated at : November 20, 2022 18:56
Myagdi
Yak caravans from Upper Dolpa bordering Tibet are a common sight in Jomsom these days. These hairy high-altitude beasts of burden are the most common mode of transport in the mountain regions of western Nepal.

Yaks carrying merchandise on their backs plod up and down the rugged Himalayan slopes, the jingling bell hanging from their neck announcing their arrival.
But nowadays, many yaks, mostly Tibetan yaks, are brought for slaughter to make dried meat or yak jerky. Locals say that demand for jerky has taken off in recent years.
Yak meat is low in calories and high in protein. The animal is slaughtered and the thick meat is cut into strips, marinated and hickory smoked.
"Demand for yak jerky has been growing in Mustang," said Palten Chheten, a yak trader from Chharka Bhot in Dolpa. He has brought around 150 Tibetan yaks to sell in Jomsom. "It takes almost a week for the herd to reach Mustang."
As a motorable road now connects the upper passes of Mustang, the district has been receiving swarms of domestic visitors. Dried yak meat locally known as sukuti is popular among the sightseers.
The mountainous region has long been famed for the dried meat of mountain goats and sheep, but dried yak meat has lately jumped to the top of the menu. Yak jerky costs up to Rs7,000 per kg.
In past years, Chheten used to travel to Myagdi and Baglung to sell mountain goats. He started trading yaks as demand for yak jerky rose steeply.
Chhewang Dhike Gurung, another yak trader from Sangta, Mustang bordering Dolpa, said he normally buys a yak for Rs50,000 to Rs60,000 and sells it for Rs70,000 to Rs80,000 in Jomsom.
Gurung himself makes and sells yak jerky which has a delicate flavour that's usually compared to beef.
Demand swells particularly in the winter, from November to February-end. Continuing an old tradition, Mustang locals have been making different varieties of yak jerky to sell in the winter months.
In the chilling cold, jerky tastes different, they say.
"The jerky made in the summer season produces a foul smell, but winter jerky lasts longer and has a different flavour," said Mahendra Gurung, a jerky retailer in Jomsom.
"The dish is sold in every hotel and restaurant in Mustang these days."
Thakali entrepreneurs from the Thak Khola region of Mustang district are the largest producers of jerky.
"Apples, jerky and liquor are the main gifts from Mustang," said hotelkeeper Sundar Thakali.
"It is an old tradition among Thakalis to serve jerky and local liquor while welcoming guests. Our culture also requires us to send jerky as gifts to our relatives in the towns and cities."
Other local foods besides jerky have also been gaining a large number of fans lately.
One such dish is "ghinti", intestines stuffed with blood and fat. "Tung" is made by mixing buckwheat flour and blood inside the intestine.
Traditionally, jerky has been made by smoking the strips of meat over a hickory fire. But the process is slow, and as demand began to outstrip supply, jerky makers have been drying the meat in the sun or solar dryers.
Hotel and restaurant owners in the area have installed solar dryers for commercial production of jerky. Many tourists take jerky with them while returning.
The trend of sending jerky as gifts to family members abroad has increased in recent years, traders say.
"My husband loves jerky," said Sima Bhandari. She has been sending the dried meat regularly to her husband who lives in Qatar.
"One of my husband's colleagues is returning to Qatar, and I am sending a packet of jerky with him."
Khamaya Pun of Beni said goat farms in the district have been drawn to the jerky business. "They are also producing ghinti and tung," said Pun. "While some still make jerky by themselves at home, many prefer to buy it to avoid hassles."
Buffalo jerky costs Rs2,500 per kg in Myagdi while the price of jerky made from the meat of mountain goats and sheep is Rs5,500 per kg.
---
---