Nepal exports power worth Rs10.38 billion to India in five months
Nepal Electricity Authority aims to earn Rs16 billion by exporting electricity to the southern neighbour this fiscal year.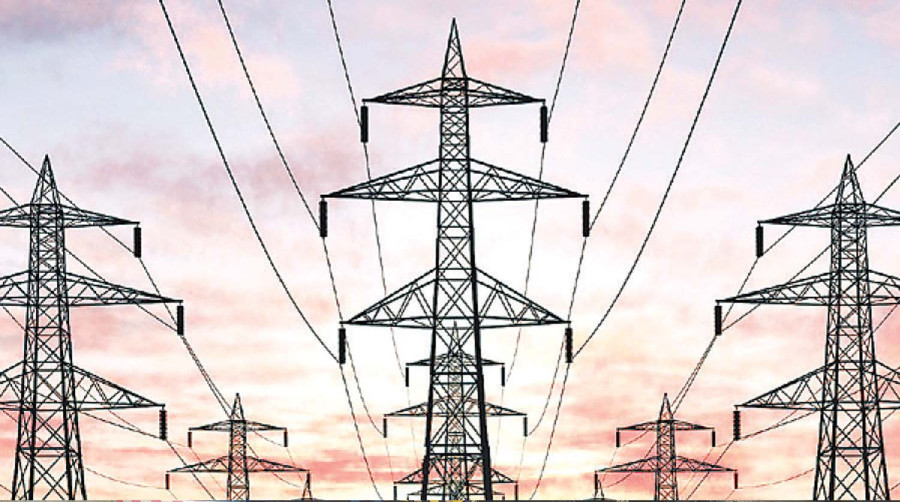 Post File Photo
bookmark
Published at : November 19, 2022
Updated at : November 19, 2022 09:34
Kathmandu
Nepal exported electricity worth Rs10.38 billion to India till mid-November since the Nepal Electricity Authority resumed selling power in India's power exchange market in early June this year.
With this, electricity has become one of Nepal's largest exports over the past year since the southern neighbour, India, opened its doors for Nepal to export power to its market through competitive bidding.
In early November last year, India had for the first time allowed Nepal to sell electricity in the Indian market via a competitive bidding process.
Initially, the southern neighbor had permitted Nepal to sell 39MW of electricity generated by the 15MW and 24MW Trishuli hydropower projects.
However, Nepal has been allowed to sell up to 364 MW of power produced by six hydroelectric projects beginning early June this year. Nepal may now export power from eight projects with a combined capacity of over 409MW after the Indian authorities granted permission to sell electricity in the Indian market even from the 22.1MW Chilime Hydropower Project and 23.5MW in recent weeks.
The NEA stated in a news release on Friday that the nation has received INR 6.49 billion (Rs10.38 billion) in five years since power sales resumed on June 2.
The state-owned power utility authority claims that it sold electricity worth more than Rs1 billion last year, shortly after India allowed Nepal to sell its electricity in the free market in India. It sold electricity from early November last year for around a month. Since then, the nation has sold more than Rs 11 billion worth of electricity, according to the NEA.
Electricity has risen to become one of Nepal's top five exports when compared to other significant commodities.
According to data from the Trade and Export Promotion Centre (TEPC), a trade promotion organisation under the commerce ministry, soybean oil exports led the pack with exports worth Rs48.12 billion in the last fiscal year. Palm oil was second with Rs 41.06 billion in exports, followed by yarns with Rs 11 billion and woollen carpet with Rs 9.56 billion.
Among the exports with the least added value are palm and soybean oils.
"Earning would have been substantially higher had the price not gone down in recent months," said NEA spokesman Suresh Bhattarai. "We could make up to Rs14 billion."
In June this year, when Nepal started exporting power again, it was paid an average of Rs12.15 per unit, but the price decreased to Rs8.74 per unit in the following month. And in November, the price came down to Rs6.68 per unit.
The NEA hopes to export power until the third week of December as local demand, notably from the industrial sector until then is low.
However, in winter, when the reduced water levels in the Nepali rivers prevent its hydroelectric power plants from operating in full capacity, Nepal must import electricity from the southern neighbour. In reality, the NEA has already begun to cut back on power exports as domestic production has started decreasing owing to falling water levels in the snow-fed rivers.
Kul Man Ghising, managing director of the NEA, told the Post in September that the state-owned power utility body hoped to export power worth approximately Rs16 billion in the current fiscal year 2022–2023 and more than Rs30 billion in the following fiscal year 2023–2024.
"Due to falling prices in the Indian market, it will be challenging to meet the export target in the current fiscal year," said Bhattarai.
Regardless of whether the goal will be achieved, power has become one of the nation's key exports at a time when the trade gap with India has been growing.
The Indian market absorbed roughly 78 percent of Nepal's total exports, excluding energy, in the most recent fiscal year, making India both its largest trading partner and its top export market.
But the trade deficit with India is huge with the country exporting goods worth Rs155 billion to its southern neighbour as compared to imports valued at Rs1.2 trillion.
"As we are struggling to boost exports of other goods to India, electricity exports have shown great hope for Nepal to reduce trade deficit with India," Chandra Ghimire, a former commerce secretary, told the Post earlier this month. "The more important thing about electricity is that it is a product with one of the highest value additions in Nepal and has had multiplier effects on the economy ranging from generation, transmission and distribution of power."
"While we are battling to boost exports of other items to India, power exports have shown great optimism for Nepal to minimise trade deficit with India," Ghimire said.
---