India's export tariff on rice sparks food inflation fears in Nepal
The paddy harvest is doubtful as Nepal suffered a shortage of chemical fertiliser during the transplantation period, experts say.

The bad news comes ahead of Dashain, Tihar and Chhath, Nepal's key festival season, when demand for fine rice goes through the roof. POST FILE PHOTO
bookmark
Published at : September 9, 2022
Updated at : September 10, 2022 07:44
Kathmandu
India's new export tariff on rice has sparked food inflation fears in Nepal which is bracing for a poor summer harvest.

On Thursday, the southern neighbour slapped a 20 percent export duty on various types of rice except parboiled and basmati rice. The tax came into effect on September 9 as experts considered the possible repercussions in Nepal where paddy output is expected to drop due to multiple factors.
Nepal is a country of rice eaters like much of Asia, and harvest disruption is a national concern. According to agro experts, the 2022-23 harvest is doubtful as Nepal suffered a shortage of chemical fertiliser during the paddy transplantation period in June-July.
A subsequent drought-like situation hit key food producing districts. In August, a heat wave spread over most of the southern Tarai, the country's food basket, which scorched summer crops, particularly paddy, in the fields.
Experts say that with food-producing countries imposing export bans, poor countries could be in for a hard time because many could face food shortages or prices could go up sharply.
India, the world's biggest exporter of the grain, has initiated a slew of restriction measures as it tries to augment supplies and calm local prices after below-average monsoon rainfall curtailed paddy planting.
It exports rice to more than 150 countries, and any reduction in its shipments would increase upward pressure on food prices, which are already rising because of drought, heat waves and Russia's invasion of Ukraine.
India first tightened wheat exports, followed by an export ban on broken rice. In a new development, it has hiked the export duty on non-basmati rice to discourage buyers from making purchases from India.
New Delhi has also banned exports of 100 percent broken rice, which may impact Nepal's feed industry. This could make feed costlier and that could be reflected on chicken meat prices.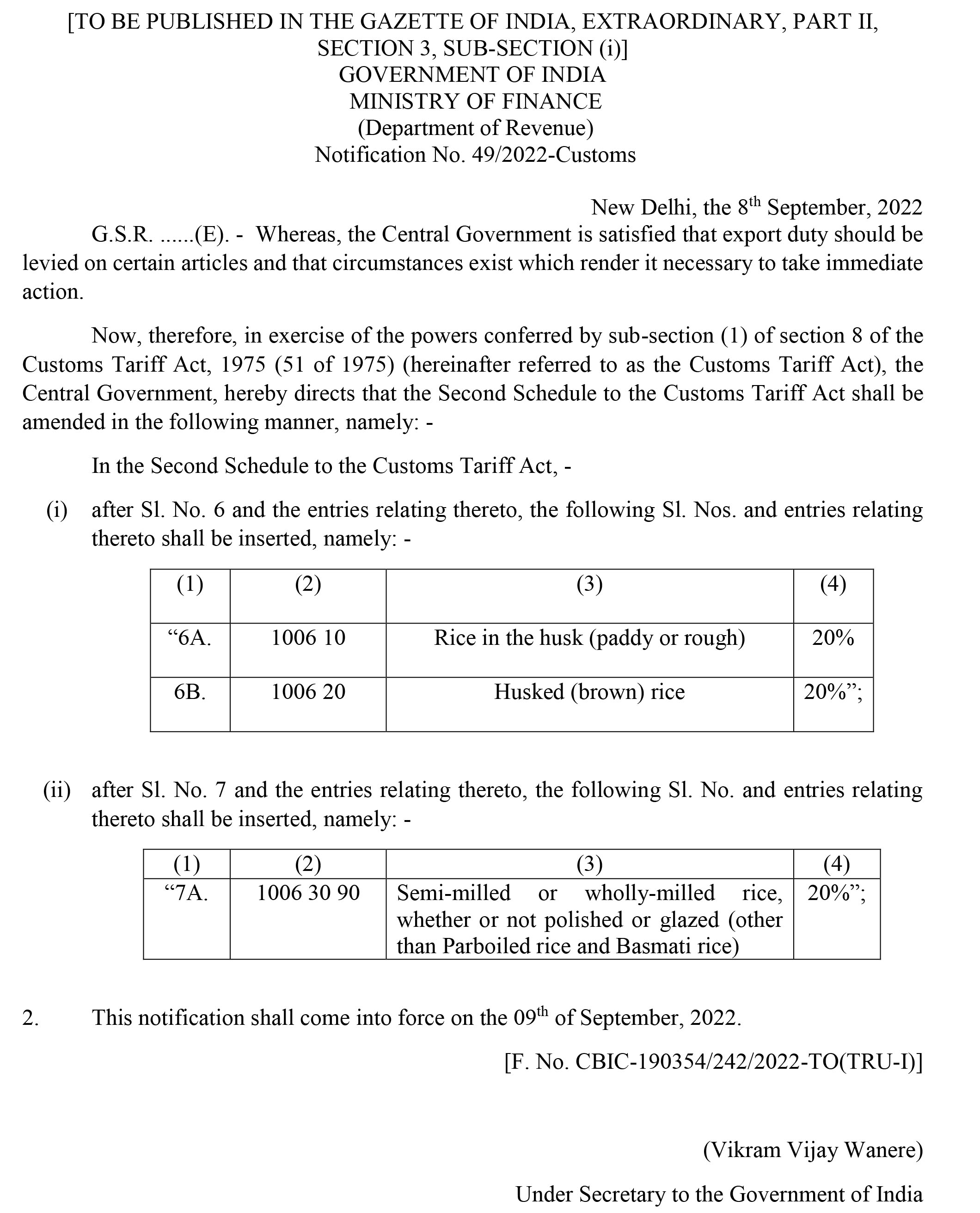 Long grain rice holds a unique charm in global markets including Nepal, and this has resulted in a growth in rice imports although the country produced surplus grain, agro experts said.
Nepal does not grow fine rice in adequate quantities, and Indian rice is much cheaper compared to the local product because of the low cost of production and India's heavily subsidised farm sector, according to experts.
"The recent decision by the Indian government is not only going to create a shortage of rice but also increase the price of rice by 20 percent," said Subodh Kumar Gupta, president of the Assocition of Nepalese Rice, Oil and Pulses Industry.
The bad news comes ahead of Dashain, Tihar and Chhath, Nepal's key festival season, when demand for fine rice goes through the roof.
According to him, there are 2,500 big and small rice mills operating in the country employing 50,000 people. "The decision is going to impact their sustainability too," Gupta said.
"It will also increase the illegal trade in rice. Inflation will rise further."
This year, the government failed to supply chemical fertilisers to farmers during the peak paddy transplantation period in June. The government had promised that fertiliser would be available after India starts sending shipments through a government-to-government deal. But that did not happen.
Predictions by South Asian meteorologists that Nepal would get above-normal rainfall turned out to be false too.
Madhukar Upadhya, a climate change expert, told the Post in a recent interview that the insufficient rainfall may affect the growth of paddy which may hit output.
"Nepal imports rice in large quantities from neighbouring India, and if it decides to restrict rice exports, the situation will be difficult," said Upadhya.
In the last fiscal year, Nepal imported 550,000 tonnes of paddy, 520,000 tonnes of rice and 50,000 tonnes of broken rice, mainly from India, according to the Department of Customs.
In terms of value, Nepal imported rice worth Rs29 billion and paddy shipments amounted to Rs16.99 billion.
India has been imposing trade restrictions on products one by one, which trade experts say violates the free trade agreement.
"We have a preferential trade agreement with India, and that rule doesn't allow blanket restrictions," said Purushottam Ojha, former commerce secretary.
"In this context, the Nepal government should request the Indian government to allow the export of rice and cereals without additional duties," said Ojha.
"The issues need to be resolved through government-to-government level talks, which is important at this time. There is a provision in the bilateral trade agreement that a waiver can be provided on goods at the request of partner countries," he said.
The additional duties will make rice, Nepal's staple food, more expensive to consumers who have been braving high inflation for nearly a year.
Experts say that Nepal needs to look for alternative markets to import rice like Thailand, Myanmar, Cambodia, Malaysia and other rice-producing countries.
But reports say that the heat wave has hit most nations in the world, and there will be lower output this year globally, stoking inflation and food insecurity in low-income countries like Nepal.
Inflation in Nepal was recorded at 8.08 percent in July when the fiscal year closed, which is double the figure for last year. But economists are saying that the official inflation rate doesn't even fully capture how bad the situation is.
Sanjay Kumar Phuyal, proprietor of Asma Enterprises, Balaju, wholesaler of rice, lentils and edible oil, said that the additional duty may increase the price of rice by around Rs4 per kg.
Phuyal said that as the harvest season is around two months away, prices may not rise further.
Some agro experts say the Indian move is positive as it will encourage sales of local products.
---
---