Ever swelling agricultural imports set off alarm bells
Imports of farm products accounted for one-fifth of the country's total annual imports worth Rs1.92 trillion, according to the Department of Customs.

Import bills of top 10 agricultural goods in the last fiscal year. Source: Department of Customs
bookmark
Published at : July 26, 2022
Updated at : July 26, 2022 07:49
Kathmandu
Nepal's ever swelling agricultural imports hit the Rs400 billion mark in the last fiscal year ended July 16, prompting experts to warn that a farming country becoming so dependent on imported food indicates a full-blown emergency.

In 2001, the value of imports of food and farm products from India barely amounted to $11.84 million. As of the last fiscal, 20 years since then, the figure had bloated to $3.2 billion.
According to the statistics of the Department of Customs released on Monday, agricultural imports accounted for one-fifth of the country's total annual imports worth Rs1.92 trillion.
In the last fiscal year, Nepal saw a 23 percent year-on-year jump in agricultural imports. Imports of agricultural goods in fiscal 2019-20 were valued at a little over Rs250 billion.
The import bill soared mainly due to increased purchases of edible oil, particularly soybean oil, cereals, animal fodder and oil seeds.
In just one year, imports of edible oil swelled from Rs82.90 billion to Rs120.46 billion, with crude palm and soybean oil imports rising to nearly Rs100 billion.
India has been raising concerns about Nepal's trade policy which allows import and export under a duty-free quota system.
Last year, the Solvent Extractors Association of India had written to the Indian central government claiming that palm oil and soybean oil originating from various countries were being routed to India through Nepal to take advantage of the zero duty privilege granted to Nepali exports.
Nepal imported crude soybean oil worth Rs56.18 billion. The country produces very little crude soybean of its own—in fact, just 31,567 tonnes annually, which is not enough to meet the requirement of even a fraction of its own population.
The import of crude palm oil amounted to Rs39.31 billion while the import of crude sunflower oil amounted to Rs18.10 billion.
As the South Asian Free Trade Area (SAFTA) agreement provisions zero tariffs on goods exported from underdeveloped countries like Nepal, Nepali traders have been importing crude soybean and palm oil from other countries paying minimum tariffs and then re-exporting the finished product to India with zero tariffs.
Trade experts say that importing crude oil with zero tariff privilege and re-exporting it to India with zero traffic privilege enables Nepali traders to enjoy a net profit of 45 percent, excluding other profits.
Nepal's second largest import of farm products after edible oil is cereal.
Despite a slight drop, cereal imports came to Rs74.28 billion. In the last fiscal year, imports of cereals totalled Rs79 billion. Nepal started importing cereals 10 years ago, according to government statistics.
Cereal imports dropped in the last fiscal year because India imposed restrictions on a number of cereals claiming that the world could suffer a food crisis due to the unavailability of chemical fertilisers.
Out of the total cereal imports, rice and paddy shipments amounted to Rs29 billion and Rs16.99 billion, respectively.
Imports of maize and wheat came to Rs19.64 billion and Rs5.66 billion respectively. Imports of wheat have come down from Rs12 billion in the previous fiscal year after India tightened wheat exports.
"Imports of fine rice and maize have been rising at an alarming rate due to growing preference for them," said former agriculture secretary Yogendra Kumar Karki. "Nepal is importing fine varieties of rice mainly due to the expanding population of middle-income Nepalis who prefer to eat basmati rice, and the country doesn't grow such fine rice in sufficient quantities."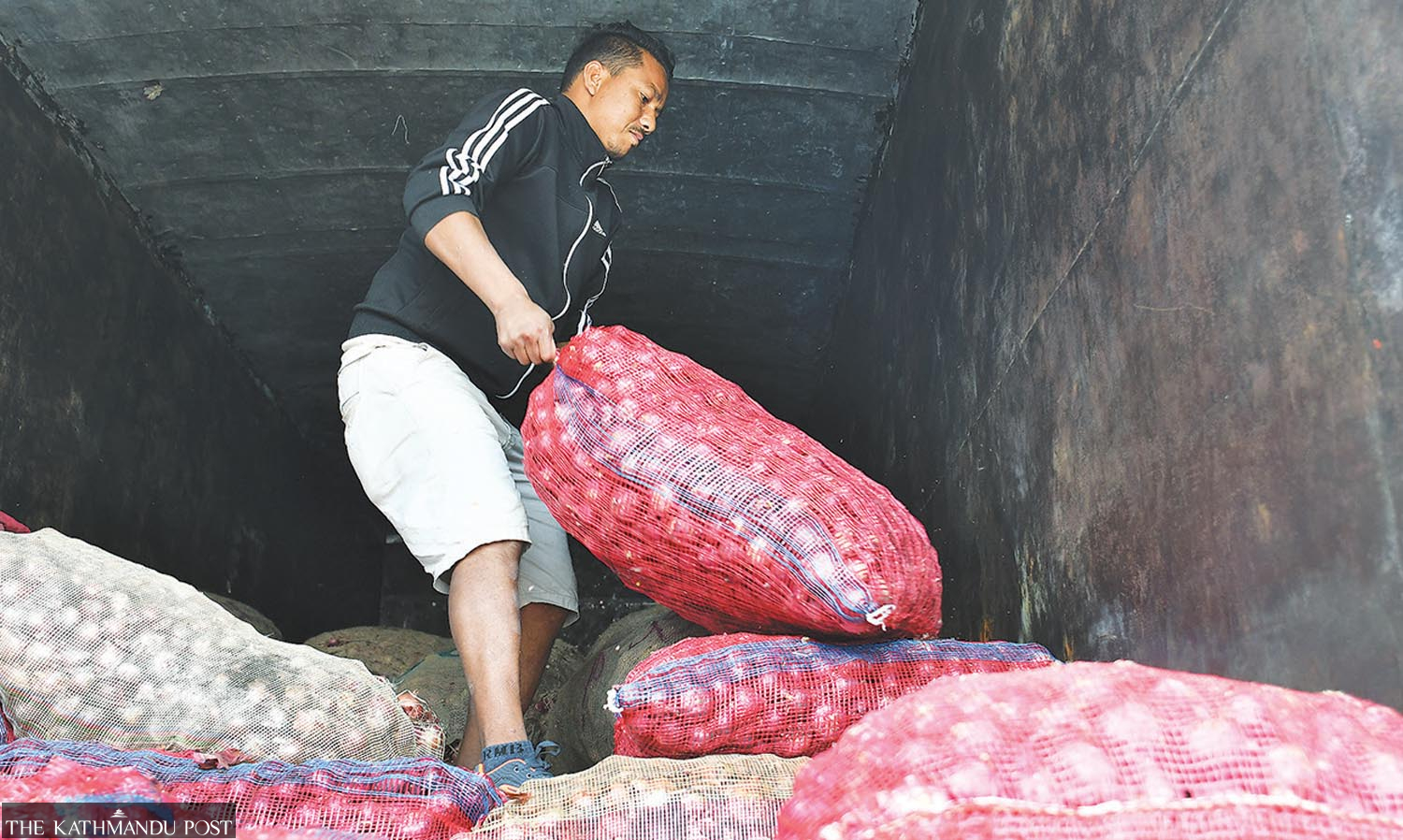 The agricultural goods import bill in 2009-10 amounted to Rs44.43 billion. It has grown nine times in 11 years. Post File Photo
According to Karki, high demand for fine and aromatic varieties means that Nepal needs to grow these varieties to stop imports.
"Besides increasing the production of fine rice, Nepal should focus on exporting crops like ginger, large cardamom and tea on a massive scale to bring down the trade deficit," said Karki.
Experts warn that because of a worldwide shortage of chemical fertilisers, many countries would face food shortages or prices would go up sharply, putting food out of reach for many.
"Obviously, the import figure for foods is scary. It not only points to a growing dependency trend, but also signals a potential threat to food security," trade expert Purushottam Ojha told the Post in a recent interview. "For a country like Nepal, a foreign exchange crisis can unfold anytime. Remittance, which funds consumption, can drop too. How will you pay for food when you don't produce it? It's an emerging threat."
"We have already seen the 2015 blockade when India cut off our supply of fuel, for which we are totally dependent on imports," he added.
Experts say that the import of agricultural products had increased for consumption, and had been largely supporting a bloated trade deficit.
The persistence of a swollen trade deficit over time can pose a risk to the country's economy. While imports shot up to Rs1.92 trillion, exports remained at a mere Rs200 billion. The trade deficit rose by 23 percent over a year.
The agricultural goods import bill in 2009-10 amounted to Rs44.43 billion. It has grown nine times in 11 years.
"We have a huge amount of remittance flowing in to finance consumption, so we import," said economist Bishwambher Pyakuryal. "The government's import-driven policy should shift its focus towards a production-driven policy if we want to prevent a future economic risk."
The import figures have been setting off alarm bells for quite a long time.
The government is fully aware of these import statistics. Hence, the government introduced the Prime Minister Agriculture Modernisation Project in 2016 to make the country self-sufficient in some of the key agricultural products within seven years. But some experts say that the project has shown no outcomes at all.
This year too, the government failed to supply chemical fertilisers to farmers during the crucial planting season.
Economist Keshav Acharya says that the ballooning agricultural import bill is a full-blown emergency for a country like Nepal as it not only drains foreign currency reserves but also paralyses the production cycle when trading overpowers it.
"Traders have overwhelmed our economy," he said. "Trading has become such a profitable activity that no one wants to produce anything because it is painful, particularly in the agriculture sector."
Acharya said that Nepal's agriculture sector has underperformed.
"Trading is so easy and has a higher profit margin. So why would people spend time and money on production?" Acharya wondered. "For example, in just two years, imports of edible oil like palm and soybean have crossed the Rs100 billion mark because of high profits. But over several decades, if all of Nepal's exportable crops are added up, they don't have a combined turnover of Rs50 billion."
"The government needs to understand the trading and production cycles," he said, "before it is too late."
---
---