Everest region is calm during monsoon. But mushrooms can be a new draw for trekkers
Tourism in Khumbu shuts down after the mountaineering season ends, but mycotourism may change that, experts say.

During the monsoon, the trails to Everest are full of wild mushrooms, a watcher says. Photo courtesy: Shiva Devkota
bookmark
Published at : July 6, 2022
Updated at : July 6, 2022 09:39
Kathmandu
Silence has once again returned to Everest Base Camp, except for the howling winds, with the end of the spring mountaineering season.

Kami Rita, Nepal's most well known sherpa climbing guide, has returned to Kathmandu after spending the April-May season at the foot of the world's highest peak, leading Western climbers up the icy slopes.
Hundreds of other climbing guides and base camp staff have also descended from the rarefied height, their bags loaded on yaks and mules whose bells jangle with every step as the caravan winds its way down the mountain.
Trekkers too have descended, leaving the base camp at an elevation of 5,364 metres deserted. It is June and the monsoon has already started. The rainy season begins in early June and lasts until early September.
Everything comes to a stop after the climbing season closes at the end of May. This year, Everest shut down on May 29.
"The entire region is almost empty. Hotels and lodges are closed. Experienced sherpas will travel to Pakistan to climb there," Kami Rita told the Post. "The monsoon brings emptiness in the region, though it is the best season to travel."
Spring and autumn are generally considered to be the best seasons to visit Nepal for trekking since the weather is pleasant with clear skies.
Unpredictable climate and continuous rain during the three-month-long monsoon make trekking in the Himalayan region risky, slippery and tough.
But a group of Nepali and American mycologists, sociologists and scientists have suggested that the Everest region could be promoted as a mycotourism, or mushroom tourism, destination to keep the trails lively even during the monsoon.
"During the monsoon, the trails to Everest are full of wild mushrooms," Richard Silber of International Mountain Trekking of the United States told a press conference in Kathmandu on Tuesday.
"The 15-day trek we completed in the Everest region was full of excitement. We have not experienced such a great trek before," he said.
The group's trip started in mid-June. Trekking in the Everest region during the monsoon has never been attempted.
"It's basically the rain and slippery trails the trekkers fear," said Kami Rita, who climbed Everest for a record 26th time in May this year. "But the Everest region has a lot to offer to tourists. There are many festivals during the monsoon. It's the breeding season of yaks too."
The snow begins to melt, and many-coloured flowers bloom. There is green grass thick with flowers everywhere. And mushrooms begin to pop out all over.
"Our trek was beautifully oriented. Flowers were blooming all along the trekking routes. Mushrooms were sprouting all over. It was a wonderful journey," said Nepali mycologist and botanist Shiva Devkota.
"Locals are seen busy picking mushrooms. The dishes they eat and offer to visitors are mushrooms."
Devkota said they had planned this unique trek three years ago, but it was put on hold due to the Covid-19 pandemic. "We succeeded this year. It was indeed a wonderful experience," said Devkota, a research fellow at the Global Institute for Interdisciplinary Studies in Kathmandu.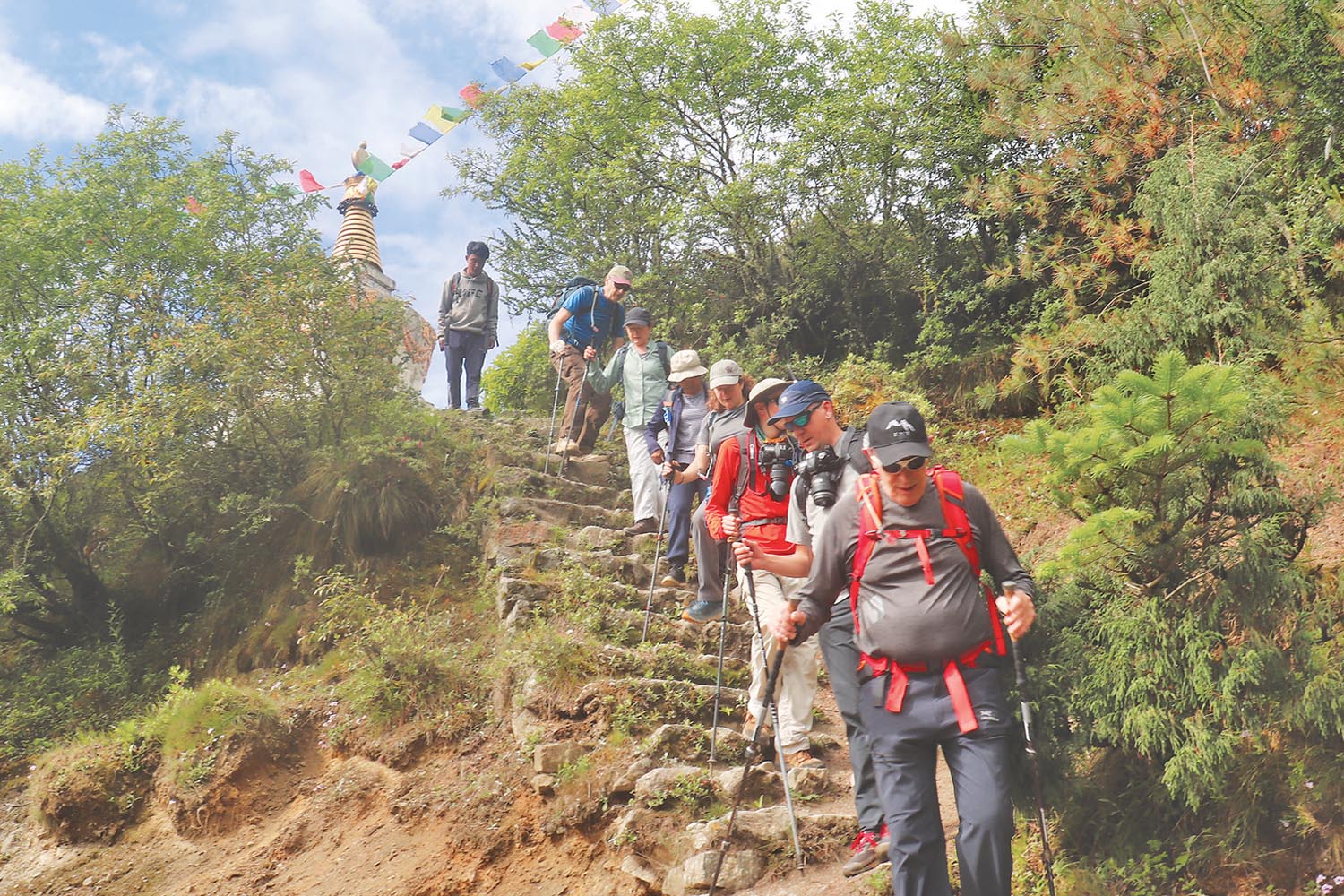 The group's trip started in mid-June. Trekking in the Everest region during the monsoon has never been attempted. Photo courtesy: Shiva Devkota
The Everest region receives nearly 60,000 trekkers and mountaineers annually. It is a high revenue-generating segment of tourism.
Travelling to Khumbu during the monsoon is not easy. Lukla airport, the only aerial gateway to the region, shuts down.
With access only by air, the place is perhaps one of the most expensive places in the world to visit because all supplies have to be flown in or carried on people's backs, deterring potential tourists, especially domestic visitors.
The government is building a road to Everest that will end at Chaurikharka, about 2.8 kilometres from Salleri, the headquarters of Solukhumbu district.
Chaurikharka is about a day's walk from Lukla, and from Chaurikharka to Namche Bazaar is another day. Namche is the largest town in Khumbu. From Namche, it's a five-day walk to Everest Base Camp.
"We believe that once the road is paved, the Everest region will see a big surge in tourist movement," said Sherpa.
"We too waited for two weeks to fly to Lukla. But there were no flights due to the weather condition," said Devkota. "We then took a jeep."
The group travelled from Kharikhola (elevation 2,137 metres), the lower part of the Khumbu region where roads are currently being built, and reached Everest Base Camp.
"Our team of investigators included scientists, doctors, sociologists and our Sherpa guides. We discovered 156 different mushroom species, some of which may consist of new and never before described mushrooms. This determination will await further analysis and characterisation," said Devkota.
He has been studying wild mushrooms, lichens and yarsagumba or caterpillar fungus for almost two decades.
One of the more interesting mushrooms discovered, according to him, was Tremella salmonella, which was first described in 2019 from China. Similarly, Amanita tullossiana, first described in India in 2019, was also found during this exploration.
The more the team gained altitude, the more mushrooms they discovered, said Devkota. "Some were hanging on pine trees, some in the woods. Mushrooms were everywhere."
There were interesting mushroom species like Termitomyces SP, Exobasidium butleri, Entonaema liquescens, Guepinia helvelloides, Calocera viscosa and many more, said Devkota.
"We even found mushrooms growing at 5,123 metres. This is probably the mushroom found at the world's highest point," said US mycologist Britt Bunyard, one of the members of the team. "There are new species which need scientific research."
Richard Silber of International Mountain Trekking said the trek was also an opportunity to teach the locals, who consume mushrooms as their food.
Mushrooms are noted widely in edibility. A relatively few species are delicious, many are edible but tough or of an unremarkable flavour. Some, however, are poisonous.
"Most fatalities resulting from mushroom ingestion are associated with amatoxins within the mushrooms," said Devkota. "Our project was also intended to make locals aware of wild mushroom poisoning. The locals need to be aware of choosing the appropriate one."
Bunyard said that people habitually eating wild mushrooms doesn't mean they are adapted to poisonous mushrooms.
"The trek was difficult but exciting," said Devkota. "It was an exhausting trip, but it was rewarding."
---
---