Cloud-based accounting software Tigg making strides
Launched in mid-July last year, the system is available in both web and app versions, and has gained more than 560 subscribers, officials say.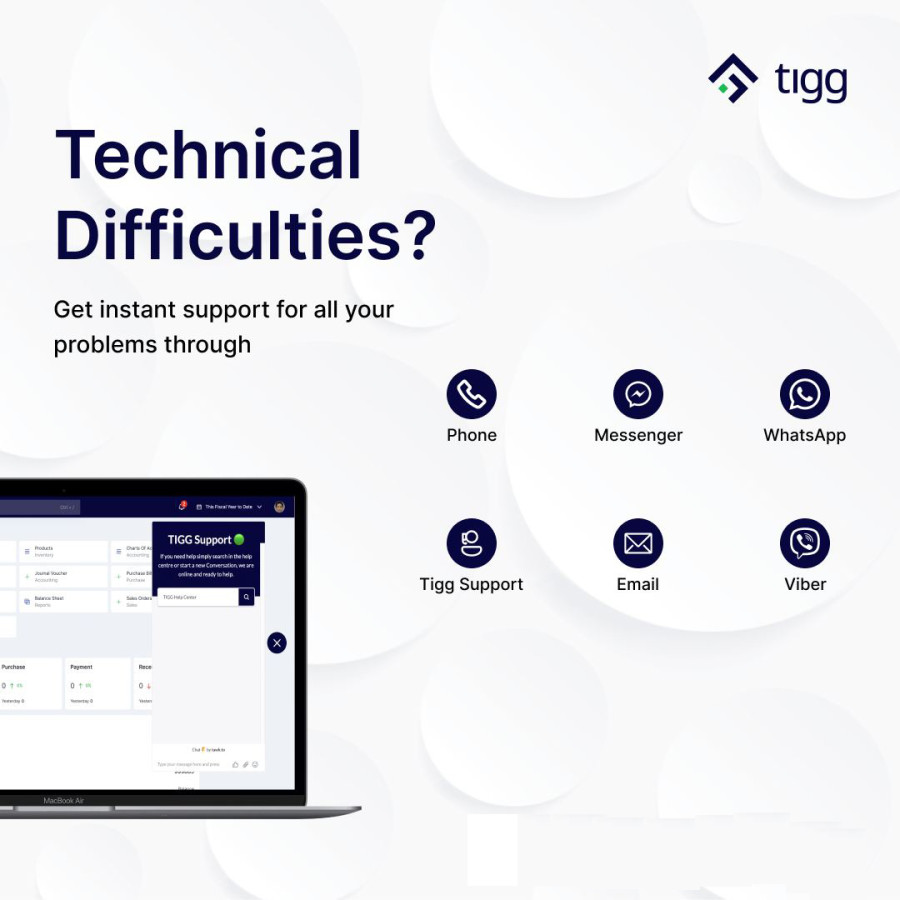 COURTESY: TIGG
bookmark
Published at : June 27, 2022
Updated at : June 28, 2022 09:42
Kathmandu
Lomush Adhikari, country manager of Renegade Nepal, a service export firm, says they have been able to maintain their accounts more efficiently after subscribing to Tigg, a cloud-based accounting system developed by BIC Technology.

"You do not need to have core accounting knowledge to use Tigg," Adhikari says. "We started using it soon after its launch last year, and we have found it very useful so far."
Dr Prativa Pandey, founder of cosmetics manufacturer Herveda Botanicals, seconds Adhikari.
"I like an easy-to-use interface that my sales staff can learn quickly," says Pandey. "We also like that it can be accessed on cloud, and we get real time updates of every transaction."
Though it has limited functionality at the moment, Pandey hopes they will expand it in the coming days. "Overall, it is a great application for small and medium-sized enterprises."
Bipin Regmi, owner of Nepal Automotive Centre, finds Tigg different from the accounting applications he has used so far.
"I have been using it since the beginning of the current fiscal year, and it is easy to use," said Regmi. "It certainly has weaknesses like most software we use. However, it has many features despite still being under development, and I am optimistic about its future possibilities."
Launched in mid-July last year, Tigg is available in both web and app versions, and has gained more than 560 subscribers, according to Ramesh KC, CEO of BIC Technology.
"We have earned around Rs4.5 to Rs5 million from it," says KC, 33, who is also a chartered accountant.
In April, Tigg received the best start-up award at CAN Infotech 2022, one of the biggest tech-related exhibitions in the country.
"It was a proud moment for us," says Prarthana Saakha, co-founder of Tigg and its chief business development officer. "We believe our software will gain more achievements in the coming days."
KC, who hails from Nawalparasi district, came to Kathmandu a decade ago with a dream to become a chartered accountant. Besides studying, he started doing accounting related jobs. He soon grew dissatisfied with the way the accounts were maintained.
"When doing accounting for various clients, either they had to visit us or we had to go to them to exchange data and information," KC says. "There were desktop-based apps, but they lacked remote access."
We often used to discuss this issue among our friends, he added.
"We talked about the prospects of developing a cloud-based accounting system in Nepal," KC says. "But there were foreign software and we were not sure if we could compete with them."
KC and his friends, most of whom worked in finance and information technology, started researching in 2017. The development of Tigg began in 2020. "The idea was to develop an easy-to-use cloud-based accounting system," KC said.
In early 2020, Covid-19 hit the world causing countries to undergo lockdowns and restrictions. "It took us a year to develop Tigg's basic version," said KC. "We launched it in mid-July last year."
The software was made in collaboration with the top accounting firms in Nepal, adds KC.
"The work-from-home policy that most organisations followed during the Covid-related restrictions made our product more relevant," says KC. "It is targeted at small to medium enterprises, and so far we are happy with our achievement."
"Of the Rs22 million collected to develop Tigg, we have already spent Rs18 million. We are adding more features," KC said.
"One can easily create transaction records and manage all documents in one place. Multiple users can work together on the platform and create reports in real time. One does not need core financial and accounting knowledge to operate it. And we provide free remote training and support to all subscribers," he said.
"It is also cheaper compared to foreign software that are currently used by most firms," said KC.
Tigg is currently available in three versions. While the standard version is for small businesses, the professional version is for medium-sized firms, and the enterprise version is for enterprises and corporate houses.
"The subscription prices are Rs15,000 and Rs25,000 per year for the standard and professional versions respectively. The features and price of the enterprise version can be customised as per requirements through negotiations," said KC.
Subscriptions are also available for three years, five years and lifetime with the prices set accordingly.
While all versions provide similar features such as unlimited number of users and storage, and provide free remote training and support all year around, they differ in terms of the number of products and transactions in a fiscal year.
The standard version allows up to 1,000 products and 10,000 transactions per year, and the professional version allows up to 2,500 products and 25,000 transactions.
"The main challenges for us at the moment are paying for the servers since they have to be in Nepal as per Nepali law, obtaining skilled manpower to maintain the system, and gaining the trust and confidence of more business firms to use our product," KC said.
Saakha believes entrepreneurs too will find Tigg useful.
"Most of the apps I have used so far to maintain accounts were quite difficult," said Saakha, who has seven years of professional experience in the entrepreneurship field, and currently serves as the first vice-president of the Nepalese Young Entrepreneurs' Forum Kathmandu chapter.
"For entrepreneurs who do not have core financial knowledge, it can be very useful, especially for making reports. The feedback from our customers has been positive," Saakha added.
"Most of the queries we get from our potential customers are about data security," KC said. "We have also felt the need to work towards gaining the confidence of businesses who have been using other software."
"Currently, Tigg provides accounting and inventory management features," says KC. "We are working on adding more features as per the feedback received from our customers."
---
---