Record number of new businesses registered while economy lay in ruins
Registrations of new firms hit a high of 83,386 last fiscal year amid reports that hundreds of fake companies popped up after the government announced pandemic relief packages.

Post File Photo
bookmark
Published at : November 27, 2021
Updated at : November 28, 2021 13:34
Kathmandu
Tens of thousands of Nepalis were rendered jobless, thousands of businesses were forced to go into hibernation, and hundreds of companies went bankrupt when Covid-19 hit Nepal.

But inexplicably in the midst of this gloom and woe, Nepali entrepreneurs were racing to the Department of Industry to register new companies in record numbers.
In the last fiscal year 2020-21 ended mid-July, when the economy lay crushed under the coronavirus, registrations of new firms—mostly micro, cottage and small scale enterprises—broke all records to reach an astounding figure of 83,386, the Department of Industry said on Friday.
In the previous fiscal year 2019-20, the number of new firms registered totalled 48,854.
Insiders say something is wrong somewhere. Companies are known to proliferate in Nepal when people smell handouts in the air.
Umesh Prasad Singh, acting president of the Federation of Nepalese Cottage and Small Scale Industries, told the Post that hundreds of fake companies had popped up as soon as the government announced packages to support Covid-hit small enterprises.
The government had announced various packages including refinancing and subsidised loans to revive the economy that went into negative territory in 2019-20.
According to the Central Bureau of Statistics, the country's economic growth rate, or output of the gross domestic product, recorded a year-on-year negative growth rate of 2.1 percent in the previous fiscal year.
This was the first annual negative growth rate since 1982-1983 when Nepal's economic growth rate plunged to -2.97 percent, according to the World Bank.
According to the Asian Development Bank, Nepal has been estimated to grow at 2.3 percent in the last fiscal year 2020-21 ended July 15, 2021, below the earlier estimated forecast of 3.1 percent. Small and cottage industries were among the hardest hit sectors.
"Business cannot thrive in such a scenario," said Singh. "Many firms have been registered to get the facilities provided by the government, and this has been hurting the genuine micro, small and cottage industry," Singh told the Post. "These kinds of firms vanish after pocketing the facilities provided by the government."
The government has been providing collateral-free loans through banks, and the "entrepreneurs" have nothing to lose.
Statistics show industry registrations swelled notably mostly in the agriculture and forestry categories, numbering 48,852 new registrations in a single year in 2019-20.
Micro and small industry registrations reached 17,654 in the fiscal year 2014-15.
In the fiscal year 2015-16, registrations jumped to 24,317 and further rose to 32,039 in 2016-17.
The department's statistics show that 37,143 new firms were registered in 2017-18, which jumped to 52,629 in the fiscal year 2018-19. The number dropped in 2019-20 to 48,854. In 2020-21, registrations leapt to a stupendous 83,386.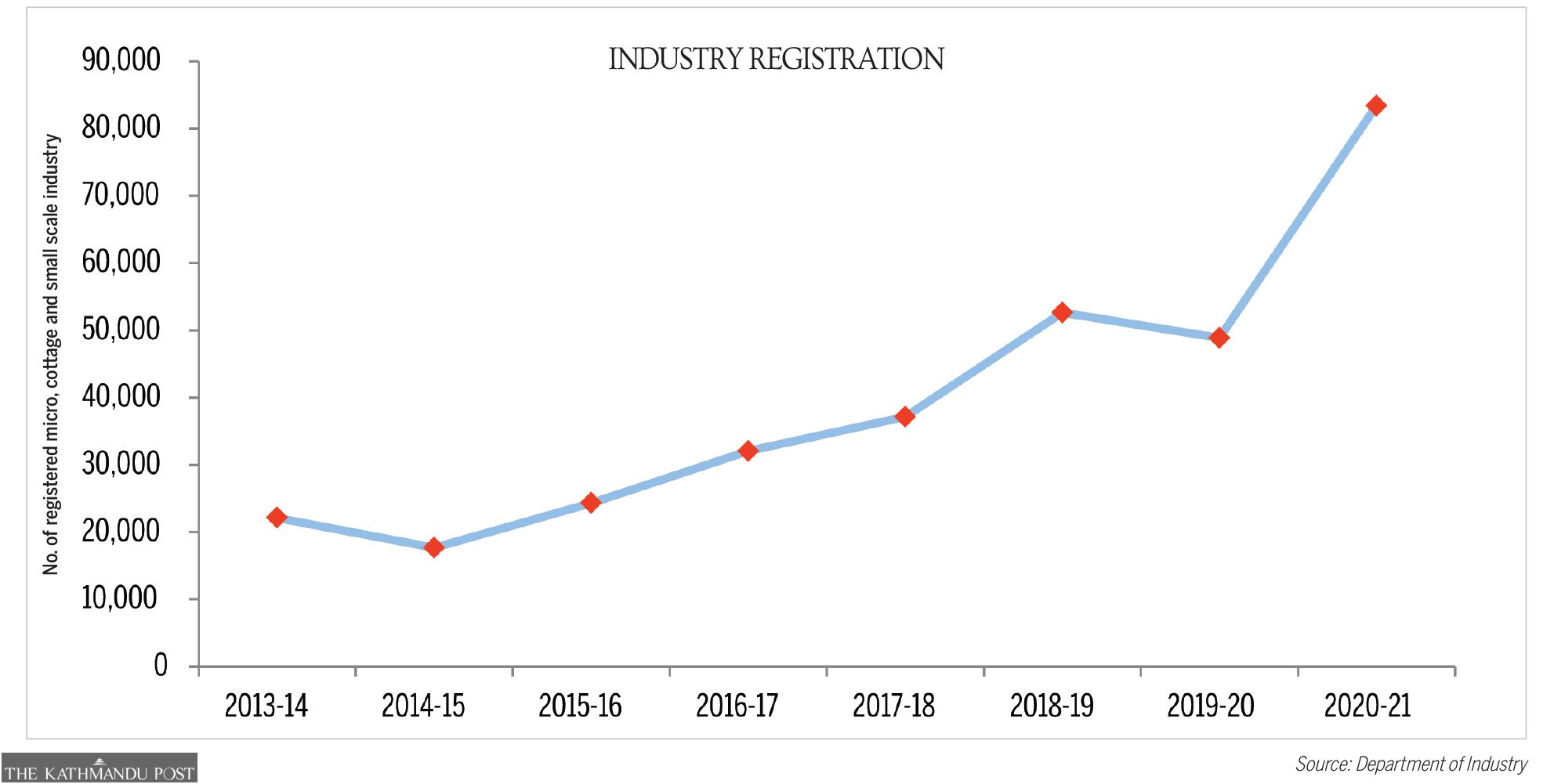 But Jiblal Bhusal, director general at the Department of Industry, downplayed scepticism, insisting that investments in industry had increased at the provincial level.
"The department received investment commitments of Rs152 billion in the previous fiscal year," he said. "In the last fiscal year, it marginally increased to Rs156 billion.'
"Investments have been increasing after the government introduced new laws. Government intervention, the attraction of youths to entrepreneurship and innovative ideas has led to this trend,'' he added. "Investment projects have been increasing at the provincial and federal levels."
Local units and provincial governments have been providing grants which are provided only when the businesses come into operation, Bhusal said.
But industry insiders say the scenario is just the reverse. "There is a big nexus. Bank officials and middlemen have been colluding to take undue advantage. These types of industries are hard to find. They are on paper only," Singh said.
"Subsidised loans of Rs1 million and Rs1.5 million that have been issued without collateral have been misused," he said.
"Women entrepreneurs are being provided subsidised loans of Rs2 million without collateral. In the last fiscal year, the maximum limit was Rs1.5 million. Loans taken in such a way are being used for personal benefits rather than used for industry."
The subsidised loans are being provided in nine different categories to micro, cottage and small scale industries.
Bhusal said that the facilities, loans and grants provided by the government are not being distributed indiscriminately.
"The government does not provide loans without checking the collateral as there is a matter of investigation from different government agencies. Also, people might have been registering new firms expecting an improvement in the business environment," he said.
The increase in the number of industries in agriculture and forestry is due to subsidised loans in the agriculture sector. Returning migrant workers are interested in vegetable and livestock farming, said Bhusal.
The number of service-oriented micro, small and cottage industries has also increased to 18,218 in the last fiscal year compared to 14,879 in the previous fiscal year 2019-20. The registration of tourism related firms has also increased to 5,693 from 4,997 in the review period.
The registration of production-oriented micro, cottage and small scale industry has also increased to 9,679 in the last fiscal year from 5,895 in the previous fiscal year.
Since the start of the current fiscal year 2021-22 in mid-July, state-owned Rastriya Banijya Bank has not granted even a single loan to businesses under the government's Business Continuity Credit Plan meant for Covid-19 affected businesses.
Even though the credit scheme was a much prioritised plan announced in last year's budget to help pandemic-hit micro, small and medium enterprises and the tourism industry, demand for loans under the scheme has remained subdued, according to Nepal Rastra Bank.
The third follow-up survey conducted by Nepal Rastra Bank in October showed 88.4 percent of cottage industry firms were in full operation as of mid-November while 86.0 percent of micro and small retail businesses were in full operation.
The government has earmarked Rs13 billion in the budget for the fiscal year 2021-22 to provide concessional loans at 5 percent interest to micro, small and medium enterprises, commercial agriculture, youth enterprises, women enterprises and persons returning from foreign employment.
The government had allocated Rs50 billion in the 2020-21 budget to provide loans at 5 percent interest to cottage, small and medium enterprises and Covid-19 affected tourism businesses to pay their staff salaries. The fund was operated through Nepal Rastra Bank and the money was made available by the government, public enterprises and donor agencies.
Provisions were also made in the 2020-21 budget to provide refinancing facility of about Rs100 billion through Nepal Rastra Bank at a concessional interest rate of up to 5 percent to agriculture, cottage, small and medium industries, businesses, factories and tourism businesses hit by Covid-19.
---
---