Coffee prices in Nepal stagnate while global market sees record multi-year highs
According to the National Tea and Coffee Development Board, there are 31,340 coffee farmers in Nepal.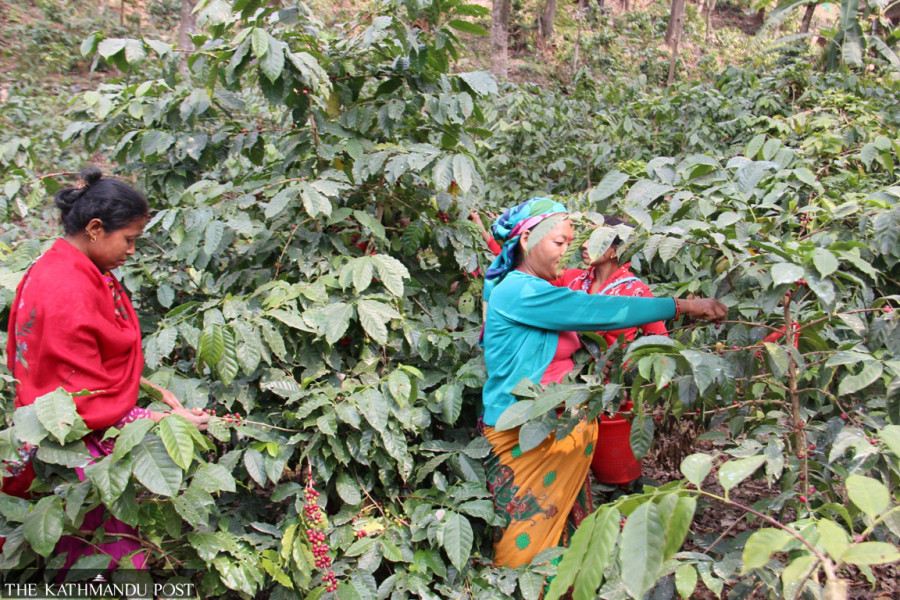 Farmers pick red cherry beans in Gulmi. POST FILE PHOTO
bookmark
Published at : November 17, 2021
Updated at : November 18, 2021 00:41
Kathmandu
While coffee prices have surged to multi-year highs in the global market amid supply setbacks this November, prices in Nepal have remained stagnant, disappointing growers who are struggling to recover from the Covid-19 disaster.

Dhakeshwar Ghimire, proprietor of Nepal Organic Coffee Products in Palpa, told the Post that this year's harvest had declined due to "black frost" in the winter.
"Brownish spots have appeared on large areas of the coffee plant in the highlands, but the crops in the lowlands were less affected by the blight," said Ghimire, who has been producing organic coffee in Palpa since 1978. "Despite a fall in output, prices did not increase. The consumption of coffee in the domestic market too has dropped."
Traders said that consumption and sales had plunged to near zero in 2020 as the lockdown kept people indoors after the government issued stay-at-home orders to prevent the spread of the coronavirus. The year 2021 too was not much better for coffee growers and sellers.
While coffee farmers suffered due to the black forest which damaged their crops, coffee buyers, mostly hotels and restaurants, remained shut for months and consumption dropped sharply.
According to Bloomberg, Arabica coffee prices hit a seven-year high on November 11 due to low inventories in warehouses monitored by ICE Futures US, the main exchange for coffee futures.
Prices for coffee have rallied this year on numerous factors, but mainly due to the drought in Brazil, the world's largest coffee producer. In July this year, the region's rainy season hardly saw any rainfall during one of its worst droughts in almost a century, hurting the 2021 crop and dropping the coffee supply output in Brazil as plants withered.
"Normally, reduced production would prompt prices to go up; but in Nepal's case, it did not happen," said Ghimire. "Due to the reduced quality and subdued demand, we agreed to keep prices at last year's level."
The National Tea and Coffee Development Board has kept the minimum support price for fresh cherries ("A" grade) unchanged at Rs90 per kg. "A" grade coffee is produced at altitudes of more than 800 metres through organic method.
Coffee growers say that the ripened cherry of "A" grade coffee does not sink when put in water. The price of "A" grade cherries has increased by Rs7 per kg in the last five years.
The price of "B" grade coffee also remained unchanged at Rs80 per kg. "B" grade fresh cherries do not require organic certification.
The price of "B" grade coffee has increased by Rs2 per kg in the last five years.
The minimum support price of "A" grade parchment coffee has been fixed at Rs450 per kg. The price of "A" grade parchment coffee has risen by Rs35 per kg in the last five years. Parchment coffee is a stage when the coffee skin, or epicarp, is peeled and has a moisture content of 11 percent.
The price of "B" grade parchment has been fixed at Rs397 per kg. According to the board, the price of "B" grade parchment coffee has declined by Rs3 per kg in the last five years.
"A" grade dry cherry produced from "A" grade fresh cherry has been priced at Rs148 per kg, while "B" grade dry cherry produced from "B" grade fresh cherry has been priced at Rs95 per kg.
The new price has been implemented from Wednesday, November 17, which is celebrated as National Coffee Day.
Bishnu Prasad Bhattarai, executive director of the board, said that the minimum support price had been fixed on the basis of the cost of production. "Growers will get 20-22 percent of the profit margin," he said.
According to the board, the country exported 72.48 tonnes of coffee beans worth Rs96 million in the last fiscal year 2020-21 ended mid-July, a significant drop from 84.13 tonnes worth Rs99.61 million in 2018-19 before the coronavirus came down on the country.
In 2019-20, Covid-19 supply restrictions caused exports to drop to 46.89 tonnes valued at Rs57.72 million.
Nepal has been importing large amounts of coffee. In fiscal 2020-21, 198.76 tonnes of instant coffee worth Rs106.72 million entered the country.
Despite the lockdown, coffee imports in fiscal 2019-20 rose to 266.17 tonnes worth Rs118.84 million, up from 262 tonnes worth Rs98.01 million in 2018-19.
Farmers planted coffee on 3,053 hectares and produced 314.5 tonnes of green beans, the board said. Of the country's total production, 25 percent is exported.
"There is a need to create awareness about farm insurance among growers. Besides, Nepal needs technology to increase output," said Ghimire, whose coffee output is marketed under two brands—Himalayan Arabica and Mount Everest Himalayan Beans.
"Demand for Nepali organic coffee is huge in the global market, but Nepali growers are not able to fulfil even a fraction of the global requirement," traders say.
According to the board, a total of 31,340 farmers are engaged in the production of coffee. Among the six provinces where coffee is grown, Bagmati has the highest annual production with 116.1 tonnes.
"The annual requirement of Nepali coffee drinkers amounts to 4,500-5,000 tonnes, but total output comes to only around 317.5 tonnes," Bhattarai said.
In total, the country consumes 2,100 tonnes of coffee annually.
Nepali coffee growers are working to increase output, and the product could become one of the major sources of foreign exchange for the country.
"We are introducing around eight high productive varieties to increase output. These varieties are suitable in Nepali climates. We have already written to the Ministry of Foreign Affairs and the Indian Coffee Board, the supplier, to support us," said Ghimire.
Branding is another vital aspect to promote coffee cultivation in Nepal.
The board said that they had requested the Forest Ministry to allow the use of community forests for growing coffee. "It will be a huge boost for the coffee industry if the ministry approves our proposal," said Bhattarai.
"We are planning to open two plants to produce instant coffee. To this end, we are currently preparing to conduct a feasibility study."
---
---